CHICAGO – The Bears entered draft weekend with a glaring need at the wide receiver position. And it wasn't just about the lack of capable players on the roster – the Bears needed to find more help for Justin Fields.
It's safe to say the Bears still need a lot of help after the draft. Many assumed the Bears would take a wideout with one of their two second-round picks, but they took two defensive backs, instead. This development came despite the fact that names like George Pickens, Skyy Moore, Wan'Dale Moore, and others were still on the board.
But, the past is the past at this point. It's all about looking toward the future, now.
And the future says that the Bears still have plenty of opportunities to land a difference-making receiver before the 2022 season starts.
Hell, they can add one before rookie minicamps start, even.
That's because there are still some quality names available in free agency. Based off the Bears' draft, they should be bigger players than ever when it comes to pursuing the top guys.
And after watching Bears general manager Ryan Poles turn his incumbent six draft picks into 11, it's plausible Chicago could land a big name via trade, as well. Whatever he hypothetically gives away, he can gain back next year.
So, let's take a look at the top-5 receivers still available in free agency for the Bears after the draft.
Jarvis Landry
There's an argument to be made that Landry is the best option available when it comes to skillset, production, and availability for the 2022 season.
He's a versatile player that can line up in both the slot and out wide. Landry can provide the Bears with depth on the outside, while also being the main target out of the slot. His presence won't cut into third-round pick Velus Jones Jr.'s development, either. When Landry lines up outside, Jones Jr. can line up inside. And there will be plenty of chances for that to happen.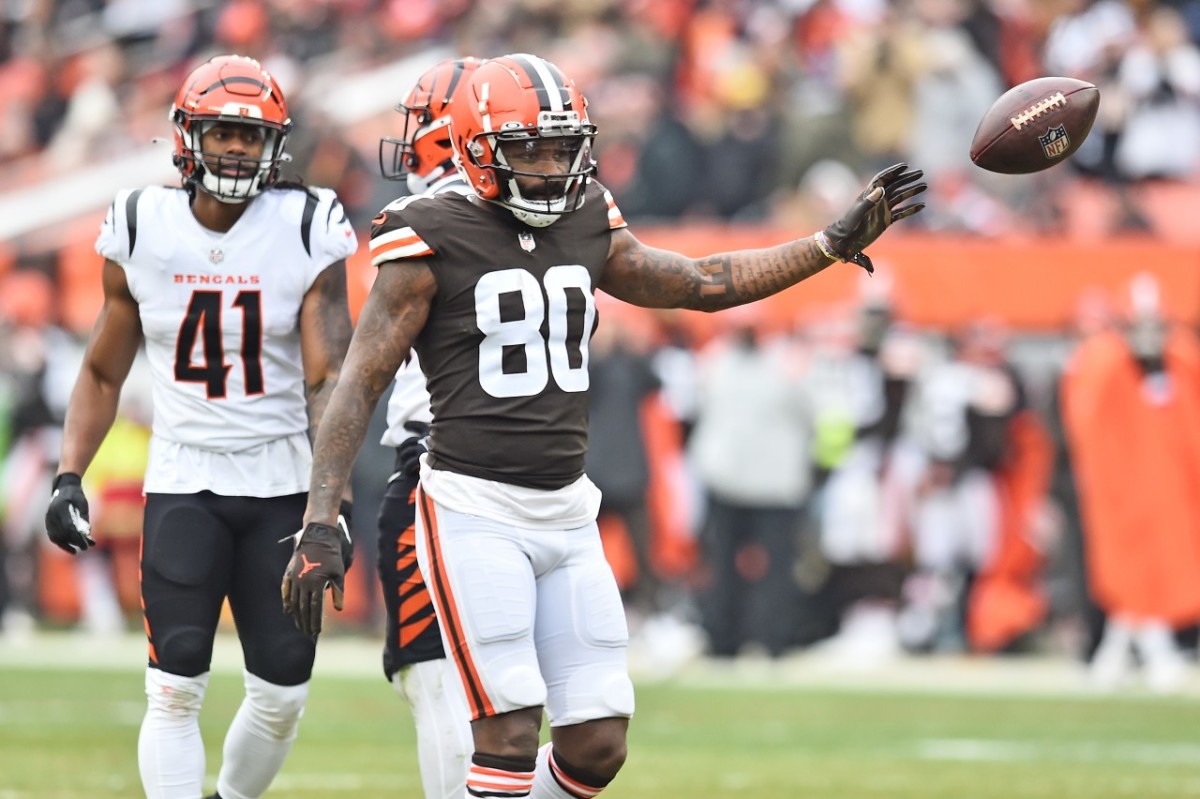 Landry's presence also allows Jones Jr. to develop at a slower pace, which is always a good thing for a rookie that's as raw as Jones Jr. is. The Bears can also afford Landry, seeing as they now have nearly $17 million in cap space after releasing Nick Foles post-draft.
Will Fuller
Fuller is only 28 and is one of the game's best deep threats when he's healthy. He's also great with the ball in his hands and would bring a big-time vertical threat for Fields, who is an accurate downfield passer.
But, the guy just can't stay healthy. He's never played a full season in the NFL and has played in just 31 games over the last four seasons.
Fuller's lack of availability should make him a cheap option and player worth taking a gamble on if he's priced accordingly. Who knows? Maybe the Bears can find some luck with Fuller.
Odell Beckham Jr.
In terms of talent, future production, and name, Beckham Jr. is definitely the best option available in free agency. However, the torn ACL he suffered during the Rams' Super Bowl win will likely keep him off the field until mid-November, at best.
That's obviously not an ideal situation for Fields and the Bears offense, but, if they can get Beckham for a reasonable price, it may be worth the shot.
The biggest holdup here, however, will be Beckham's desire -or lack thereof- to play in Chicago. He didn't mesh well with Baker Mayfield in Cleveland and it was clear he was unhappy. Said unhappiness obviously affected his play and was one of the catalysts behind his release.
With all due respect, Fields and the Bears offense isn't a juggernaut of a unit and there are still plenty of questions surrounding Fields and his game. Will Beckham Jr. want to be a part of that? It's a fair question, for sure.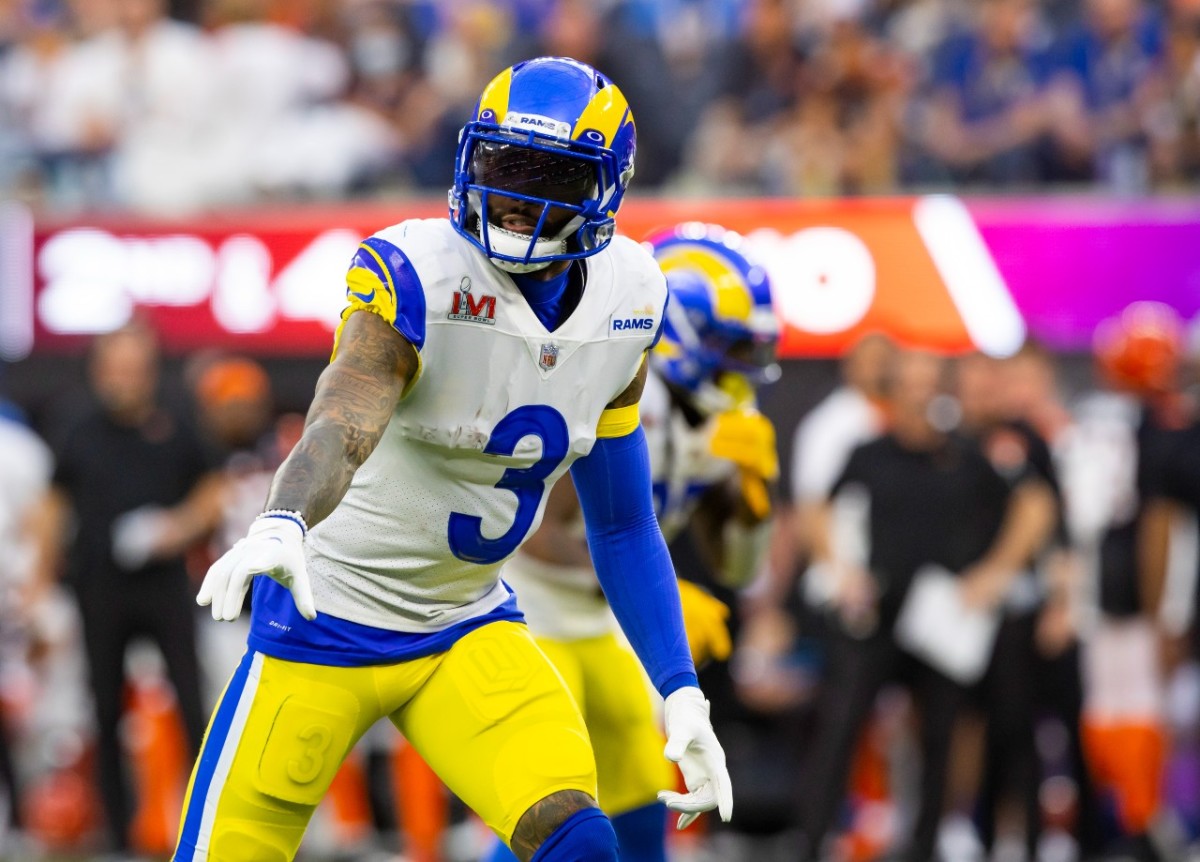 Julio Jones
Jones is just a name at this point in his career and can't be expected to carry a passing game, either. He's also going to want a decent-sized salary to play for a non-competitor such as the Bears.
But, there's a chance things could work and Jones becomes a viable red zone threat, third-down chain mover, or some type of role player for the Bears. Which would be a big help on its own accord.
Emmanuel Sanders
The 12-year vet is contemplating retirement, but maybe he's willing to eke out one more year in Chicago. He can't carry a passing game, either, but he's still a reliable player who caught 42 passes for 626 yards and four touchdowns with the Bills in 2021. He also played 77% of offensive snaps, so he still has his legs under him.
Sanders won't be cheap, by any means, but the Bears will get the aforementioned reliability and they'll get a great leader for a rather young receiver corps.
A trade is a possibility, as well
There could be some teams looking to trade disgruntled, underachieving, or receivers with bloated contracts after the draft. This will obviously take some digging, but there's definitely a possibility the Bears can find a dancing partner.
The Bears may not have pushed the envelope when it comes to taking receivers in the draft, but there are still plenty of chances to do so in the coming months.
Featured image via Jon Durr-USA TODAY Sports