For all the positivity that has been raining down upon the Chicago Bears' offense in recent weeks, problems still remain.
The passing game is still inconsistent at best, the offense can become stagnant at times — a clear difference from the explosiveness the unit shows in parts of games — and the wide variety of personnel along the offensive line can make for some tumultuous and unwanted noise up front.
But one problem has remained a big one for this offense all year long, even before the sudden offensive explosion led by Justin Fields.
It's the offense's ability to conduct clutch drives to score crucial points.
Whenever the Bears have had opportunities to drive down the field and steal games with cold blooded offensive drives, the offense has shriveled up more times than not.
For example, the Bears' failed comeback against the Minnesota Vikings in Week Five, when their final drive was foiled by a fumble in Vikings territory. Or their final drive four days later against the Washington Commanders, which ended in failure on the goal line.
Their final drive against the Miami Dolphins last week rode the same boat, although it's hard to totally fault the offense for their failure given the poor missed pass interference call on Chase Claypool.
Today was no different though, as Justin Fields was sacked twice on the final drive — one on fourth down — to give the Bears another dose of disappointment in late game situations.
Julian Okwara gave it his all and got the sack on 4th down! @julian_okwara

📺: #DETvsCHI on FOX
📱: Stream on NFL+ https://t.co/bBQuxnO25T pic.twitter.com/K87hEbzrK8

— NFL (@NFL) November 13, 2022
This is a young team, so mistakes are bound to be made, especially in high pressure situations when execution becomes crucial.
"It comes down to what we're doing on the practice field," Matt Eberflus said to explain what the Bears' offense can do to get better in late game situations. "We have to do it [getting better in late game situations] on the practice field on a consistent basis."
"When you get to the games, you'll be more comfortable to be able to execute in those moments."
That's why it's easy to deflect some blame away from the product on the field. Mostly in favor of realism and facing the fact that not every group of young players is going to be ready to handle the suffocating air high stakes situations bring.
Those are mastered through experience most of the time, not on the fly randomly. Unless you're a group that somehow meets the expectations for these situations, which in that case you don't need to be doted on and handled with care.
But this group specifically, it's young and hasn't been in a lot of winning positions before. So some patience is going to be required while the kinks are worked out.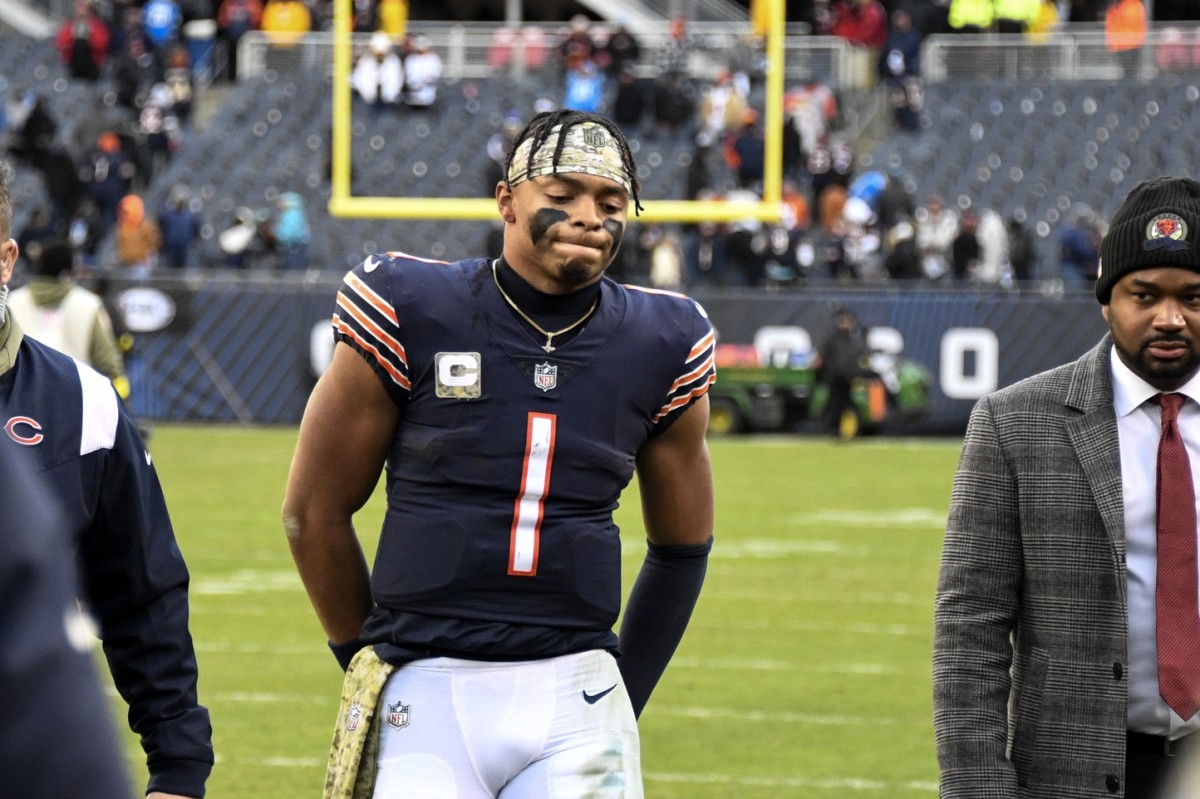 However, sooner or later some form of clutch gene has to be developed in order for this rebuilding Bears squad to take the next step. You can't be stuck in the realm of below average to average forever, if you could, no staff member would be fired and no player would be jettisoned away for more talented personnel.
But that isn't the reality, as the NFL is a cold, unforgiving cesspool that won't allow save you from drowning in the middle of the ocean. They'll watch as you slowly sink into the deep abyss and only wonder if you'll be able to recover and get back above the water.
The Bears have gone through this scenario over the last few years, as their underwhelming play on the field wielded zero sympathy from outside voices.
Luckily for the Bears, it appears they have a good nucleus of young talent waiting to take steps forwards developmentally.
But that development will have to branch over into the mental side of the game as well, as that aspect is certainly an obvious one that needs massive amounts of attention as this journey is being trekked by this new era of Bears players.
Featured image via Matt Marton-USA TODAY Sports