The Chicago Bears have been fortunate enough to possess two dynamic receivers that can help out quarterback Justin Fields.
Darnell Mooney — who has built a rather strong rapport with Fields — and Chase Claypool — who the Bears acquired at the trade deadline last week.
Mooney has had his fair share of opportunities, something that almost feels like a given considering how much time he's spent building his connection with Fields on the field. But for Claypool, he hasn't has as many opportunities, for good reason though.
Claypool has spent the past week and some change trying to learn the playbook so he can play more snaps on the field with each passing week. Considering how vast NFL playbooks are, it's not surprising that it's taking Claypool this long to finally work himself into this offense's plans.
But with some time, Claypool will eventually work his way into being a considerable threat within this offense. It won't happen overnight, instead it'll be a gradual process that'll improve itself each and every week.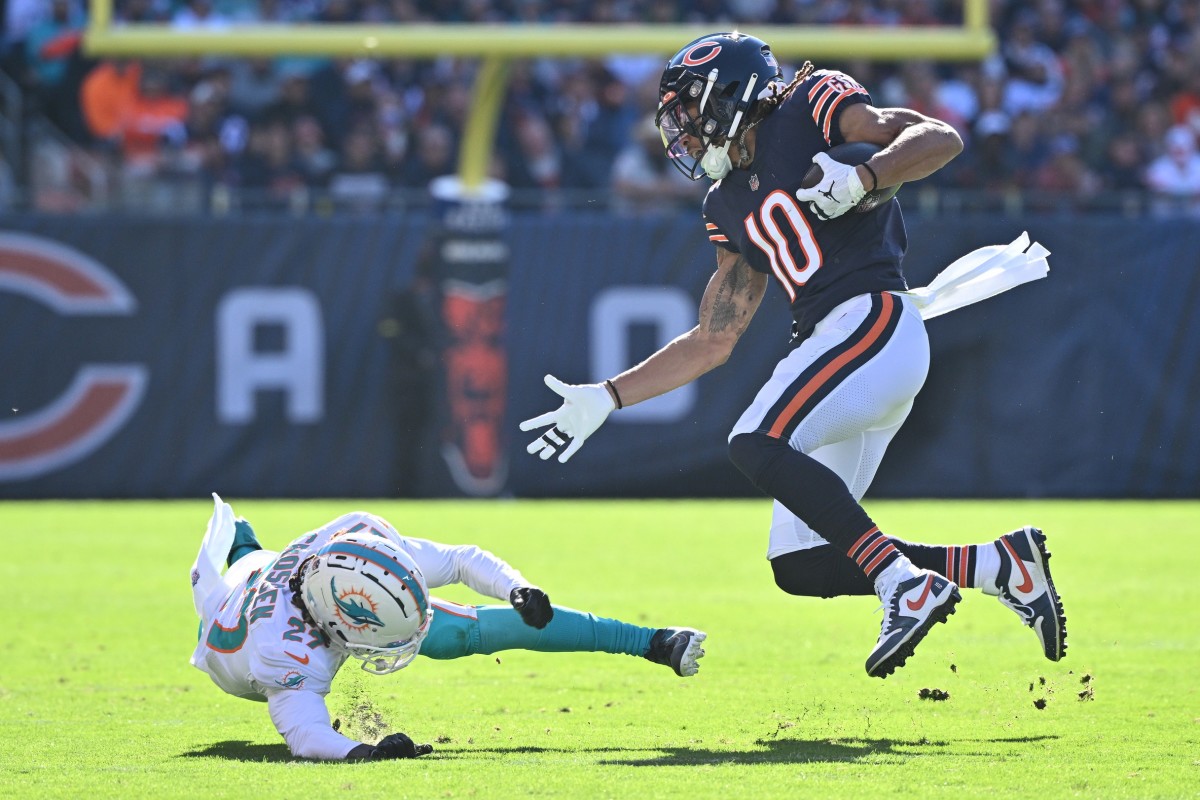 Like this week against the Detroit Lions, where head coach Matt Eberflus says Claypool is starting to take on a bigger role.
"He's [Claypool] getting more comfortable," Eberflus said today. "We're expanding the package for him, he's doing a lot of different things."
It's a welcome sight for this offense, which has longed for multiple difference makers that can make some noise as pass catchers. Without those multiple threats, the offense had became one dimensional and somewhat predictable, as defenses have been able to key in on Chicago's successful rushing game and the Bears' lone pass catching threat in Mooney.
But with an emerging Claypool, the running game should feel less pressure, and Mooney should receive more opportunities to work against those coveted one on one matchups.
"It's [Claypool's role] growing at the right pace and we're excited to see where it's going to go." Eberflus said.
Over the next few weeks, we'll get a better idea on the future of Claypool within this offense and how the Bears' staff will want to use him.
He was primarily targeted on reads that aren't difficult to master, primarily shorter routes and deep routes down the field, which were tasked with taking advantage of his physicality and athletic ability.
However, as the weeks go on, you'll begin to see the Bears work Claypool into some more "difficult" concepts and routes that this offense sometimes asks their receivers to run. Again though, it'll be a gradual process and transition, something this staff wants instead of rushing Claypool through the playbook and expecting him to excel right off the bat.
Either way, it should be an exciting rest of the season for this unit, as it tries to build on a better passing foundation for the future with two talented receivers ready to lead.
Featured image via Daniel Bartel-USA TODAY Sports