CHICAGO – With a new coaching staff and general manager typically comes a lot of roster turnover.
Unfortunately for the Bears, such is the case in 2022.
There will be a bunch of new faces making up the roster when the season kicks off in September. And right now, it's anyone's guess as to which guys play what position(s).
It's easy to get lost in all the names and turnover, which is why I decided to name three under-the-radar players who can make an impact this offseason and possibly even during the season.
They may not be well-known right now, but there's a great chance that will change, soon.
3) CB Thomas Graham Jr.
Graham's 2021 season wasn't that bad.
Sure, he gave up the deep touchdown to D.K. Metcalf in Week 16. But let's be real: A sixth-round rookie DB going against one of the best receivers in the game is already a major mismatch. And, it was in the snow. It's OK to give Graham a slight pass on that one.
Outside of the touchdown to Metcalf, quarterbacks completed 45% of their passes when targeting Graham (11 targets). Even more impressive is the fact he allowed just 26-yards on five completions.
Obviously, that's a very small sample size and there's no way to make an accurate prognosis when it comes to Graham's future. However, he did perform well, considering the hand he was dealt.
And, he's doing all the right things so far this offseason.
"He [Graham] puts in extra time," Rowe said via The Athletic. "He comes up and meets with David Overstreet, who coaches our nickels, mostly. He comes up and meets up with him every morning at 7 a.m. Very smart player. He is able to handle the workload outside and inside. He is intent on being good, and we love what we see from him so far."
Per The Athletic's Adam Jahns, Graham is in the mix at nickelback, which is a position that is currently up for grabs. But what may be even more valuable is Rowe's comment regarding his versatility.
That versatility will be key when it comes to Graham's playing time. And with Tavon Young currently sidelined with an injury, Graham is getting every opportunity to show the Bears what he can do.
2) S Dane Cruikshank
Cruikshank is another player who's versatility will come in handy over the coming months and into the season.
He never played more than 5% of defensive snaps before 2021. That changed as injuries to the Titans defense forced Cruikshank into a bigger role. He had a good year as the Titans' dime safety, shutting down assignments such as George Kittle and others.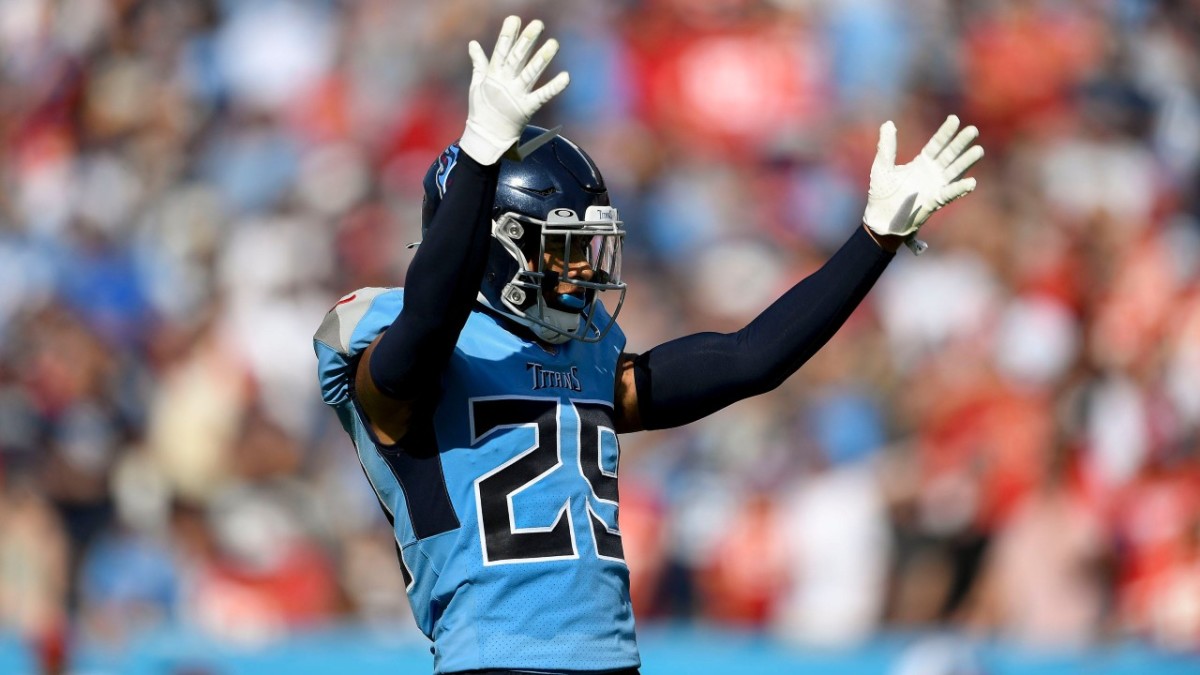 Historically, Matt Eberflus doesn't run much dime, but that doesn't mean Cruikshank can't carve out a role. Per Sports Info Solutions, Eberflus' defenses deployed nickel packages at  the third-highest rate in the league in 2021, excluding garbage time and kneel downs. Cruikshank could serve as the team's "Big Nickel" when needed against teams with multiple pass-catching threats at tight end or just big receivers, in general.
Cruikshank can also be used in a variety of ways on special teams. Don't be surprised when he makes a big play in 2022.
1) RB Darrynton Evans
It's easy to put sixth-rounder Trestan Ebner here, however, it feels like Evans is more of an under-the-radar player for the Bears.
Injuries are the reason why the Titans released Evans. He simply couldn't get on the field. But, if he can stay healthy, he has a dynamic skill set that many running backs don't have.
Evans can also help the Bears in the return game or in special offensive packages. His athleticism, alone, should go a long way in helping him find playing time this year.
If he can stay healthy, of course. If he does, then the Bears will have a dangerous weapon on their roster.
Featured image via Jon Durr-USA TODAY Sports