The NFL is a quarterback-driven league. If you have a top-10 signal-caller, you're usually in the mix every year.
It's why the Chicago Bears traded up to draft Justin Fields in the first round of the 2021 NFL Draft. Not only did they need a QB, but they also saw/see Fields as a franchise quarterback. One that can make them a perennial playoff contender.
If you're still unsure as to how one position on a field of 22 players can make that big a difference, all you have to do is check out the Cincinnati Bengals' 2021 season. The mere presence of a fully-healthy Joe Burrow was the catalyst behind their Super Bowl run.
Without Burrow, the Bengals don't make the playoffs. There's even a chance they finish with a losing record.
Even though not much is expected from the Bears in 2022, it's scary to imagine where the franchise would be without Fields. He's obviously "the guy" heading into this season and while he still has a lot to prove, there are plenty of other teams out there with much larger issues at quarterback (we're looking at you, Seattle).
But, it's certainly possible Fields has a Burrow-like ascension in 2022. And there's one player on the roster who sees a lot of similarities in Fields and Burrows.
Said player is newcomer Riley Reiff, who just so happened to have a front row seat to the Burrow Show last year.
"Joe Burrow is an awesome guy," Reiff told reporters Wednesday. "Tough, smart – you know I see a lot of that in Justin [Fields]. They just come out to work everyday. They're good guys, good humans, [they] study and they take control of it. Joe really took control of our offense last year and I see that in Justin so far, too.
"I haven't been here very long, but what have seen of him, I've been impressed by him."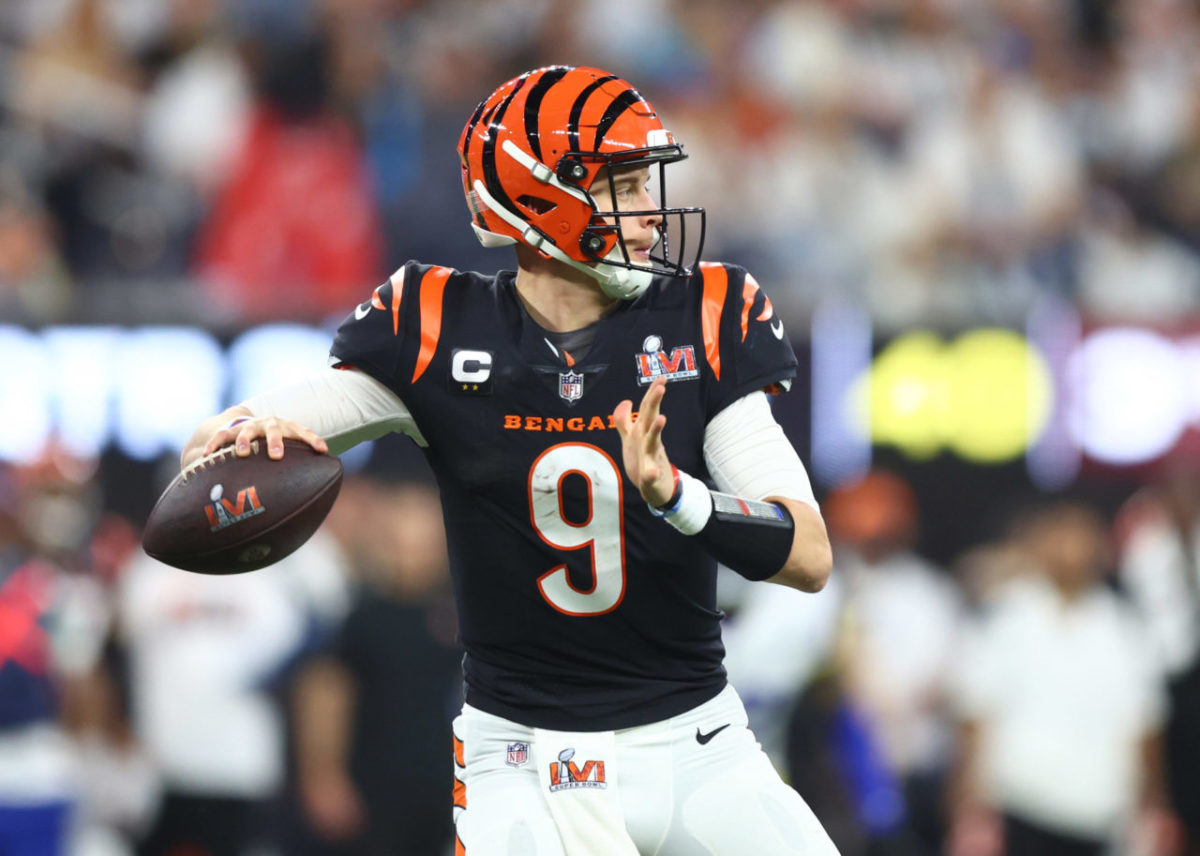 Reports have already come out mentioning how much more comfortable Fields is now that he's heading into a season as the undisputed starter. And his teammates who have been with him throughout the offseason back that up.
"You just feel him in the huddle," Kmet said recently, via ESPN. "He's not just repeating the play, he's telling you the play, and there's a difference in that. That gives me confidence as a player out in the field. He's talking to each guy. It's not just a repeat-a-play, he's telling us a play, which is a difference."
"When he comes in to enunciate the play or give us what we need to know to get out there and execute the play, it's just a lot more smooth," said offensive lineman Cody Whitehair. "He says it with more confidence, and I think that's just him developing from Year 1 to Year 2. We like where Justin is at and we're really excited for the year."
But the biggest endorsement has come from his head coach, Matt Eberflus.
"We've seen him just develop day to day, just keep getting better and keep learning the system and now he's starting to take control," Eberflus said. "In terms of getting guys lined up, helping guys after the play, 'you need to do this way,' 'you need to do it that way,' and he does it in a good way."
Fields is certainly taking the right approach, which should bode well for the Bears in both the short- and long-term. And for a team like the Bears -a team that is in search of an identity- that's a great place to start when it comes to the most important player on the team.
You can check out Reiff's full presser, below:
Riley Reiff is up next.@Hyundai | #BearsCamp https://t.co/C1hgCzsUPt

— Chicago Bears (@ChicagoBears) July 27, 2022
Featured image via Mike Dinovo-USA TODAY Sports