The Chicago Bears need to get back to competing. This fan base deserves that. They can do that soon if they follow a checklist that NFL Network's Good Morning Football thinks will consider them having a successful season.
The Bears were just short of having a top-five pick last year. In other words: they were not very good, at all.
While they may not be competing for a Super Bowl this year, they can have a successful season. But, according to GMFB, they don't have that difficult of a checklist to have a successful season.
1. Justin Fields develops and proves he's the QB of the future
The Bears have been searching for their quarterback of the future for quite some time now. They thought it could have been Mitch Trubisky, and were, unfortunately wrong. It happens, and on to the next one.
Fields has all the potential in the world, but he did struggle last season. It was his rookie year, so the struggles were bound to happen. However, it was more than what most expected.
A lot of it can be blamed on the coaching staff, the offensive line, and the weapons and team built around him, and some of it was just simply, Fields. If he has a great season this year, and shows even more of that untapped potential, it's the first step of the Bears having a great season.
2. Develop consistency on offensive line
Like we mentioned earlier, a ton of the offensive struggles last year were on the offensive line. So, the Bears went and drafted four offensive linemen. However, all of those guys were draft in the fifth round or later, so the Bears must be confident in bringing their current line along.
Chicago signed Lucas Patrick, a versatile interior offensive lineman formerly on the Green Bay Packers. They signed Julie'n Davenport, the left tackle who played for Indianapolis in nine games last year. They also signed Dakota Dozier, a guard formerly on the Vikings last season, but Dozier is expected to miss the season after suffering an injury back in June.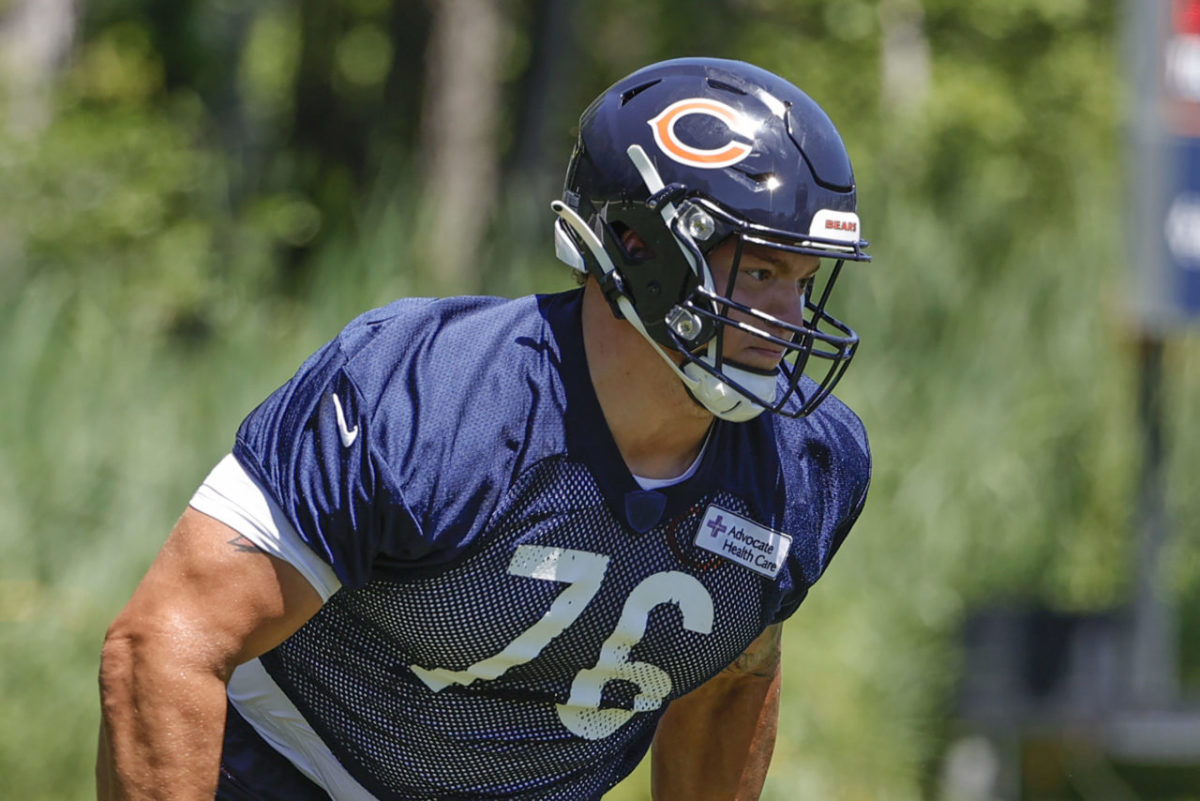 Hopefully the Bears added some consistency with all of the new guys the team has coming in on the offensive line. If they do, they can check this off their list and it's a guarantee that Fields will look much better in Year 2.
3. 2022 draft picks provide future in secondary
While the topic is a bit counterintuitive, the main point being driven home is that Kyler Gordon and Jaquan Brisker need to show that they can play in the NFL at a high level in Year 1.
No pressure, right? Especially for a couple of second-rounders, right?
While it may not be 100% fair to expect a big year out of one -or both- players, that's just the circumstances surrounding both players.
Gordon and Brisker represent the first and second picks of Ryan Poles' first draft as general manager. And they're not coming to a loaded roster, either. The Bears secondary is in drastic need of upgrades at multiple positions and these two are expected to provide that in 2022.
There's also the fact that the Bears, and Fields, have a plethora of needs on the offensive side of the ball. But, the Bears decided to stick to defense, instead.
Plus, when you play in Chicago, all eyes will be on you. Constantly.
Neither player needs to have Pro Bowl-caliber years in 2022 (even though that would be nice), but both players need to show that they can at least play in the NFL at a decent level, which will then provide an answer at their respective positions moving forward.
Because if they don't, then Poles' first draft will be under heavy scrutiny just one year later.
4. Velus Jones Jr. becomes offensive playmaker
This is absolutely key in 2022.
While Gordon and Brisker need to have solid seasons, a solid season from Jones Jr. would go a long way toward fans forgiving the Bears front office for not taking an offensive player in Round 2.
Jones Jr. has elite traits that can translate into success in the NFL. And even though he's really raw, offensive coordinator Luke Getsy doesn't have to dial up galaxy-brain schemes to get him the ball. And Getsy knows this, which should play into the Bears' hands this year.
If Jones Jr. can be the speedster/vertical threat that's expected from him, then you better believe the Bears will have a certain degree of success in 2022.
Featured image via Jon Durr-USA TODAY Sports