In case you missed it, the already hype-worthy Thursday Night match-up between the Miami Dolphins and Cincinnati Bengals got even more interesting over the last 24 hours.
The reason why has taken many by surprise, including the league itself.
According to Miami Herald contributor Al Butler, NFL security is looking into the social media leak of several clips from the Dolphins' practice at Nippert Stadium of the University of Cincinnati. The Dolphins have been practicing in Bearcats territory as the Tampa Bay Buccaneers are currently practicing at the Dolphins' facilities because of Hurricane Ian.
As you can imagine, the unexpected news has sent NFL fans on a crazy rampage of takes ahead of tonight's game.
On Twitter, you can find several screen recordings of an account that tweeted out several clips from the Dolphins' practice session on Wednesday.
Someone at the University of Cincinnati's campus, has snuck into the Dolphins practice. Filming all of their plays, and have been posting them to twitter.

This League. pic.twitter.com/MZLFeTcbFe

— Barstool Sports (@barstoolsports) September 29, 2022
Before jumping to massive conclusions on how big of a deal this is, it's important to understand the context of Nippert Stadium, however.
"During the day anyone – literally anyone – is allowed to be on the field or sit whenever in the non-club seat stands," Danielle Mitsch, a University of Cincinnati alum, told A to Z Sports. 
She noted on Twitter that students have to walk through the stadium to get to class.
Mitsch explains Nipper Stadium's field is below ground level and it's even easily seen from student dorms. Below is a picture taken her freshman year: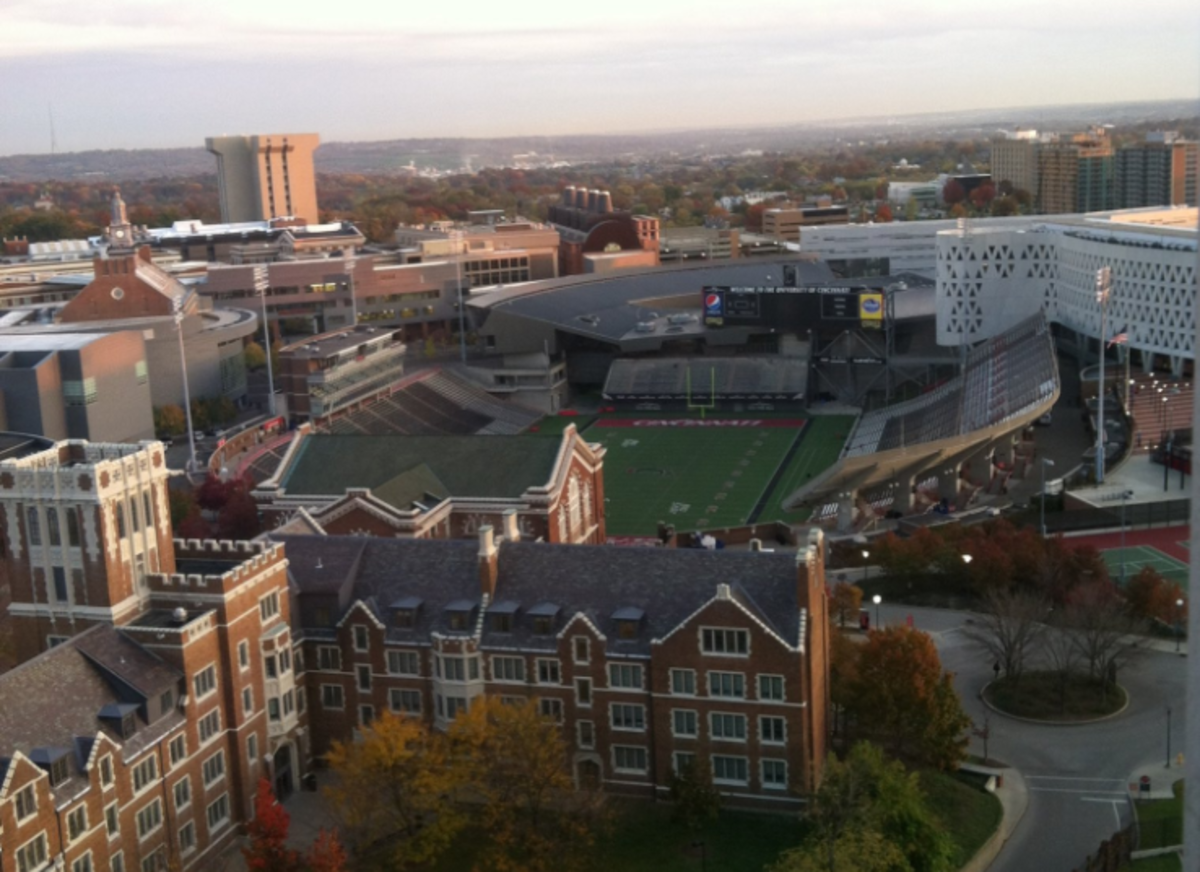 "Notice all the people on the field doing whatever they want," said Mitsch of another picture in which there are over a dozen people on the field. Nippert Stadium's exposure is overwhelmingly noted by UC students.
Others on social media have also pointed out that the Dolphins could've used other facilities available at the University of Cincinnati if they wanted a more secretive location to hold practice in.
As dramatic as "NFL security is looking into it" sounds, chances are the Dolphins knew what they were doing ahead of their primetime showdown against the Bengals. Either they just had a screw-up for the ages – which is hard to believe – or they were well aware they were having a "public" practice on Wednesday.
For what it's worth, the radio voice of the Bengals Dan Hoard tweeted the Dolphins were given other location options.
For what it's worth, the Dolphins were given the option of using the Sheakley practice facility before or after the Bearcats practiced. The bubble isn't up, but there are probably fewer places for students to watch. Neither facility offers total privacy and the team was aware https://t.co/9zZ2RbcFcz

— Dan Hoard (@Dan_Hoard) September 29, 2022
Either way, a huge game awaits the Bengals tonight. After bouncing back with a double-digit win versus the New York Jets, expect the Dolphins to challenge them with more Cover 2 looks and a flamin' hot pair of wide receivers in Paycor Stadium.
Don't expect a "practice leak" to have any major impact.
Featured image via Sam Greene/The Enquirer / USA TODAY NETWORK