The Nashville Predators and Bridgestone Arena have adjusted their entrance setup to accommodate COVID-19 policy guidelines.
If you plan to head to a Predators game at Bridgestone Arena between now and at least November 15th, here's what you can expect.
All guests must be vaccinated or have negative test
First, as stated in their policy update on September 13th, the Predators are requiring all guests be fully vaccinated OR have a negative COVID-19 test within 72 hours of the game.
From the release:
"Bridgestone Arena announced today that effective Oct. 2, all guests aged 12 and older will be required to show proof of full COVID-19 vaccination or a negative COVID-19 PCR or antigen test administered by a healthcare professional within 72 hours prior to the event that includes their name and the date of the test to attend all Nashville Predators games and events held at the venue. The new policy is scheduled to remain in place through at least Nov. 15."
This follows a standard set by many other major venues across the country over the last few months, as well as many bars, clubs, restaurants, and venues in Davidson County.
Note that the policy is currently set to expire November 15th. The team said they will reevaluate at that point and, based on the transmission and vaccination rates in Nashville at that time, they will either extend that date or let it expire.
Two COVID checkpoint entrances
All guests will have to pass one of two COVID checkpoint entrances to enter the main outdoor plazas at Bridgestone Arena.
Guests with either A) a physical copy of their vaccination card or a digital version of the physical copy (i.e., a picture of it on your phone) or B) a negative PCR or antigen COVID test must enter the plaza through the "Health & Safety Checkpoints" which look like this:
The other checkpoint option is the Verified Entrance, which involves using the CLEAR App to show your verified vaccination status.
After downloading the CLEAR App (click here … and do this prior to your arrival at the Arena) you can upload your vaccination record to the app. You can then pull up a "Health Pass" specifically for Bridgestone Arena. The Health Pass looks similar to a boarding pass for an airplane.
Once you have your Health Pass pulled up, you can proceed through the Verified Entrance, which looks like this: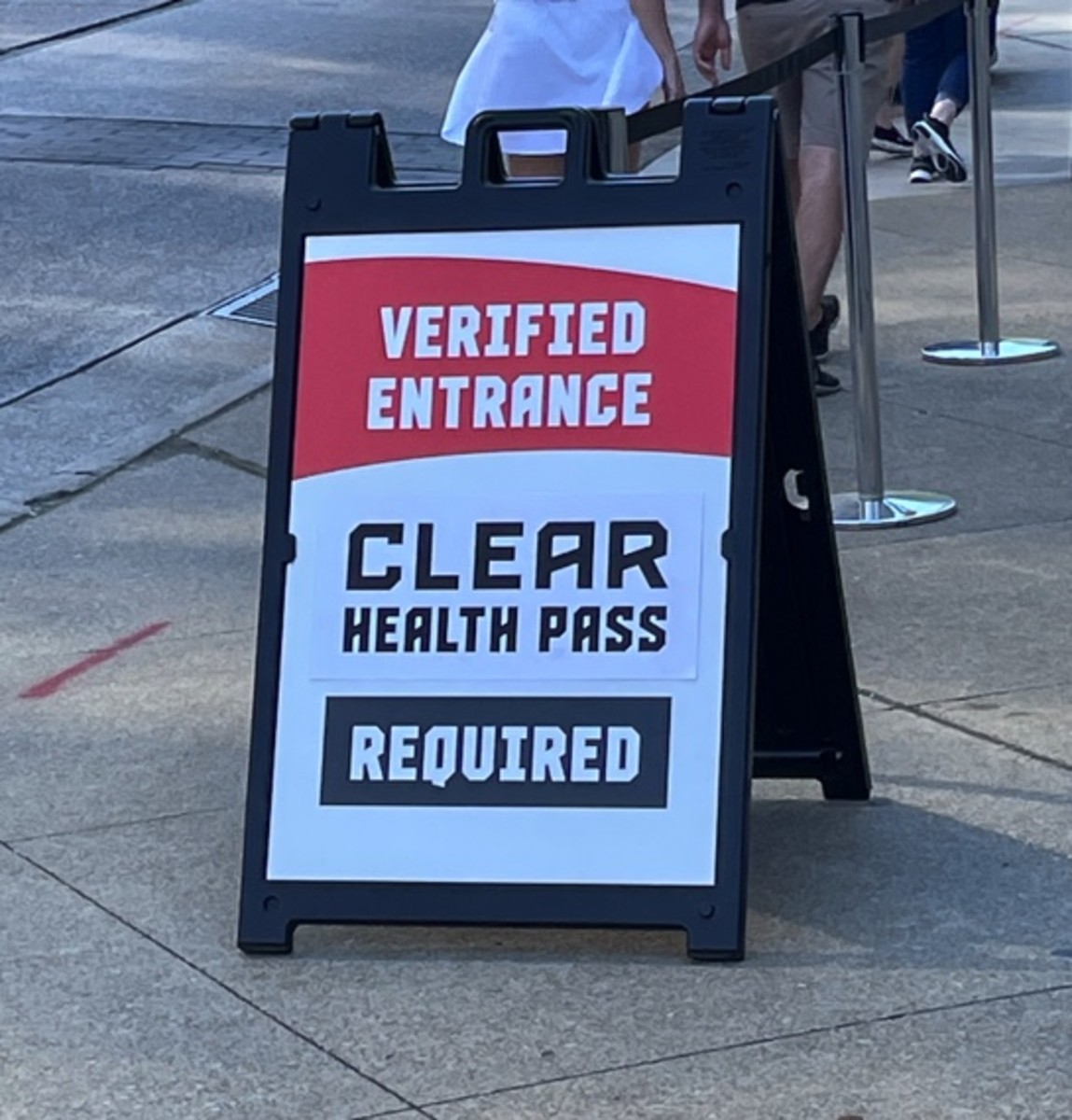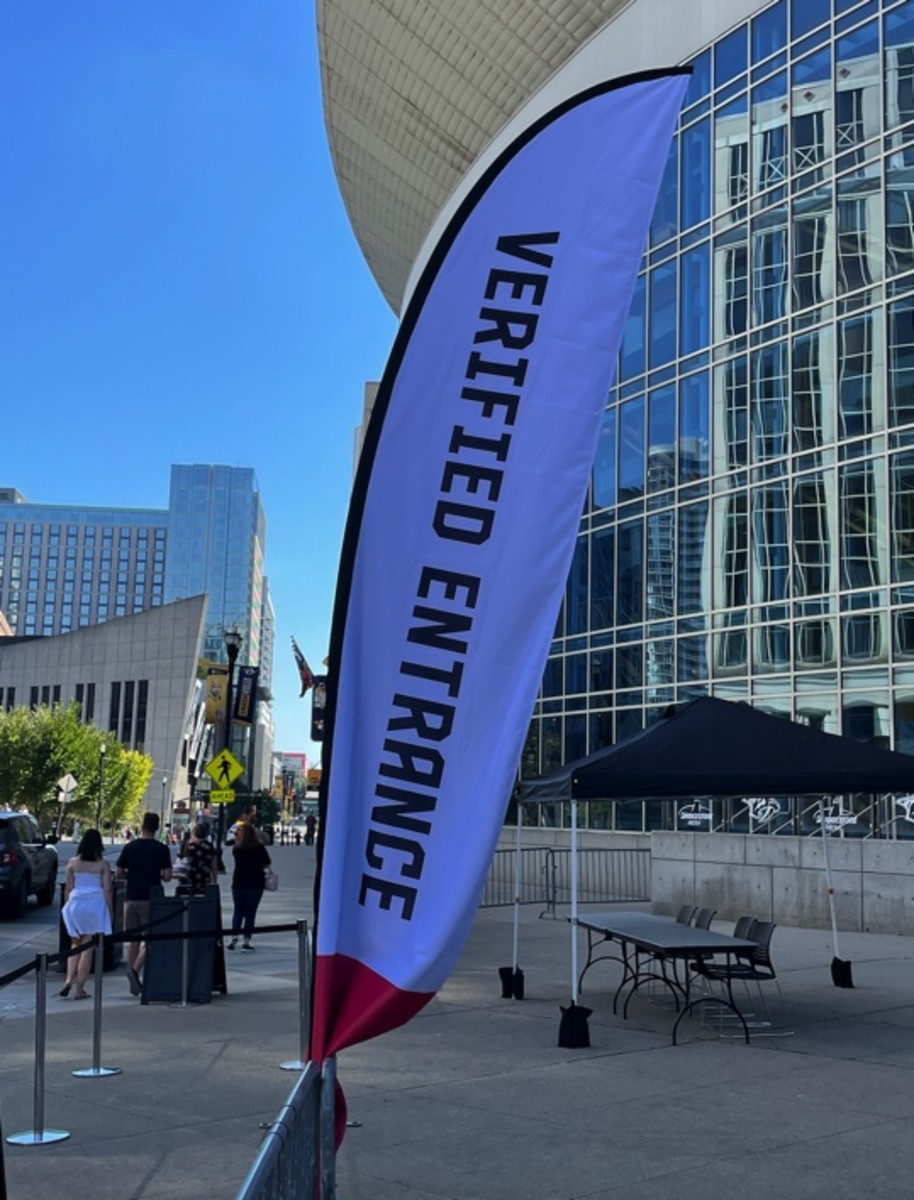 Medical professionals will be staffing both checkpoints to check vaccination status or negative tests.
One important tip: the two checkpoint entrances are right next to each other on the perimeter of the plaza. It may help to verify which line you are waiting in before waiting too long.
These two entrances, by the way, are fairly close to each other. Make sure you know which line you are in first.

Verified entrance = CLEAR App

Health & Safety Check = neg test or physical copy of vax pic.twitter.com/OI8xVKG5EI

— Alex Daugherty (@AlexDaugherty1) September 27, 2021
Once you've cleared the two checkpoints, you will no longer need to show proof of vaccination or negative test anywhere else in the arena.
Preds officials "recommended/encourage" masks
Once inside Bridgestone Arena, the face mask policy is slightly different from last year. As per the official policy, "masks are recommended for vaccinated and unvaccinated guests" while inside in the arena.
At press availability on Monday, Bridgestone Arena and Nashville Predators officials said they "encouraged" all fans to wear masks to Preds games.
Anyone who attended a Preds game at the end of last season probably remembers the strict guidelines around masks. They had to be worn at all times unless actively engaged in eating or drinking. It sounds like that will not be the case this year.
It goes without saying that you should attend Preds games "at your own risk," so to speak. It is very likely that many people will not be wearing masks around you. If that's something that worries you, I would suggest not attending games for the time being.
The good news for Preds fans? There are no attendance restrictions for now. The building should be full of screaming fans again, just like it was for the playoffs against Carolina. Hopefully this is just another step on the way to normalcy for hockey fans in Nashville.
Your first chance to see the Nashville Predators in action in the preseason is this Saturday night against the Tampa Bay Lightning.