The Green Bay Packers have been to the NFC Championship game two of the last three years, have been the NFC's No. 1 seed the past two years, and are batting 1.000 when it comes to NFC North titles under Matt LaFleur.
Normally, that's a really good run that most coaches and franchises would be proud of. But when you play in Titletown with Aaron Rodgers at quarterback, it's not good enough.
And for good reason.
Needless to say, there's a lot of pressure surrounding the Packers in 2022. Especially after the deflating playoff loss to the San Francisco 49ers.
Which Packers are feeling it the most? Let's find out.
3. S Darnell Savage Jr.
Savage made the Pro Bowl in 2020, but his play dropped off in 2021 after defensive coordinator Joe Barry changed up the defense.
Was Savage's step back more a result of the scheme change or is it a sign of things to come? The Packers are going to have to figure that out pretty soon due to the fact that the deadline to approve fifth-year options for 2019 first-round picks is May 2.
Right now, it's a tough choice. Savage could cost anywhere between $8-$11 million next year depending on how he's used in the defense this year. Will the Packers take the chance on him or will they keep their options open?
Obviously, declining the option means Savage really needs to show up in 2022. But he's still going to have to play well, even if the Packers do exercise the option. The salary will be fully guaranteed, but Savage is officially on watch. Another poor season will stack the deck against him even more as the years pass.
2. OLB Za'Darius Smith
Smith's first two years as a Packer went extraordinarily well and he was key in helping Green Bay reach back-to-back NFC Championship games.
But 2021 was a completely different story. Smith missed training camp due to back issues and played just 18 snaps during the regular season before bowing out until the playoffs.
He played 19 snaps and recorded a sack in the playoff loss to San Francisco, which was the pinnacle of his season. Overall, Smith logged 37 snaps and 1.0 sack in 2021.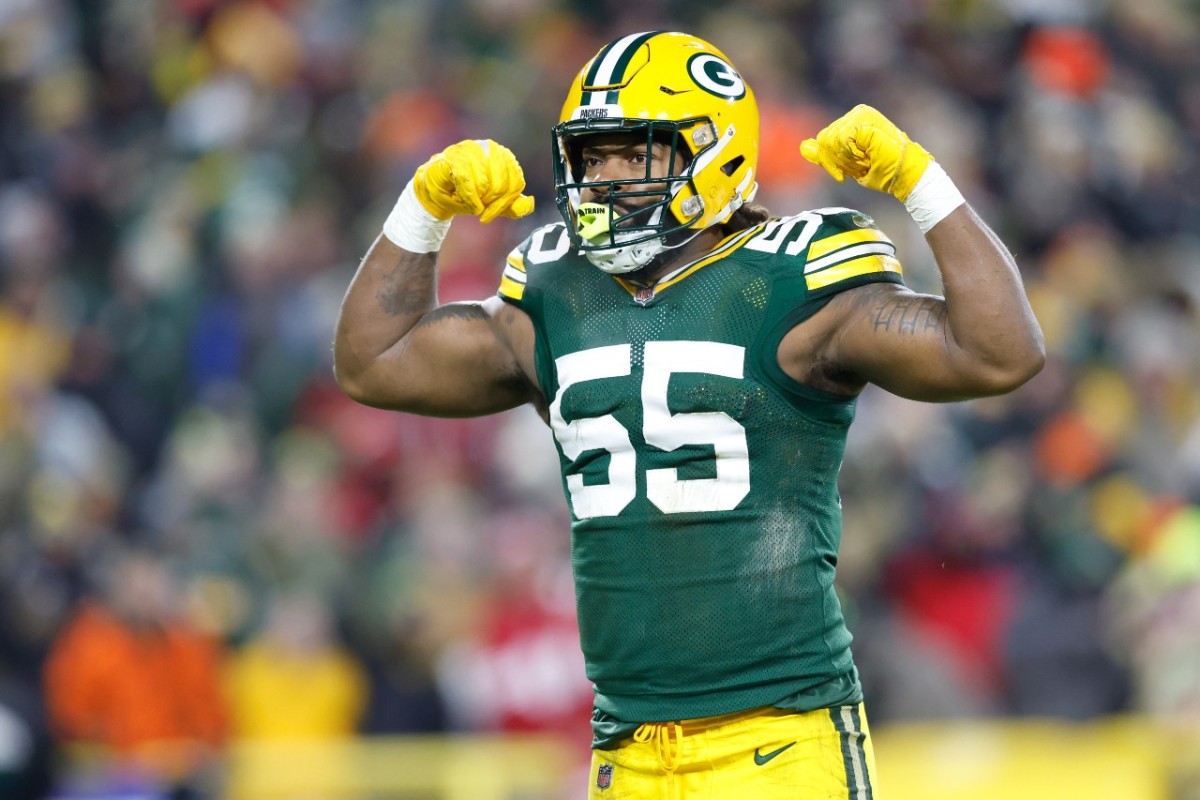 That's obviously not a good development for a player who's tied for the seventh-highest AAV at his position.
Smith's cap hit is almost $28 million in 2022 thanks to a restructure in March 2021. There's no way the Packers can afford that based off their current cap situation. However, it's hard to see them parting ways with a productive player like Smith after one season lost to injury.
Outside of an extension, the best way for the Packers to handle Smith's cap hit would be to go through another restructure and tack on some void years to help spread some money around. This seems like the most plausible route considering Smith will be 30-years-old when the season rolls around.
But tacking on those void years still means that Smith is in the last year of his deal. And that means he is going to have to play well in 2022 if he wants to stick around in Green Bay.
1. GM Brian Gutekunst
Man, these last two years would be tough for any general manager. First, Gutekunst had to deal with all the Aaron Rodgers drama in 2021 and now, he's saddled with the league's second-to-worst cap situation.
It's not just a bad situation, it's a terrible situation. Green Bay is approximately $35.5 million over the cap and has key guys like Davante Adams, De'Vondre Campbell, Robert Tonyan, and Allen Lazard to re-sign. There's also names like Rasul Douglas -who wants to stay in Green Bay- and Krys Barnes, as well.
And, of course, Rodgers is deciding on his future, but it shouldn't be as much of a circus, this time around. Either way, it's another pending situation on Gutekunst's plate that could dramatically shift the free agent/salary cap landscape for the Packers.
Add in the fact that there aren't many contracts to manipulate in order to create cap space and it's easy to see why Gutekunst has a mountain to climb during the offseason.
A lot of work goes into being a good NFL GM, to no one's surprise, but I'm sure it's a fun job, at the same time.
However, I would not want to be in Gutekunst's position. And how he navigates the offseason is going to define this team's success in 2022.
Feature image via-Kirby Lee-USA TODAY Sports