It didn't take Green Bay Packers head coach Matt LaFleur long to catch on to the type of player that is Rasul Douglas.
In fact, he can tell you the exact moment in time he figured out the sixth-year pro.
And nothing has been the same, since.
"Probably when he went out there and got his first pick," LaFleur said, laughing, as he spoke with reporters Thursday. "He picked it up quickly and there's no looking back now. You rarely find a player of that caliber. I can't remember a time that I've been on team that you've picked up somebody in the start of the year or whatever and they make that big of an impact on your football team."
In case it's been forgotten: The Packers picked Douglas off the Arizona Cardinals practice squad during Week 5 of the 2021 season. Douglas was on his third team in three years and had quickly fallen out of favor in the NFL after starting 11 games in 2020.
But, the Packers needed help. And Douglas had flashed starting ability before, so why not take the chance?
Douglas was a hero in Titletown by his second start in green and gold. His fourth-quarter interception sealed a 24-21 win against the then-undefeated Cardinals, creating a storybook-like narrative that stuck throughout the rest of the season.
LaFleur knows how rare a story like Douglas' is. But, he also recognizes the mental side of Douglas' game, one that is rare in itself.
"First of all, he's super-intelligent," LaFleur told reporters Thursday. "But, yea, just the conversations [and] the back-and-forths – it's pretty rare to have a guy that has the knowledge [he has]. I think that's why he's been able to make a lot of plays. He's so good at recognizing formations and splits and he understands what routes come from each split. … He has great ball skills.
"He's just a great competitor."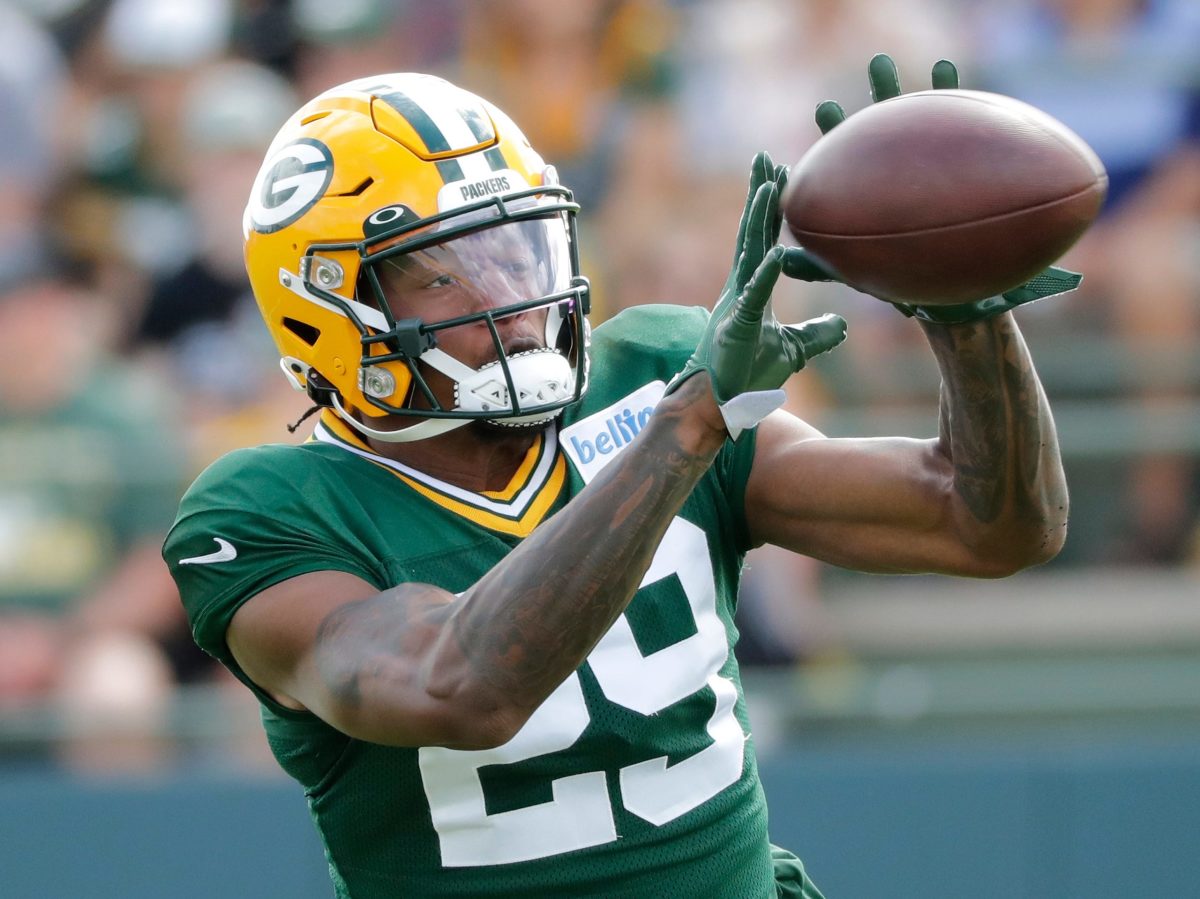 Douglas finished the year with five interceptions, including two returned for touchdowns. Per Pro Football Focus, quarterbacks averaged a league-low 43.7 QB rating when throwing Douglas' way and he graded out as the eighth-best corner with a 78.0 coverage grade among all cornerbacks with at least 466 coverage snaps in 2021.
Douglas' five interceptions were easily a career-high.
"I think everything he does he's just always using his mind," said LaFleur. "But, certainly, he's got great ball skills, as well.
It's not just Douglas' mental processing and ball skills that LaFleur loves. There's yet another element to the former third-round pick's game that once again separates him from the rest.
"The thing I love about him, and this is the thing you don't always see with corners, is he's a physical guy, as well. He's not afraid to put his nose in there and make a big hit."
It's clear Douglas had a special 2021 season. But the Packers need him to be just as special in 2022, if not more.
Fortunately, the Packers have the right guys in the right place to make that happen.
"We're lucky to have a guy like Jerry Gray, who's an unbelievable mentor and coach for these players," said LaFleur. "You know, he's got such a unique story in terms of being a first-rounder and playing at the highest levels and then his track record as a coach; he's had a lot of great secondaries and has coached a lot of great players.
"And I think he does such a great job of making these guys intentional about their work and giving them something to focus on while motivating them. And really simplifying the game for our guys."
All the pieces are in place for another storybook-type season for Douglas. Except, you know he -and the rest of the Packers- are looking for a much different ending, this time around.
You can check out LaFleur's full presser, below:
LIVE: Head Coach Matt LaFleur meets with the media ahead of Thursday's #PackersCamp practice 🎥 https://t.co/qIjik6JSny

— Green Bay Packers (@packers) August 4, 2022
Featured image via Wm. Glasheen USA TODAY NETWORK-Wisconsin