Former Tennessee Titans DB and current NFL analyst Jason McCourty was talking Titans during his television debut on Good Morning Football, and his thoughts on the 2022 roster may not be what Titans fans want to hear. 
McCourty, who played eight seasons in Tennessee from 2009-2016, engaged in a debate with fellow analyst Jamie Erdahl on which NFL contender has the most question marks about their roster heading into training camp.
While Erdahl believed the Titans without AJ Brown leave a lot of question marks about their offensive success, McCourty rebutted by saying that he "does not view the Titans as contenders" in 2022. 
"I don't see the #Titans as a contender."

Do you agree with @McCourtyTwins? 🤔 pic.twitter.com/T5PkHrJttC

— Good Morning Football (@gmfb) July 25, 2022
"I don't see the Titans as a contender," McCourty said. "Which is surprising to me because…number one seed [last year], you're getting Derrick Henry back, your thought process is 'all right, here we go, we're going to win this thing'…and then you trade away AJ Brown."
"For a team that's ready to win right now, and your team is built for that, the number one seed last year, and we get rid of our most productive offensive player with Derrick Henry not being out there? That makes it tough for me to really believe they're going to be a team that takes it over the top." 
This isn't what Titans fans want to hear entering the season, but I think both McCourty and Erdahl bring up good points regarding the Titans roster construction this season.
It's not to say the team won't be successful in 2022 (I'd still bet on Tennessee making the playoffs), but there's no question the Titans front office pumped the breaks on their "all-in" mentality with the AJ Brown trade.
You can argue the Brown trade gives the Titans more financial flexibility that can extend their window of contention and create more sustainability, but the current receiving core is not up to level it was a year ago, and the numbers show just how different both the offense, and Ryan Tannehill perform without the number one option on the field.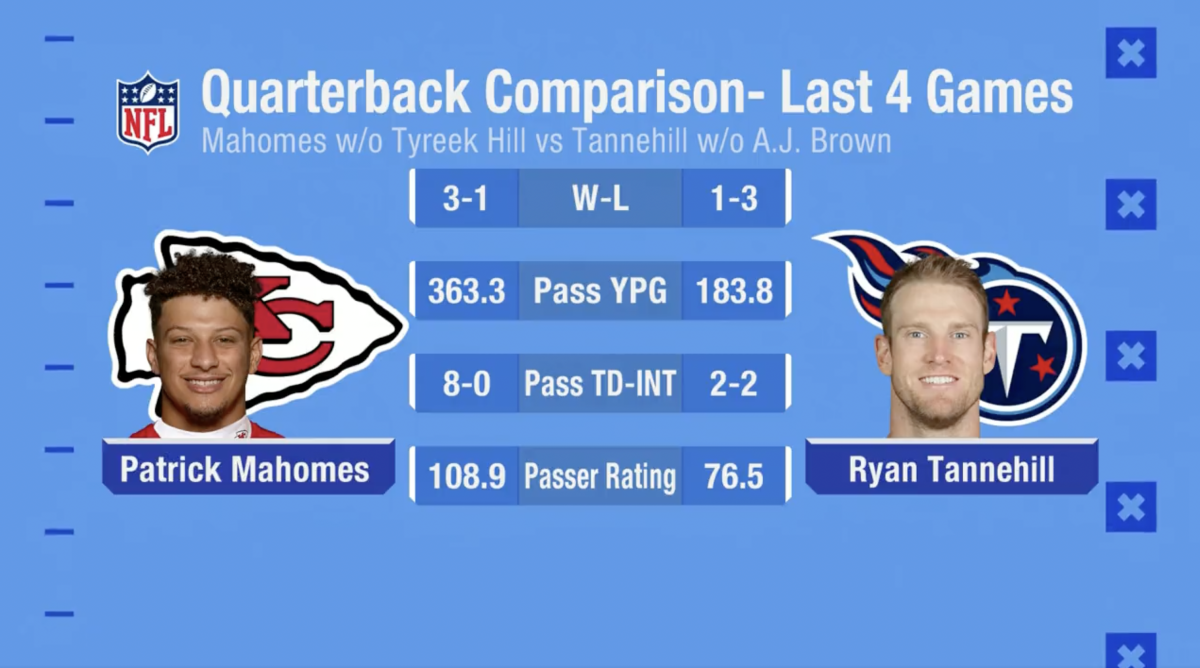 The above image is what Erdahl referred to when bringing up the question marks she has for the Titans this season in comparison to the Kansas City Chiefs, who also lost their top receiving option this offseason.
Tannehill's production has taken a significant dip in games AJ Brown is not on the field, and even as a Tannehill believer, it's hard not to be concerned about his options and weapons.
Are the Titans a contender in 2022? I'd certainly say so. The front seven is among the best in the league and with returning Caleb Farley and Kristian Fulton returning from injury, the secondary could join them.
That said, your opinion on the 2022 Titans is ultimately probably determined by your belief in Ryan Tannehill to succeed without Brown, and even if the trade will create sustainability, it's easy to see why the Titans may not be viewed as the Super Bowl contenders they were just a year ago.
McCourty makes a valid argument for the red flags surrounding the team.
Image via Christopher Hanewinckel – USA TODAY Sports