Butch Jone is a name that elicits strong feelings from the Tennessee Vols fan base.
The end of the Jones era was disastrous. The 2017 season was one of the worst seasons in Tennessee football history.
But despite the rough end to Jones' tenure at UT, his time in Knoxville wasn't all bad.
The Vols won three straight bowl games under Jones. They also won nine games in back-to-back seasons for the first time since the 2006/2007 seasons.
While Butch could've done more at Tennessee (the 2015 and 2016 teams should've won the SEC East), he's undoubtedly the most successful coach that's been at UT since Phillip Fulmer.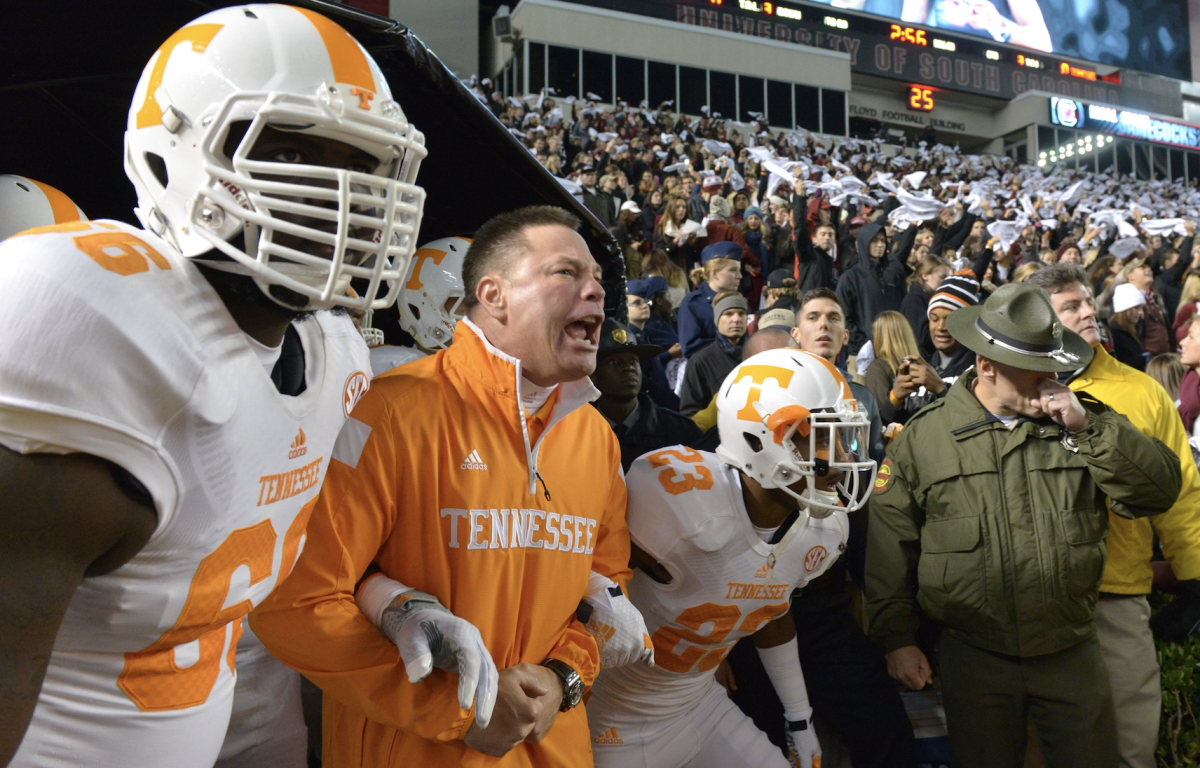 The Tennessee Vols should bring back a Butch Jones tradition
When Jones came to Tennessee, he tried to institute several new traditions.
Some of those traditions failed to catch on (such as fans raising a fist on third downs).
One of the traditions, however, was brilliant. And it's something the Vols should bring back — albeit with a twist.
Under Jones, Tennessee newcomers had a black stripe placed on their helmets during practices. The team would then decide when the stripe was removed. It was a great team-building idea that made newcomers earn the respect of the veterans on the team.
First to have his stripe removed was RB @A_kamara6 ➖ pic.twitter.com/Eh1Ug3EhGF

— Tennessee Football (@Vol_Football) August 8, 2015
The black stripe is gone for @CHECK_UP_ 🍊🍊🏈➖ pic.twitter.com/hfQsX8WSqy

— Tennessee Football (@Vol_Football) August 11, 2016
This is a tradition that new Vols head coach Josh Heupel should consider bringing back — it's a great way to build chemistry/camaraderie.
There is one change, however, that I'd make. Instead of having a black stripe removed, newcomers should have to "earn" an orange stripe (or a Power T, checkerboard stripe, something UT-related). This would differentiate the tradition from the Jones era a bit, while also adding a Tennessee vibe.
Note: An earlier version of this article said the Vols should've won the SEC in 2015 and 2016. That was meant to say SEC East. 
Featured image via CAITIE MCMEKIN/NEWS SENTINEL, Knoxville News Sentinel via Imagn Content Services/Michael Patrick, Michael Patrick/News Sentinel