There was plenty of hype heading into part three of the Philadelphia Eagles-New York Giants 2022 series, but one troubling development gave Eagles fans slight pause ahead of kickoff.
FOX Sports' Pam Oliver conducted a pregame interview with Eagles quarterback Jalen Hurts and the Pro Bowler revealed that he is "nowhere near 100%" when it comes to his health.
"I am nowhere near 100 percent, but I just gotta go out there and get it done," Hurts told Oliver.
Well, any and all concerns were quickly trounced once the Eagles took the field. Hurts led a dominant offensive performance that saw the unit simultaneously score four touchdowns over the first five possessions and amass a 28-0 lead before halftime.
Hurts completed 12-of-17 passes for 118-yards and two touchdowns in the first half. He also 30 rushing yards and a touchdown on eight carries.
But the key with Hurts' performance wasn't just his play – it was how he played the game.
"He was in complete control out there," head coach Nick Sirianni said after the game. "… To have him out there is like — I know this is high praise, but to have him out there is like having — I shouldn't even go there — it's like having Michael Jordan out there. He's your leader. He's your guy.
"I mean, to me, nobody has played any better football than him this year."
It would've been one thing if Hurts came out and looked rusty or struggled during the early portions of the game. One week's rest, along with his injury and illness, are enough factors to make both the Eagles and their fans worry about what the future may entail when it comes to Hurts and his health.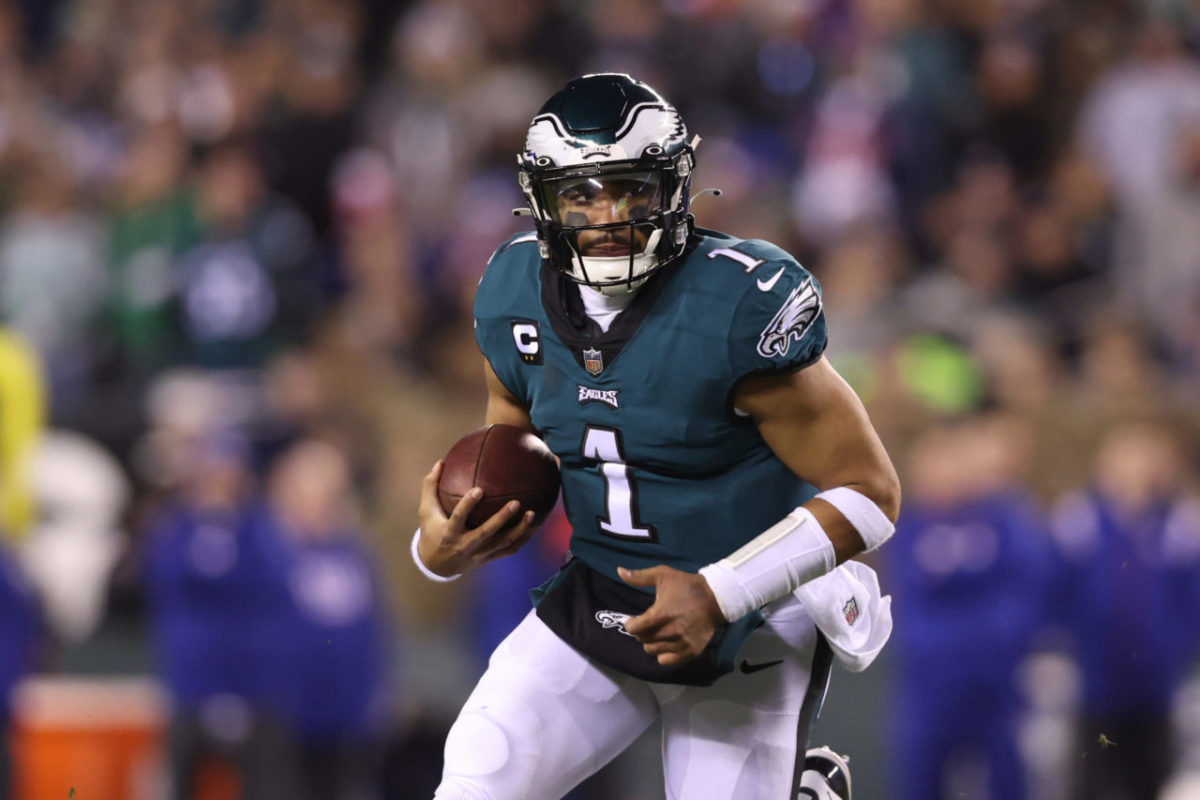 But that didn't happen. Hurts was lights out as soon as the lights came on.
And the Eagles looked like the NFL's No. 1 seed because of it.
"I truly never put a limit on myself and I never put a limit on what this team can do, so there's always more out there for us to get," Hurts said after the game. "To come out there and play the way that we did tonight, I'm proud of this group, I'm proud of this team, and I'm proud of the preparation that we put into getting to where we are.
"He was ready to go, what he did today, and we did the things we thought were best for us," said Sirianni. "Again, that doesn't mean he's always going to carry it because some of that is determined on the defense, but when he does carry it, he demands that respect on the backside.
"Nothing was off limits tonight."
A nowhere-near-100% Hurts playing like that? Nah, the NFL doesn't want any of that. Especially when you consider what the Eagles can do on defense and what the team has in terms of skill position players on offense.
"Being able to efficiently run the ball, throw the ball efficiently and if the quarterback can do it as well it's a good thing to have and I think it's a special thing when we're able to do all of that," said Hurts. "It's like pick your poison when we're executing and have the right attention to detail in everything that we're doing.
"We definitely want to pose a threat to the defense and that's something we work on every day."
And as the days pass, the healthier guys become, like All-Pro right tackle Lane Johnson. Which is an even scarier proposition for the NFL's 31 other teams.
But it's not just the physical aspect that impresses, it's the mental aspect that impresses even more. And based off what is being said, the Eagles have checked all the boxes when it comes to postseason success.
"It is the mentality," tight end Dallas Goedert told reporters. "Jalen said it best that you have to be hungry for this. He said he was starving for this [stuff]. With everyone in the locker room, he sets the tone for it and we follow along. Whatever he says goes. He is the leader of this place. He had it in him so we all follow suit."
Featured image via Bill Streicher-USA TODAY Sports