Every week in the NFL is a battle. It doesn't matter if your opponent is 0-10 or 10-0 – teams need to be on their game, regardless.
That's exactly how the Tampa Bay Buccaneers need to approach the Cleveland Browns this week. The Browns are 3-7 as they await Deshaun Watson's arrival and they also have a myriad of issues on both sides of the ball.
But there are plenty of players that can make the Buccaneers' path to six wins very hard or even impossible on Sunday.
It starts with the Browns' rushing attack, which is fourth in offensive DVOA, per Football Outsiders. For those more into traditional stats, the Browns average the fifth-most rushing yards per game (150.9) and are tied for the seventh-best average per rush attempt (4.8).
And the Browns run the ball an average of 31.6 times per game, which is fifth-most in the NFL. Having the NFL's best running back duo in Nick Chubb and Kareem Hunt is a huge reason why Cleveland runs so often.
"It's going to be tough, you know? They've got two good runners, they've got a great offensive line, their tight ends and receivers block as well," Todd Bowles recently told reporters. "They've been in the top five the last couple of years and it's going to be a challenge for our guys – gap control, understanding where we've got to be.
"But when you do that, they have play action passes and throw the ball – they have a great screen game [and] they've got some good receivers outside. All the way around, we're going to have to be disciplined."
In other words: The Browns run the hell out of the ball and they're not ashamed in doing so. But this is no surprise if you've followed this team the last few years under head coach Kevin Stefanski.
Fortunately, the Buccaneers have one of the better run defenses in the NFL. And they're ready to get going after taking last week off.
"When I looked at the game, I said, '15 tackles.'" White said Wednesday. "Getting off the bus, this is a game for 15 tackles… I was just telling Antoine [Winfield Jr.], I look at these games and I get excited because it's a chance to make a name for yourself against other great players that have established great names for themselves."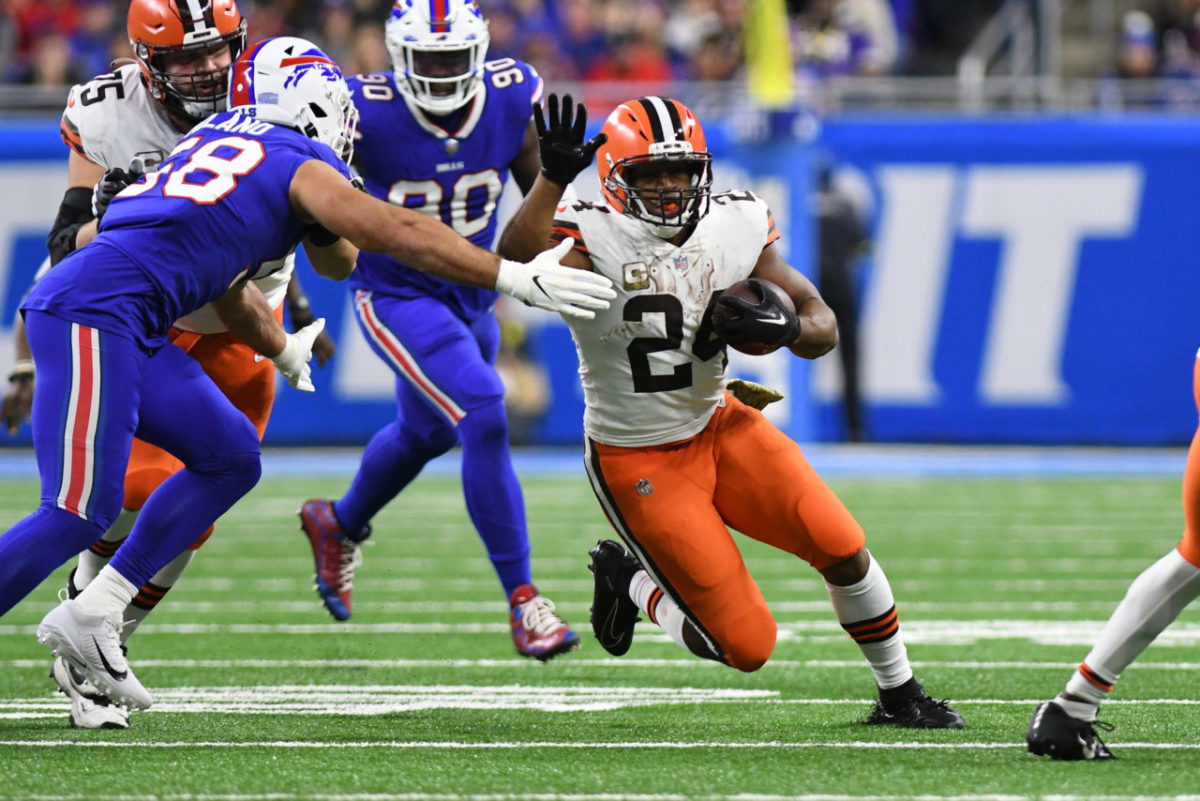 White's comment doesn't mean he is overlooking the Browns, however, it's the direct opposite. He knows they are good at what they do and he knows the Buccaneers can't afford any slip-ups on defense.
"We've just got to be dialed in," said White. "One of the things we've been doing a lot is going over our run fits and being gap-sound – everybody having integrity on the defense of where they're supposed to be. I think that's what we were missing a lot – people being a lot of misfits. Now, we're getting everything under control. We felt that way going against Seattle and I think we did a great job so we're just trying to keep the momentum going."
The Buccaneers could possibly be without nose tackle Vita Vea, which would be a huge loss. However, they still have Akiem Hicks in the lineup. Hicks returned to the Buccaneers' lineup in Week 9 and since then the Buccaneers have allowed just 107 combined rushing yards and opposing rushers average 2.8 yards per carry over that span.
Oh, and the Buccaneers have allowed zero rushing touchdowns, as well.
"He [Hicks] helps the whole defense overall," said White. "He's very gritty – I think he scares a lot of offensive linemen [with] his demeanor and how physical he is. He takes two [blockers] every time. There was one play in the run game, I can remember me shooting a gap just because they tried to combo him. If you're going to give me a split second, I can kind of have a little room to work."
White has really stepped his play up the last couple weeks and if there is any linebacker capable of recording 15 tackles in a game, it's him.
And it's safe to say the Browns don't want to see 45 around the ball throughout the entire game. If that's the case, then the Browns are likely in trouble. The only time that's acceptable is if White is chasing ball carriers from behind. Otherwise, it means White is either shooting gaps and making tackles in the backfield, or, he's flowing sideline-to-sideline stopping guys before they get going.
But, no matter how you slice it, a strong performance from White is need on Sunday.
And it sounds like he's more than willing to take on the challenge that is the Browns.
Featured image via Nathan Ray Seebeck-USA TODAY Sports
Could not load the poll.