A player's first NFL start is always a special occasion, but just imagine if your first career start came against Tom Brady and the Tampa Bay Buccaneers defense.
And, said start is in primetime. On Christmas Day.
Welcome to the life of Arizona Cardinals quarterback Trace McSorley.
McSorley is in line to make his first start due to Kyler Murray's torn ACL and Colt McCoy's concussion. The former sixth-round pick hasn't looked great in 2022; he's thrown three interceptions in just 29 pass attempts. But, in McSorley's defense, all of his playing time has been the result of in-game injuries.
Meaning, McSorley hasn't received the needed practice reps during the week leading up to the game. He's essentially been thrown into the fire on game day, so to speak, which can obviously lead to the on-field struggles he's endured.
"I just think the live reps during the week are important (for them) to go out there and consistently play at a high level, but that's their job," Cardinals head coach Kliff Kingsbury told reporters Wednesday. "They have to get all the mental reps they can, all the walkthroughs they can and then go out there and try to perform at a high level."
"The starter gets basically all the reps with the first team and then we'll try to get some walkthrough reps here and there with the backup," Kingsbury later explained. "The backup usually takes all the scout team reps and tries to work on his game throughout those reps they get."
This week, however, won't be the same for obvious reasons. McCoy was ruled out on Monday, leaving McSorley as the guy for Week 16. Now, McSorley is getting all the reps he needs -with the first team offense- in order to be as effective as possible when the Buccaneers come to town.
"I think just being able to get the reps during the week of practice, getting familiar with the game plan, being able to have the communication with the coaches about what I like and what I don't like, things like that," said McSorley. "Then obviously getting the timing down with these receivers and building chemistry with them during the week. I think those things will be really big for us this week. [It's] a good opportunity for us to get those things right going into Sunday."
With the extra reps and heightened involvement also comes a heightened sense of awareness, too.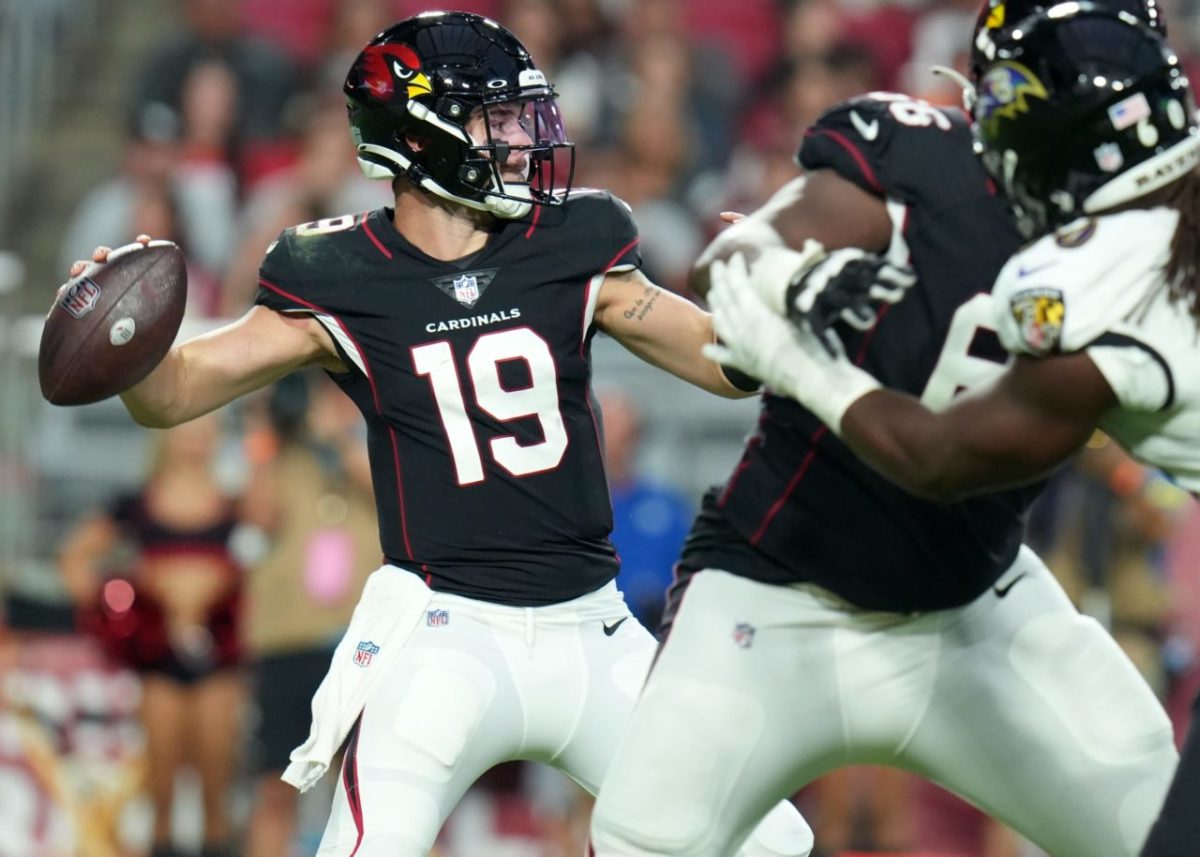 And McSorley is more than familiar with the situation he's coming into this week.
"The primetime game (on) Christmas Day, going against Tom Brady and the Buccaneers. The type of players and star power that they have on their team (and) on their defense, it's a big opportunity for us as a team, as the Arizona Cardinals to be able to come in and do well on Sunday night," McSorley told reporters.
"That's all we're focusing on. It's the next game on our schedule and we've got to treat it as such, even though there is the glitz and glam of primetime Sunday night, all that type of stuff."
Trying to keep up with Tom Brady is enough of a challenge, but the Buccaneers defense presents a challenge in its own right. The Buccaneers offense has struggled throughout the year, but the defense has held its own outside of a couple of matchups.
Todd Bowles' unit is easily the strength of the team. When it comes to both numbers and tape.
"They're fast. A real fast, physical defense, and those are the type of things that we have to be ready for," said McSorley. "Be ready to just execute our game plan and what we do, be detailed and exact at what we do, not forcing things down the field… I think against this defense with how they play, they're fast, physical, aggressive. They've got really good linebackers on the inside, and some good stuff that they do blitzing.
"It will be tough for us to be able to detail that out during the week and then be able to execute on Sunday."
Per Football Outsiders, the Buccaneers defense ranks ninth in total defensive DVOA. That ranking includes the the 10th-best passing defense and the 12th-best rushing defense. The unit also allows just 20.6 points per game, which is tied for the 10th-lowest mark in the NFL.
The Cardinals offense, on the other hand, hasn't been the dynamic powerhouse many expected it to be. But, that doesn't mean the writing is already on the wall for McSorley and co.
In fact, it's anything but written. This is the NFL, where anything can happen during any given week. It'd be a mistake to underestimate McSorley and the Cardinals offense.
And fortunately, the Buccaneers are well aware of that fact. Especially considering how they've struggled against backup quarterbacks like Mitch Trubisky, P.J. Walker, Jacoby Brissett, and Brock Purdy.
"Regardless of the quarterback and who he is, they're in the NFL and they've got a game plan and they're game planning like we are, so we can't underestimate anybody," Buccaneers cornerback Carlton Davis III said Wednesday. "In previous games, it didn't turn out how we thought it would as far as them having a backup quarterback in and them being [shorthanded] because of that.
"I think every week, regardless of who's up, we have a job to carry out and this week we've got to carry out our job and get it done."
Featured image via Kim Klement-USA TODAY Sports
Could not load the poll.