The Tampa Bay Buccaneers have a lot of questions when it comes to their in-house free agents.
The team currently has 27 players without contracts and a lot of them are big names. Players such as Tom Brady, Lavonte David, Jamel Dean, Mike Edwards, Julio Jones, Logan Ryan, and many others face the possibility of playing elsewhere in 2023.
The Buccaneers are going to have to be very careful when it comes to navigating the offseason. It's fair to say the likes of Akiem Hicks, Russell Gage, and other free agent signings from a season ago didn't work out as planned. Those guys weren't cheap, either.
With -$54 million in cap space, the Buccaneers obviously can't afford big contracts that don't yield production. They also have to make sure they maximize every position. If a player didn't play well in 2022, then their future with the team should be evaluated.
This includes both signing outside players and re-signing in-house guys. For the sake of this exercise, we are going to look at three players the Buccaneers shouldn't re-sign, or keep on the roster, in 2023.
1. RT Josh Wells (UFA)
2022 cap hit: $1,047,500
Wells hasn't been very good in his role as the team's swing tackle. And to make matters worse, he gets injured far too often.
Per Pro Football Focus, Wells allowed 10 total pressures on 211 pass blocking snaps in 2022, which comes out to a 4.7% allowed pressure rate. For comparison's/scaling's sake, Kansas City Chiefs right tackle Andrew Wylie had a poor year and finished the season with a 6.6% allowed pressure rate. When it comes to the lowest amount of pressures allowed, the top-5 tackles averaged an allowed pressure rate of 2.5%.
The Buccaneers have to upgrade the swing tackle position in 2023. Far too often has Wells played at a below-average level when called upon and a lot of times it's because he's either returning from an injury or playing while injured.
He played on a bad ankle while replacing Tristan Wirfs in the 2021-2022 Divisional Round loss to the Los Angeles Rams and he missed four games on IR before ending his 2022 season with a torn patellar tendon.
Wells isn't expensive by any means, but when considering his level of play and his injury status, it's clear the Buccaneers need to look elsewhere in 2023.
2. DL William Gholston (UFA)
2022 cap hit: 2,100,000
Gholston has always been an underrated player, but the Buccaneers have to find a way to get home with four pass rushers on a consistent basis and Gholston simply isn't that type of player. This is evidenced by the giant goose egg in 2022's sack column.
He is extremely valuable when it comes to defending the run, but Todd Bowles has to shake up the defensive line. Bowles still has to rely on blitzing to get pressure and the communication on the back end isn't reliable enough to cover the gaps when sending 5+ pass rushers.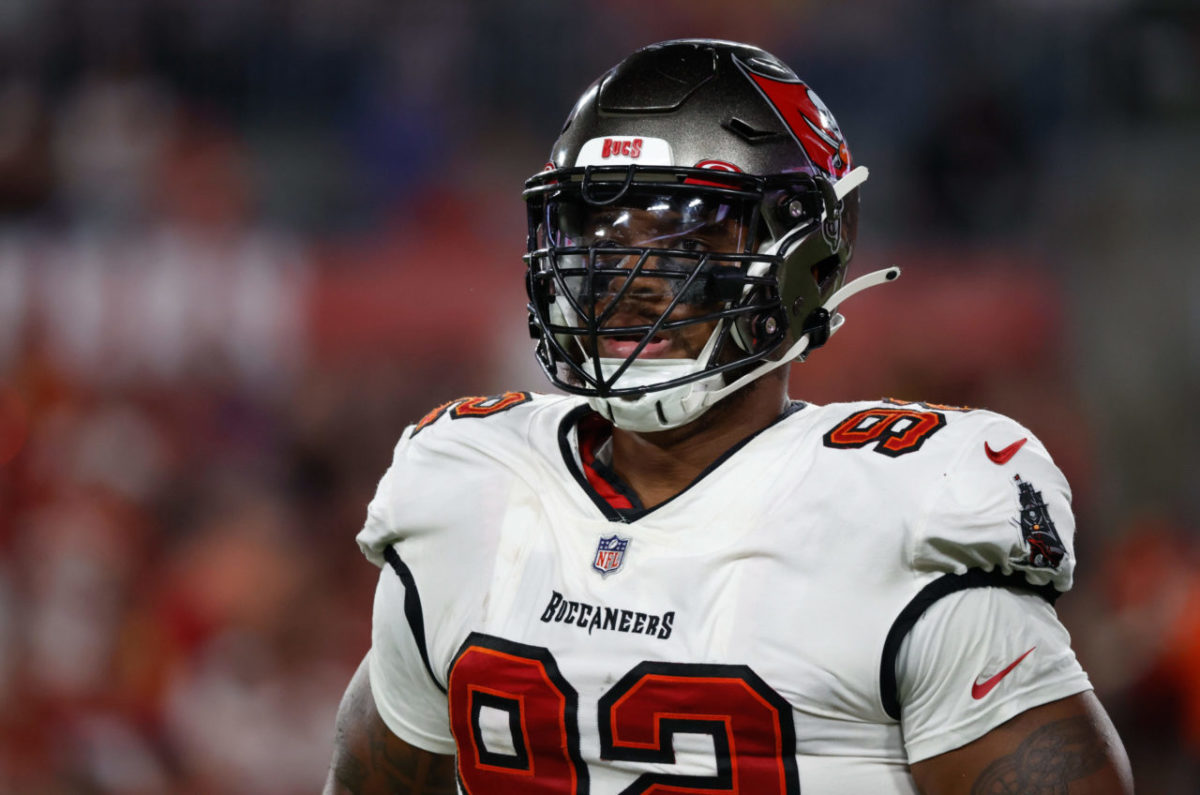 One could also make a case for Akiem Hicks, who certainly didn't live up to his price tag in 2022. Either way, the Buccaneers have to find a guy who can get after the QB while lining up next to Vita Vea with his hand in the dirt.
3. TE Cameron Brate (rostered)
2023 cap hit: $4.985 million
Brate's career is a helluva story and he's a team guy through-and-through, but the time has come for this relationship to end.
The nine-year veteran just doesn't have the skillset to be a reliable producer in the NFL. His hands are still high-quality, but he's not fast and his ability to get open has dramatically declined over the years.
A $4.985 million cap hit is way too much for what Brate provides. Another reason why the Buccaneers need to part ways is because of second-year tight end Cade Otton. The coaching staff chose Brate over Otton far too often when it came to their respective roles. For whatever reason, the staff continue to play Brate despite the fact that it was clear as day that Otton can contribute a lot more in both the passing game and run blocking.
Final word
It sucks to see guys like Brate and Gholston on this list, but that's just part of football. Both players have been with the Buccaneers for nearly a decade and have had some great moments in pewter and red.
But when it comes to turning the corner and re-discovering the mojo from the 2020-2021 seasons, leaving these guys off the roster is the best decision for the Buccaneers.
Featured image via Nathan Ray Seebeck-USA TODAY Sports