The Tampa Bay Buccaneers added future Hall of Fame wide receiver Julio Jones to the roster on Tuesday. Typically, it's easy to see how a team plans on using a player of Jones' caliber.
But when it comes to the Buccaneers, it's not as clear.
That's because the Buccaneers already have three top-quality receivers in Mike Evans, Chris Godwin, and Russell Gage. Granted, none of them are locks for the Hall of Fame like Jones (although there is already a very strong case for Evans). But, Jones also isn't the player he once was. Therefore, it's not entirely clear what Jones' role will be, even if Godwin misses the first few games of the season.
But one NFL Network analyst, and former Pro Bowler and Super Bowl champ Michael Robinson, has a great idea on not only how the Buccaneers can use Jones – but how they can resurrect his career.
"This pick to me, it sounds like a Bruce Arians move," Robinson said on the most recent episode of NFL Network's NFL Total Access. "If you look at what Larry Fitzgerald was late in his career when Bruce Arians had Larry in Arizona, they moved Larry more inside. Larry was running routes on linebackers; more of the inside guys, not necessarily the outside cornerbacks. I think that Julio could find an inside role now that Gronk isn't there."
Robinson is onto something, here. Fitzgerald saw his streak of five consecutive seasons with at least 1,000 receiving yards come to an end in 2012 after he finished with some of his lowest receiving totals since his rookie year in 2004.
After nine seasons in the league, many were wondering how much he really had left.
But Arians changed all that.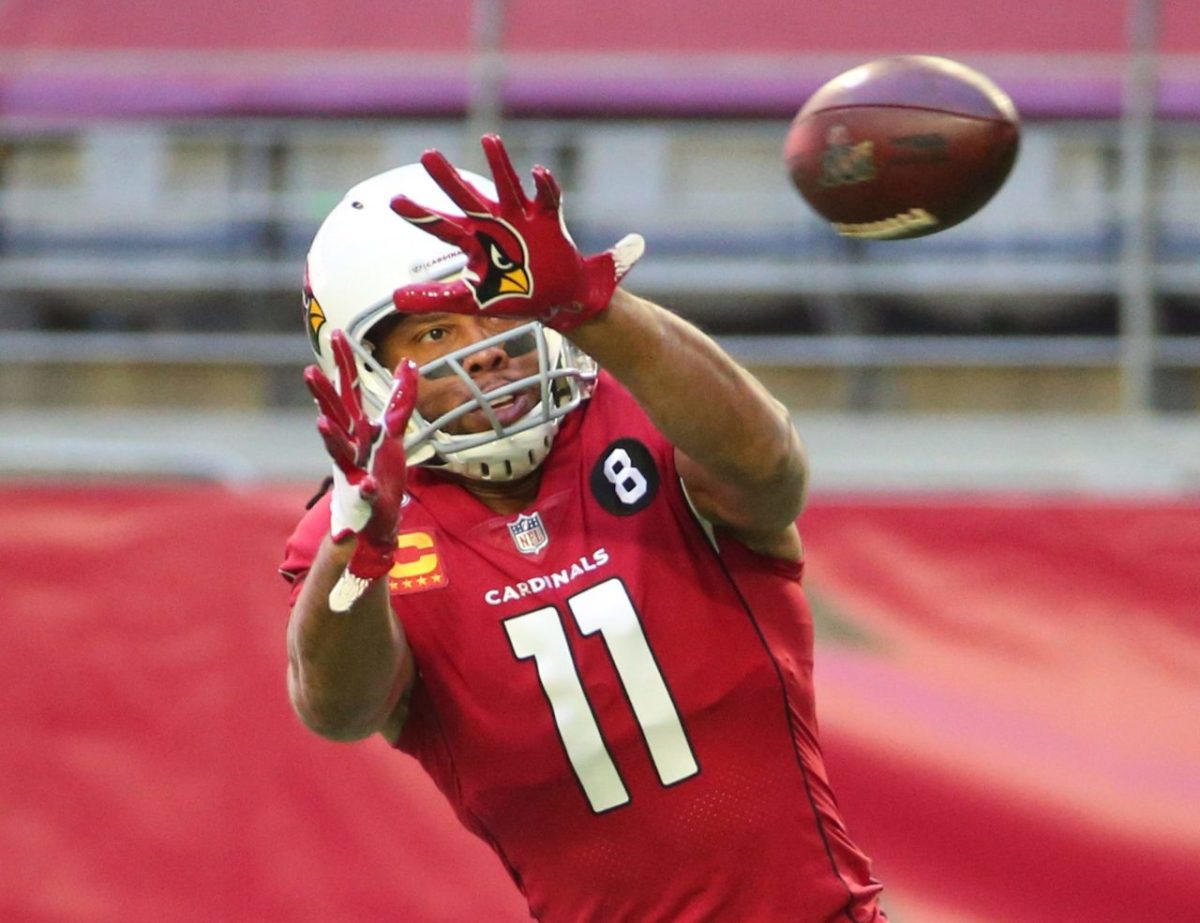 2013 was Fitz's first season with Arians and while he fell just shy of 1,000 receiving yards, he recorded double-digit touchdowns (10) for the first time since 2009. Carson Palmer's torn ACL six games through the 2014 season pretty much derailed Fitzgerald's hopes of building off 2013, but he went on to reestablish himself as one of the NFL's best pass-catchers over the next three seasons.
From 2015-2017 Fitzgerald recorded the second-most receptions (325), the sixth-most receiving yards (3,394), and the ninth-most touchdowns (21) in the NFL.
It's clear that Arians' plan worked. Can it work Jones, though?
One would imagine so. Jones has had success on the inside over the years. For instance, his last 1,000+ yard season came in 2019. That year, 22.1% of Jones' targets came from the inside and he recorded 22 receptions for 290 yards on 33 total targets. Jones' mark of 2.28 yards per route run out of the slot was fourth-best among all receivers with at least 33 slot targets that year.
2018 saw Jones finish with a mark of 2.21 yards per route run out of the slot, which was seventh-best among all receivers with at least 28 slot targets that year.
In other words: Julio can be very effective on the inside.
And the beautiful part about all of this is all four of the Buccaneers top receivers can play inside and/or out. If the Buccaneers do in fact decide to use Jones on the inside, they can put either Chris Godwin, Mike Evans, or Russell Gage on the outside. All four are effective in one way or the other.
Now, no one is saying Jones is going to get back to his Hall of Fame ways. Nor is anyone saying he'd become the Buccaneers' primary slot target.
But, considering his supporting cast and this potential move, the Buccaneers can certainly help him produce at a high level in 2022. Which is what Jones needs after recording just a little over 1,200 combined receiving yards in the last two seasons.
And the Buccaneers have the exact guy who knows how to make it work in Arians.
Featured image via Kim Klement-USA TODAY Sports