The Tampa Bay Buccaneers added Julio Jones on Tuesday. And while it's obviously a move that will bolster the roster, it's a move that essentially means the end of Scotty Miller's time in Tampa Bay.
Miller has been a solid player for the Buccaneers over the last three seasons, evidenced by a very successful 2020 season in which he recorded 33 receptions for 501 yards and three touchdowns. It wasn't just numbers that year, either. Miller made several notable plays – the biggest one being his big touchdown before halftime that gave the Buccaneers a 21-10 lead over the Green Bay Packers in the NFC Championship game.
But the arrival of Antonio Brown in the middle of 2020, a turf toe injury in 2021, and a crowded receiver room has slowed -even stalled- Miller's development. Miller's last four games of 2021 were pretty indicative of this.
For starters, he caught just two passes for 18 yards on three targets in Week 15 against the Saints, a game in which he played 78% of offensive snaps and ran 40 routes, per Pro Football Focus.
After that, Miller played more special teams snaps (22) than he did offensive snaps (17) over the final three games of the regular season.
Miller did play in the playoff loss to the Los Angeles Rams due to the absence of Cyril Grayson, but managed just four receptions for 38 yards on six targets. He ran 46 routes during that game.
The Buccaneers receiver room is just as crowded, if not more crowded, in 2022. Especially since Chris Godwin has been cleared to participate in training camp. And, just about every receiver that's realistically competing for a roster spot has shown they can produce in this offense.
It's completely logical to place the Buccaneers' receiver hierarchy in this order: Mike Evans, Chris Godwin, Russell Gage, Julio Jones, Tyler Johnson, Cyril Grayson, Breshad Perriman, Jaelon Darden, and then Scotty Miller.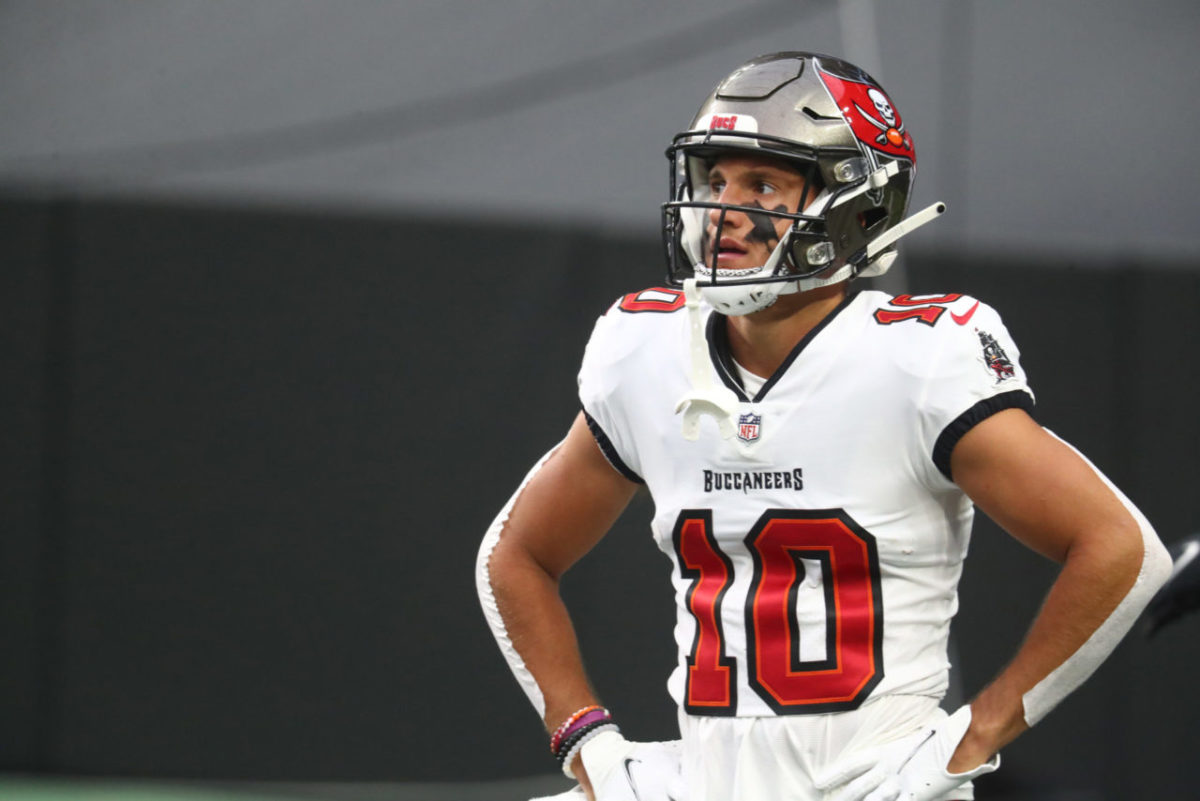 There's no way the Buccaneers are going to carry nine receivers and it's very unlikely they carry eight. Even seven is a bit of a stretch, but it's possible depending on what happens with Godwin. They've carried seven receivers just once since this staff arrived in 2019 and that was in 2020. John Hurst, the seventh receiver, was placed on IR not long after making the 53-man roster and was later released and re-signed to the practice squad.
The top-4 are set, so it's really about those final two, maybe three spots. Tyler Johnson doesn't have Miller's speed, but he's a better route-runner and can make the "grimy" catches this staff likes to see. He also has more special teams experience. Grayson has elite speed as a former track star and the staff loves his blocking ability. Perriman has elite size and speed and was a WR1 in this offense back in 2019. Darden struggled last year, but the door isn't completely shut on him making an impact as a returner and gunner, just yet.
That leaves Miller, who is a decent player in his own right. But, he's a one-trick pony that's yet to really develop into anything else for the Buccaneers. He made a couple of splash plays on special teams last year, but with Zyon McCollum now on the roster, that position may be expendable.
Miller is going to have to show the Buccaneers that he's added a lot more to his game and he's going to have to prove to be a dependable and effective special teams player. And when I say add more to his game, I'm talking all three levels of the passing attack. He's going to have to have the best training camp of his young career.
Or else his time in Tampa Bay is over. It's never fun to see and it may be unfair, but that's life in the NFL.
Featured image via George Walker IV / Tennessean.com / USA TODAY NETWORK