TAMPA BAY – Right now, the Buccaneers are a little more than $51.5 million over the salary cap in 2023, according to Over The Cap.
It doesn't get much better if you ask Spotrac, either. According to them, the Buccaneers are in worse shape – they're a little more than $59.2 million over the cap.
Both websites have the Bucs ranked second-to-last in regard to cap space. Only the Saints are in worse shape (of course).
But, that doesn't mean the Buccaneers will be forced to trade their best players, cut them, or make any franchise-changing moves to the roster next year. In fact, they'll have an opportunity to keep the roster mostly intact and, they will be able to extend certain players or even bring in some quality veterans, whether it's through a trade or free agency.
How is that so, you ask?
This week's hot NFL topic: cash over cap.
In case you're unfamiliar with the concept, check out the quick video below and then get back to me. Andrew Brandt, who once served as the Packers' Vice President of Player Finance and General Counsel, does a really good job of explaining the concept in just a minute or two:
"I'm gonna give you a little salary cap 101 here" ~@AndrewBrandt#PMSLive pic.twitter.com/SYPFyzqhw3

— Pat McAfee (@PatMcAfeeShow) June 8, 2022
The Buccaneers can play the Rams' game. If they want to.
Before Tom Brady's arrival in 2020, the Buccaneers primarily used the pay-as-you-go philosophy when it came to player contracts. This philosophy is essentially a multi-year deal that is structured around year-to-year base salaries and/or roster bonuses. The Buccaneers typically didn't hand out extravagant signing bonuses and didn't prorate money. This helped them avoid the dreaded dead money you hear about so often.
For instance, the Buccaneers held an average ranking of 19th in cash spending from 2015-2019, per Spotrac. They also finished in the bottom-6 of dead money accrued during four of those five seasons.
As a result, the Buccaneers didn't have to worry too much about non-rostered players taking up large chunks of cap space. Which, obviously allowed them to have more cap space.
And, paying players through base salaries and/or roster bonuses, allowed the Buccaneers to extend guys/manipulate those salaries in order to lower their cap hit for that specific season. That's if the Bucs chose to do that, obviously.
Regardless, that doesn't have much bearing on today outside of reverting back to the old philosophy, eventually.
Why this is all relevant, now, is because recent research from Pro Football Network has the Glazer family's net worth at $4.7 billion, which places them at No. 13 among their peers.
As Brandt explained, Rams owner Stan Kroenke has deep pockets. Very deep pockets. $10.7 billion worth of depth, actually, which is fourth on PFN's list. Kroenke's long money allows him to pay his players now and he'll see a return on that investment as the team rakes in money year-in, year-out.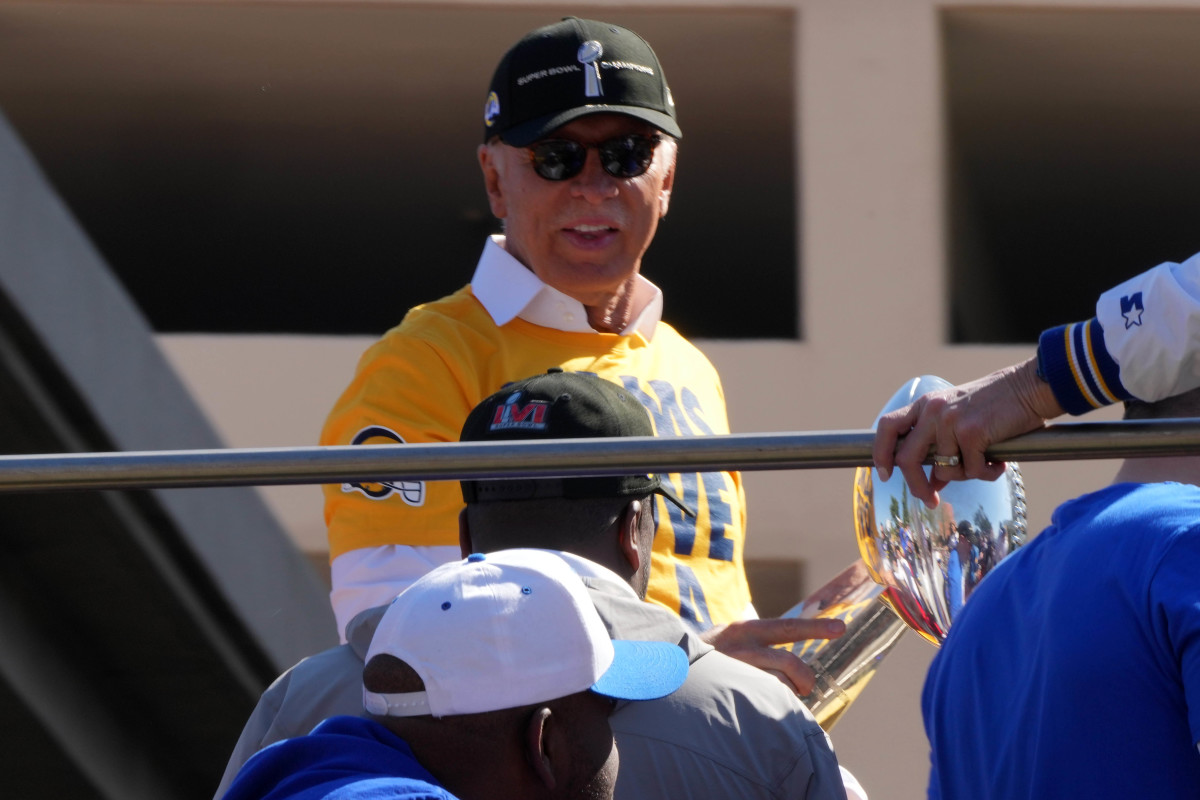 An owner like Mark Davis, who is 31st on PFN's list with just $500 million to his name (just $500 million, mind you) can't really afford to do that. The same goes for the McCaskeys in Chicago and the Rooneys in Pittsburgh. The numbers reflect this, as well. 2022 has those teams ranked at 18th, 30th, and 32nd, respectively, in cash spending.
Those three teams average close to $194 million in cash spending this year.
The Rams are spending more than $294 million in cash, alone.
Tampa Bay is currently sixth in cash spending and they're currently sixth in 2023, as well. 2022's bill amounts to a little more than $273.8 million and 2023's is a little more than $197.3 million, right now.
So, they are certainly swimming in the cash over cap pool. And for good reason. When Brady is your quarterback, you do everything you can to acquire as much talent as possible so you have a great chance at competing for a Super Bowl.
And that's what all of this primarily boils down to: opportunity.
Smart teams aren't going to overpay average players, obviously. But when you're a contender like the Buccaneers -or if a franchise has a fairly-stacked roster-  you're in the correct scenario to apply this formula.
Remember when Russell Wilson and Deshaun Watson were hot topics when it came to replacing Brady after he retired? Well, if the Buccaneers did land one of those guys -or, let's hypothetically say Brady ends up playing for the Bucs in 2023- then the Bucs will still be in an advantageous position to apply cash-over-cap.
Hell, they'll even be in a position to do so in 2023 because they will still have a competitive roster, even without Brady. The core of the team will still be under contract and hopefully they'll have some younger players take the necessary step this year, which will only add to the depth.
The pieces are there. And even though the Glazers are at a $6 billion disadvantage when compared to Kroenke and the Rams, that doesn't mean they should shy away from playing the Rams' salary cap game.
You can check out the full ranking of NFL owners by their net worth, here.
Featured image via Mark J. Rebilas-USA TODAY Sports