Calling the Tampa Bay Buccaneers' 2022 offseason "eventful" is an understatement, at the end of the day.
The Buccaneers have navigated the lowest of lows to the highest of highs and everywhere in-between over the last several months, but now, it's September.
Which means meaningful football has arrived.
Said meaningful football begins when the Buccaneers kick off their season against the Dallas Cowboys for the second year in a row on Sunday Night Football. Once that happens, we can start piecing together answers to the questions that have surrounded this team since March.
But which questions need answering the most?
Let's dive in and find out.
1. How will the interior offensive line hold up?
This isn't as big an issue as many have made it out to be, but, it still is easily the biggest question surrounding this team.
Luke Goedeke had a rough preseason, but still won the starting left guard job. It remains to be seen if he's fully ready for NFL competition, but we'll find out soon enough.
Second-year center Robert Hainsey made a lot of progress during the preseason, but he suffered an ankle injury in the finale against the Indianapolis Colts and it remains to be seen as to whether or not he plays in Week 1. Head coach Todd Bowles said Monday that everyone was on track to play against Dallas, so that's encouraging.
Both players have yet to start a regular season game in the NFL, which is concerning for obvious reasons. Veteran Shaq Mason is in the mix, so the entire iOL isn't completely inexperienced. But, he can't do it all. The youngsters are going to have to step up.
There aren't many options to turn to if Goedeke and/or Hainsey can't live up to expectations, which makes their development even more crucial.
When you combine the questions with the fact that interior pressure is what gives Tom Brady the most trouble, it's clear the answer to this question will impact the season the most.
2. Can the Buccaneers' pass rush find success without blitzing?
Todd Bowles' defense is undertaking a change in philosophy regarding how his pass rush gets after quarterbacks.
Bowles typically requires his front line defenders to eat up blocks so the linebackers and EDGE guys can roam free. And, we all know the Buccaneers head coach calls a ton of blitzes in order to keep opposing quarterbacks from finding rhythm.
But, it became clear last year the team has to find a way to pressure/sack QBs without blitzing. It's not just the season-ending bomb to Cooper Kupp that brought this to light – it was a season full of inconsistent results that led to the change.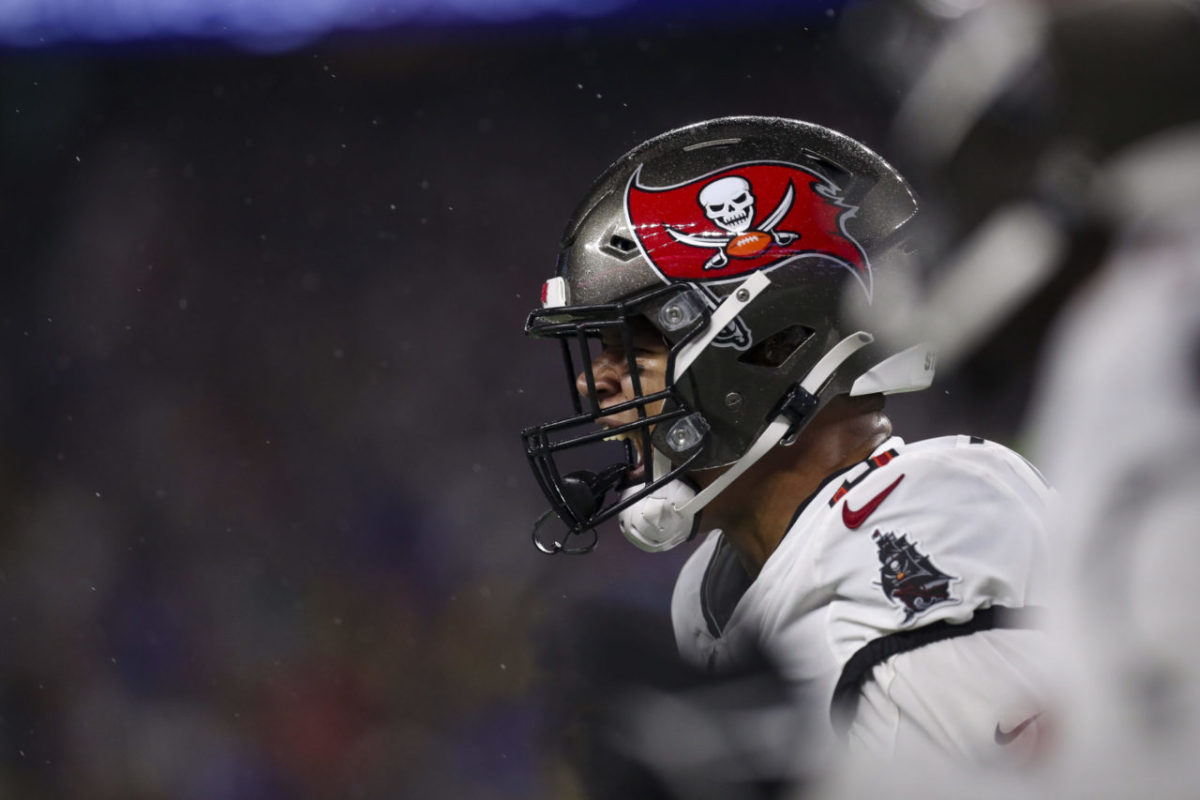 A big part of this change involved increasing the pass rush capabilities along the defensive line. The Buccaneers did so by adding Akiem Hicks and drafting Logan Hall. Both players bring a unique skill set that was not on this roster in 2021 or even 2020.
The next factor is former first-rounder Joe Tryon-Shoyinka, who looked good in limited action during the preseason. Those three, along with veterans Vita Vea and Shaquil Barrett, are all expected to comprise the bulk the Buccaneers pass rush in 2022.
If they pan out as expected, and if they can get home with four, then this defense could be the scariest it's been in years.
3. Who replaces Rob Gronkowski?
The tight end position was never really featured in a Bruce Arians/Byron Leftwich offense until Brady and Gronk entered the picture.
Gronk is obviously now out of said picture, but Brady obviously remains. The question now becomes who steps up in Gronk's place?
The Buccaneers have an interesting quartet of potential candidates in Kyle Rudolph, Cameron Brate, Cade Otton, and Ko Kieft. It's a big stretch to say a single one of them will replace Gronk in 2022, but it's safe to say a combined effort from all four can get the job done.
Each player is limited in their own fashion, but each can be used in their own specific way, as well. Rudolph is a solid red zone threat. Brate is a good intermediate option. Otton can stretch the seam and Kieft is a great blocker.
There's also a non-tight end candidate in wide receiver Julio Jones. He's another big, athletic body that can still run – much like Gronk the last couple of years.
Overall, the combination of the aforementioned players should be able to make up for the loss of production that comes with Gronk's retirement. But how they do it is something Leftwich and co. will have to figure out.
Featured image via Marc Lebryk-USA TODAY Sports