It seems like it's becoming more clear with each passing week that 2022 will be Tom Brady's last season with the Tampa Bay Buccaneers.
However, Brady's post-Buccaneers career is not as clear.
NFL Network's Ian Rapoport recently wrote about Brady's playing future and per Rapoport, all options are on the table.
So, if Brady does in fact play next year, which teams would be the best fit?
In my humble opinion, there's a minute chance he returns to the New England Patriots. That's a dumpster fire of an offense that starts with the scheme/philosophy and there isn't a ton of talent at the skill positions.
Meaning, it's going to take a bit of work to get things up to Brady's standard and there's no guarantee that happens in one offseason. Even if the Patriots do have $59+ million in cap room and a full arsenal of draft picks.
Brady's going to want a team that is going to be much in a situation like the Buccaneers were in 2020: Above-average to elite skill players, a solid defense, and enough cap room and draft picks to invest in the needed upgrades.
A bit of familiarity will help, too. But I don't think that's as much a necessity as the aforementioned criteria. As we saw in 2020, which don't forget, was the COVID year that really limited interaction and practice, Brady can come in right away and pick up an offense.
So, with all that in mind, here are the three best fits for Brady, if he decides to play in 2023:
3. San Francisco 49ers
Yes, this seems like the magical pick; the storybook ending to Brady's career:
Hometown kid leads storied franchise to its first Super Bowl in nearly three decades.
Can it happen? Certainly. But there are a lot of moving parts that need to be corralled before it can happen.
For starters, the 49ers might already have their answer at quarterback in the form of Brock Purdy. Yes, it's still extremely early. But, at the same time, if he continues to play like this through the season and doesn't make any atrocious mistakes, he could give the 49ers the confidence needed to pass Brady over in free agency, once again.
And there's also Trey Lance, of course. The 49ers invested a ton in him and they need a good sample size of play before deciding on if they want to approve his fifth-year option in 2024. Those don't come cheap for top-5 quarterbacks and again, the 9ers invested heavily in Lance, so they need to have all the facts and evidence in order to make an educated decision.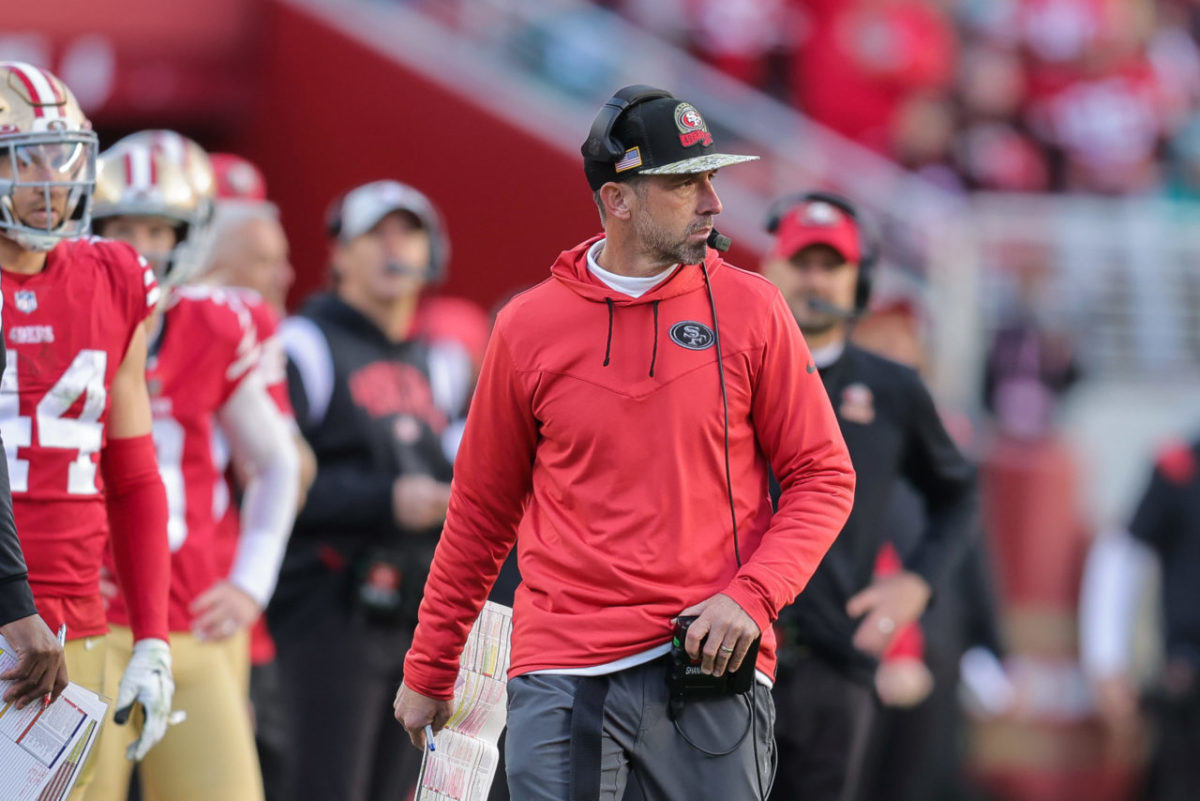 But, we've also seen teams forgo the sunk cost line of thinking, so nothing is guaranteed.
The 49ers also don't have a pick in the first or second round of the draft and they have just a tad over $14.5 million in cap room, per Over The Cap. So, upgrades will be limited, at best.
In terms of positives, the 49ers are still set on offense in 2023 with Deebo Samuel, Christian McCaffrey, George Kittle, and the majority of the offensive line. And, the core of the defense will still be intact.
Is that enough to swing Brady? Certainly, but it's not the best position to be in team-wise. But even with all the 49ers' "flaws", the offensive philosophy overall fit, and fact of playing for his hometown team is still better for Brady than the vast majority of the other teams.
2. New York Giants
2022 has put Brady's personal life under a microscope, unfortunately. One detail that surfaced was the fact Brady's eldest son lives in New York City, which is separate from where Brady stayed when he and Gisele Bündchen were together.
Brady made mention of this when Variety interviewed him earlier in the year.
"And it's not that I'm any less committed once I say that it's a yes, but I've got a 14-year-old son who lives in New York City — he wants time," said Brady.
Well, the Giants are going to need a quarterback in 2022. And while they have some holes they need to fill, they have two promising young tackles, a promising defense, and nearly $60 million in cap room to play with in 2023.
As well as nine draft picks.
Brian Daboll is also one of the NFL's smartest offensive minds and he's shown in Year 1 that he has a good feel for being a head coach. He'll certainly find a way to maximize the offense around Brady and the results should be nothing less than spectacular.
The Giants are going to have to figure out what they want to do with Saquon Barkley and they'll have to bring in some interior offensive linemen and a couple of wideouts, but they have the resources to do so. It's just unfortunate the current crop of free agent receivers isn't looking all that ideal in 2023. The interior offensive line free agents do look pretty good, however. So, maybe the Giants could build the interior offensive line through free agency, bring in a guy like JuJu Smith-Schuster and then draft another wideout or two.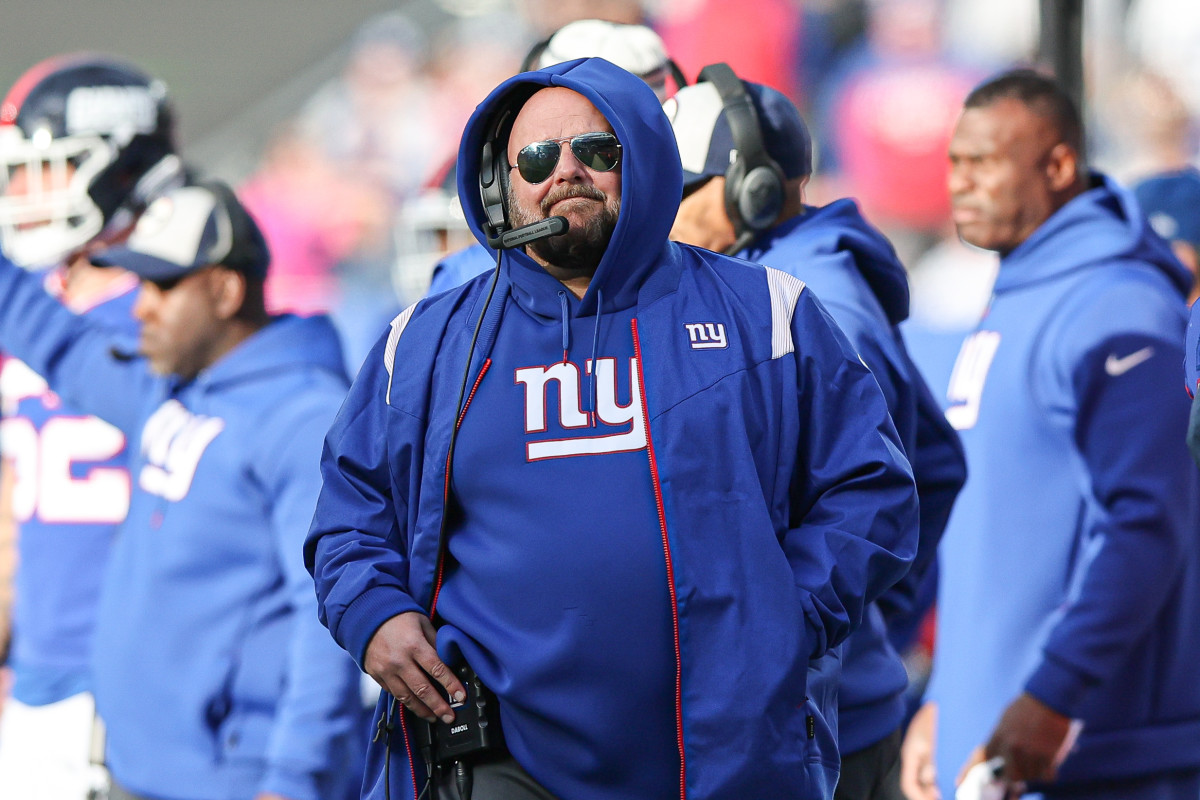 If being as close as possible to his teenage son doesn't automatically close the deal, then the Giants' potential and the resources they have to reach said potential should certainly help wrap things up.
There's another side to this, as well: Brady will play in the sports world's biggest market if he goes to New York. Just imagine all the business opportunities that will come with that.
And then, in one final, ironic twist: Imagine, Brady, the legend that will live forever in Boston, ends his career with the Giants – the hated New York rivals and the one team that really stuck it to Brady and the Patriots?
The big question with the Raiders is how do they get out of Derek Carr's deal if they decide they want to bring in Brady?
Well, per Spotrac, there's an out in Carr's deal. His 2023 base salary of $32.9 million plus $7.5 million of his 2024 base salary locks in on February 15, 2023.
But Carr only accounts for $5.625 million if he's released before that date.
Things would have to move fast and if the Buccaneers somehow make it to the Super Bowl, you can go ahead and cross the Raiders off this list. But if the Buccaneers have a quick playoff exit then everything is on the table.
And the Raiders make a ton of sense. Brady will return to Josh McDaniels' scheme, the same scheme he ran for 11 seasons with the Patriots, and he'll have a plethora of weapons in Davante Adams, Darren Waller, and Hunter Renfrow.
The Raiders also currently have $35+ million in cap room to re-sign Josh Jacobs and upgrade the offensive line, which is easily the offense's biggest hinderance. They also have all of their draft picks, which obviously helps. It's enough to put Brady's mind at ease and should be enough to sweeten the pot.
This could easily work and it'll be interesting to see how the Raiders handle the possibility of adding Brady to the roster.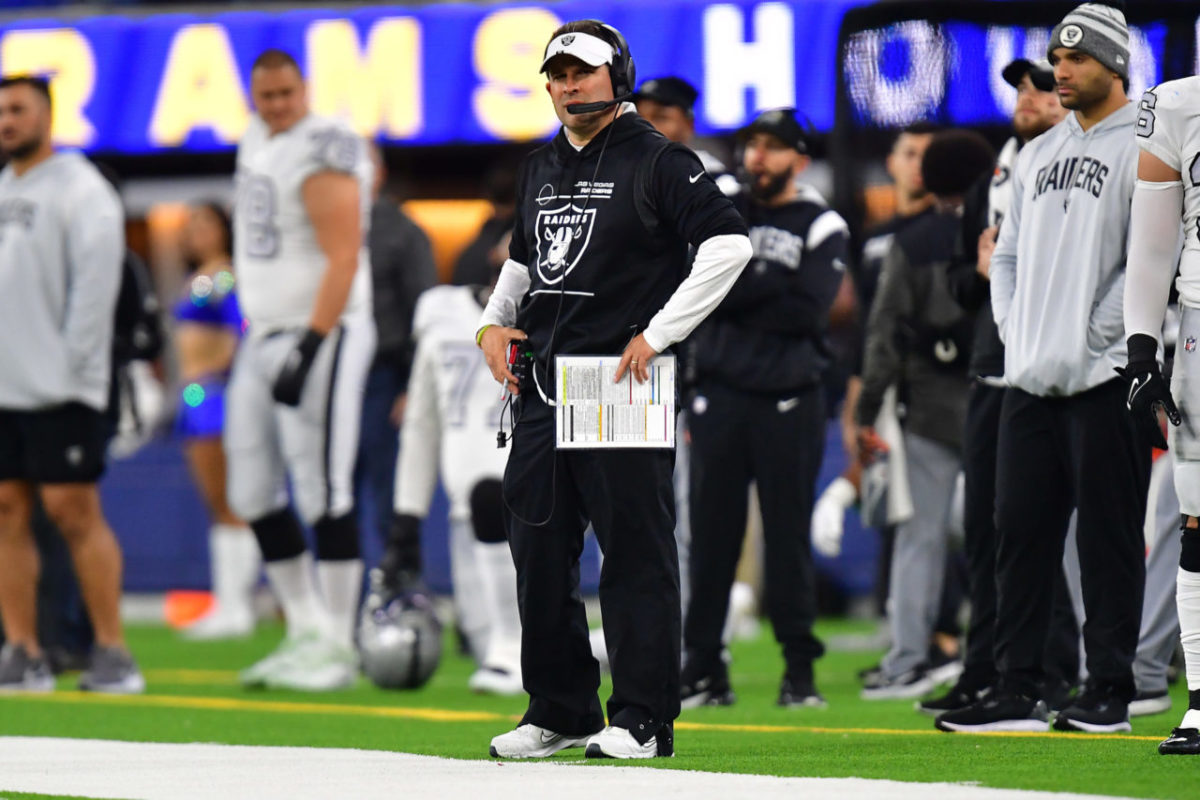 Final word
As you can see, the Buccaneers don't make this list. There are just too many questions when it comes to the Buccaneers and it starts with coaching.
In the end, the Raiders make the most sense. They have the players, the scheme, and the resources to be an immediate competitor and Brady will cherish that.
Featured image via Nathan Ray Seebeck-USA TODAY Sports