The Tampa Bay Buccaneers' kicking competition is essentially in a dead heat as they continue through training camp.
Which is kind of strange territory for both the Buccaneers and their fans.
It's not a dead heat due to inefficiency, either. Both Ryan Succop and Jose Borregales have been very, very good – rarely missing kicks from all areas of the field.
Borregales reportedly killed it during the Buccaneers' latest practice on Friday, making all six kicks, with a long of "50ish", per The Athletic's Greg Auman.
Jose Borregales got the kicking period today and kicked well, going 6-for-6 with a long of 50ish.

— Greg Auman (@gregauman) August 5, 2022
This is obviously a great situation to be in if you're the Buccaneers. It's exactly how training camp is supposed to go. You want every player to be on point enough to where final cuts are near-impossible decisions to make.
And it's clear Borregales and Succop are on a collision course toward cut down day.
Borregales could easily be the Buccaneers' kicker if he continues to have as good a camp as Succop
The Buccaneers got lucky when it came to keeping Borregales on the team last year. Succop and Ndamukong Suh were both added to the COVID-19 list late in the preseason, which subsequently enabled the Buccaneers to place Borregales on the 53-man roster.
Doing so allowed the Buccaneers to avoid cutting Borregales and letting him dive into the waiver wire, where a team would've picked him after his strong camp, last year.
The Buccaneers eventually waived Borregales in order to put Suh back on the active roster, but that came on the day where most teams had already filled out their practice squad rosters. So, naturally, they just didn't have room to claim Borregales during the already-shortened window.
The Buccaneers then picked up the former Lou Gorza award winner once he cleared waivers and proceeded to protect him every single week of the regular season.
Doing all of that shows how highly the Buccaneers think of Borregales and how much they want to keep him around. They also admire the hell out of Succop, which makes things even more interesting.
But the one thing the Buccaneers don't have this year that they had last year is the COVID-19 roster rules that were in place the last two years. Meaning, the Buccaneers can't manipulate the practice squad process like they did last year.
If Borregales continues this pace, there's no way in hell he's going to make it through waivers. Especially when you look at the current kicking competitions going on in places like Dallas and Jacksonville. Therefore, the Buccaneers won't be able to keep him around and could very well watch him go onto kick in the NFL for the next decade-plus.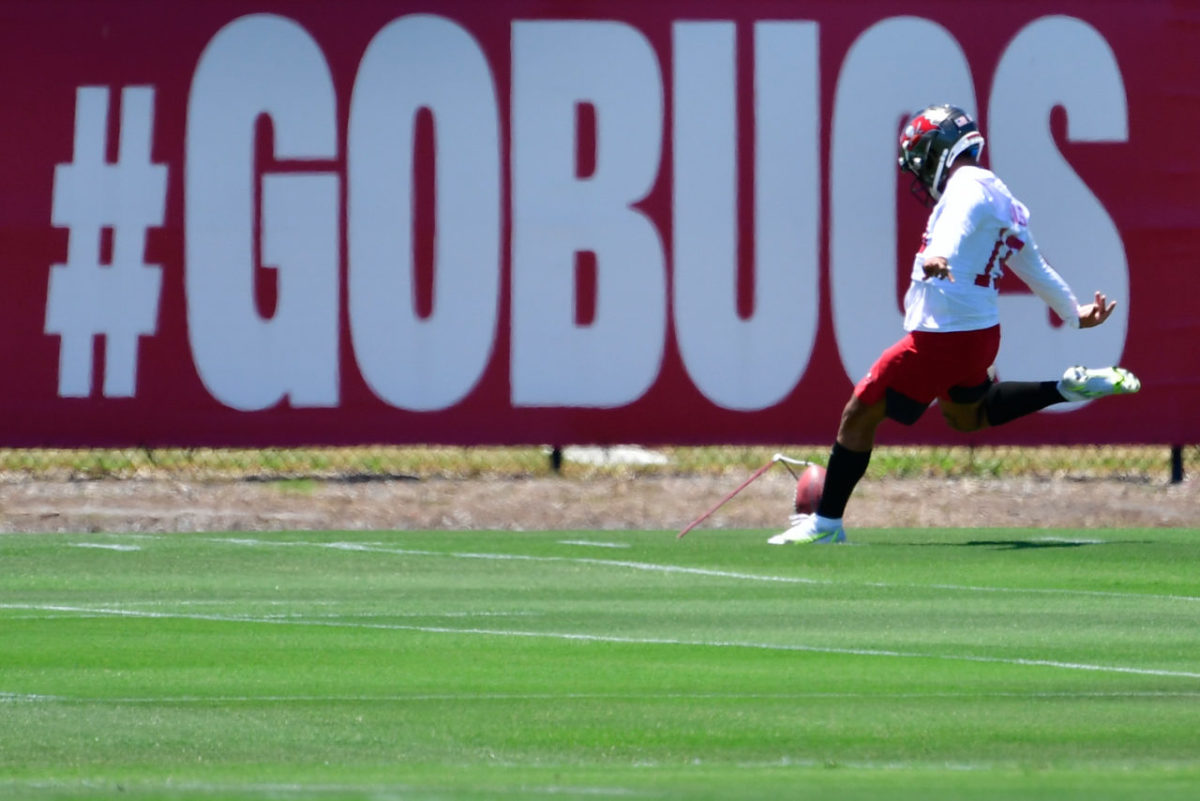 Which means the Buccaneers could be forced to cut Succop when final cuts roll around. The only way the Buccaneers can keep Borregales is by placing him on the 53-man roster on cut day. Sure, a short-term IR situation could come into play and help manipulate that, but if a player is on short-term IR, it's highly unlikely the Buccaneers opt to have Borregales fill that extra roster spot. It's not impossible, but it's close to it.
It makes entirely too much sense for the Buccaneers to run with Borregales, as long as he stays on track. He's younger, has a better leg, and will be much cheaper than Succop, who's set to count $4.5 million against the cap this year. Additionally, the Buccaneers would save around $1.25 million in cap room by releasing Succop, per Over The Cap.
This battle will certainly go down to the final whistle, which as stated earlier, is exactly what the Buccaneers want to see.
Succop was a huge part of the Buccaneers' Super Bowl run, making several key kicks as the franchise earned its second Lombardi. To see him go just two seasons later is an easy reminder that life comes at you fast in the NFL.
But, if it puts the Buccaneers in a better position to win games, then it's a decision that must be made. No matter how hard it may be.
Featured image via Kim Klement-USA TODAY Sports