The Tampa Bay Buccaneers won't see veterans report to training camp for another week, but that doesn't mean there are a few players already feeling the heat in regard to their roster spot.
Unless you're a well-established veteran, your job is never 100% safe in the NFL. Just about anyone can be released at just about anytime and training camp is where coaches, GMs, etc. begin to make those decisions.
So which Buccaneers need to have a strong camp in 2022? Let's dive in and find out.
3. WR Scotty Miller
A lot of this depends on whether or not Chris Godwin starts the season on the PUP list. But even then, the Buccaneers have six players in Mike Evans, Russell Gage, Cyril Grayson, Breshad Perriman, Tyler Johnson, and Jaelon Darden that can make the roster before Miller does.
I can nearly assure you this: The Buccaneers won't carry seven receivers (including Godwin on the PUP) heading into 2022. Even if Godwin isn't ready as hoped.
For this position, it was a tough choice between Miller and Tyler Johnson. At the end of the day, Johnson offers more diversity as a receiver and has more of a special teams presence over the first two years of his career.
Miller's specialty is speed and speed only. The Buccaneers have two speedsters on the roster in Grayson and Perriman and Grayson not only showed big-play potential last year, he's proven himself to be a capable and willing blocker in the running game. Grayson also plays special teams, which gives him another advantage.
Outside the big touchdown reception against the Packers in the NFC Championship game, Miller hasn't really been involved in the offense since the arrival of Antonio Brown in 2020. Regardless, he'll have to show that he can be the guy that led the team in receiving halfway through that season if he wants to make the final 53 this year.
2. G Nick Leverett
The coaching staff loved what Leverett showed last year and his versatility will always make him a factor during training camp.
But, at the same time, this staff really liked what Sadarius Hutcherson was doing last year before he injured his ACL during the preseason.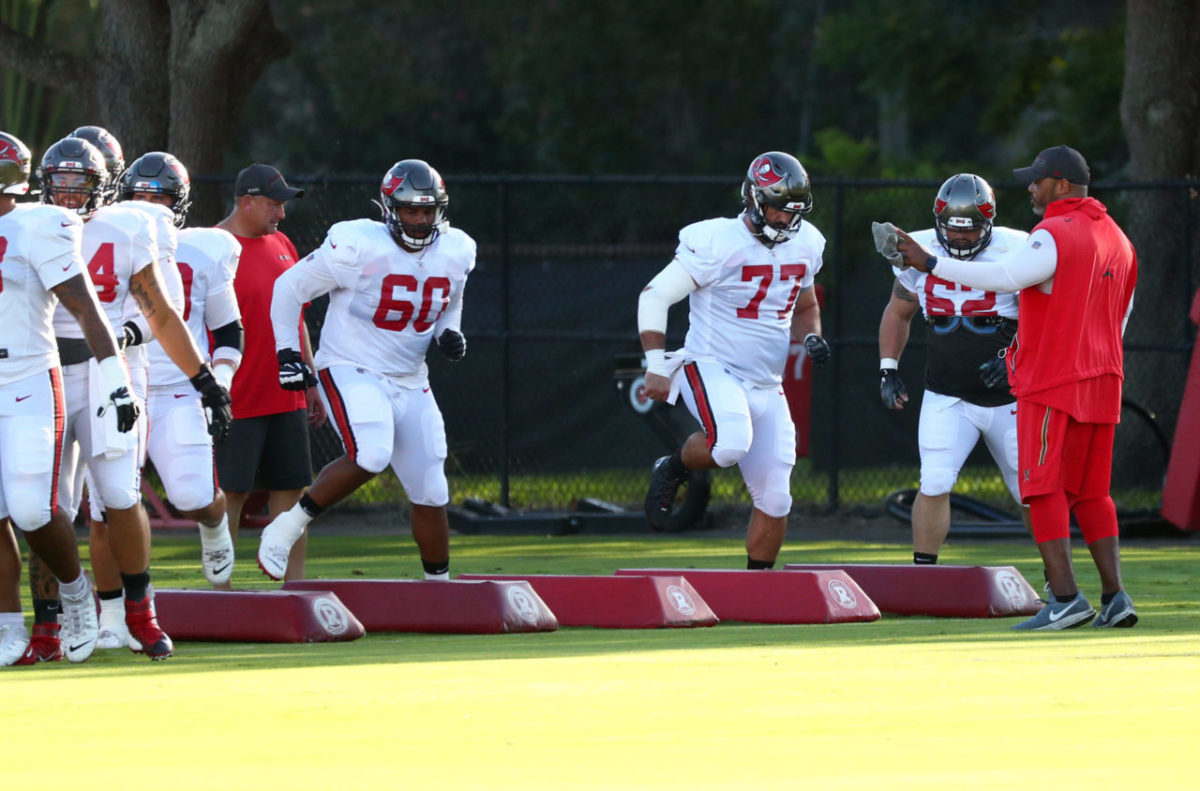 The Buccaneers pretty much have their top-8 offensive linemen figured out in the starting five (assuming Luke Goedeke wins the left guard job). Then, there's Aaron Stinnie, Robert Hainsey, and Josh Wells as backups.
That ninth spot (if the Buccaneers carry nine OL, of course) will likely come down to Hutcherson or Leverett. The one key here is Hutcherson's recovery from the aforementioned ACL injury. If he's fully recovered, all bets are off for Leverett.
There is a chance neither of them win the job and it goes to a second swing tackle, but it would make more sense to carry another interior guy considering the questions at left guard and when considering both Ryan Jensen and Shaq Mason played through injuries last year.
1. DB Ross Cockrell
It's hard to find many true Buccaneers on the bubble, but Cockrell is easily the one guy on the outside looking in, right now.
Cockrell had a sensational camp last year. He was clutch in showing he could play both reserve corner and safety. But he disappeared, for the most part, on Sundays.
The eighth-year corner is primarily an inside guy and as earlier mentioned, a backup safety. Unfortunately for Cockrell, the Buccaneers added Logan Ryan and Keanu Neal over the offseason. And, they drafted Zyon McCollum.
What does all that mean for Cockrell? Well, Ryan is a very versatile player who can rotate inside with Sean Murphy-Bunting, Antoine Winfield Jr., and Mike Edwards. McCollum can play outside along with Jamel Dean and Carlton Davis III, which can help keep SMB inside and keep from rotating outside when the team is in base defense.
And, Neal can play the box in dime packages, which means it's likely the cornerback trio of Dean, Davis, and SMB combined with the safety trio of Neal, Winfield Jr., and Edwards/Ryan whenever Todd Bowles wants to unleash that.
With all due respect, the biggest reason Cockrell makes the roster would be fear of injury or an injury that has already happened. He has a tough hill to climb this training camp, for sure.
Featured image via Mark J. Rebilas-USA TODAY Sports