TAMPA BAY – The Buccaneers are just a little more than a day away from the start of the 2022 NFL Draft, so, that means it's time to enter the final mock draft of the offseason.
We've discussed just about everything there is to discuss when it comes to the Buccaneers and their draft plan, so let's not waste any time getting to the meat of the exercise.
Here is the Buccaneers' final, seven-round mock draft:
Round 1, No. 27 overall: CB Andrew Booth Jr., Clemson Tigers
The Packers are looking to add to their pass rush and Logan Hall would be a great fit next to Kenny Clark. Logan also mixes in well with Preston Smith and Rashan Gary when called upon. Outside linebackers coach Jason Rebrovich likes to have a solid rotation of four pass rushers and one could argue the Packers only have two or three, at the moment.
Therefore, I think the Packers jump the Bucs in a trade with the Titans, because they know Tampa Bay likes Hall. I could definitely see the Buccaneers wanting to trade back after this and try to address the secondary, but Kansas City, Cincinnati, and Detroit could use help at either corner or safety. The Buccaneers are likely to miss out on one of their guys if they trade back, at this point.
The Buccaneers take Booth Jr. with their first pick in the draft, as a result. His lack of workouts during the spring will cause him to fall right in to Tampa Bay's lap.
Both Sean Murphy-Bunting and Jamel Dean are in contract years and there are questions surrounding both players. Bruce Arians also mentioned last year how the Buccaneers needed more outside corners and that really hasn't changed since. Meaning, Booth Jr. would come in and immediately provide depth behind Jamel Dean (and SMB when he's outside) in Year 1.
If Dean and SMB can't prove they are long-term solutions in 2022, then Booth Jr. could easily replace one of them. Plus, the Buccaneers know how valuable cornerback depth is after 2021. Bowles did a great job with what he was given, but you don't want to find yourself scrambling to fill roster holes every year.
Booth Jr. is a great fit in regard to scheme and he provides both a short- and long-term solution for the Buccaneers.
Round 2, No. 60 overall: DL Perrion Winfrey, Oklahoma Sooners
Honestly, I think Ndamukong Suh's odds of returning are better than Rob Gronkowski's, but that won't stop the Buccaneers from drafting a defensive lineman early in the draft.
Winfrey is exactly what the Buccaneers need on the defensive line and he would be a great rotational piece as veterans Suh and Will Gholston help coach him up. Once 2023 rolls around, he could be ready to take over in a full-time role.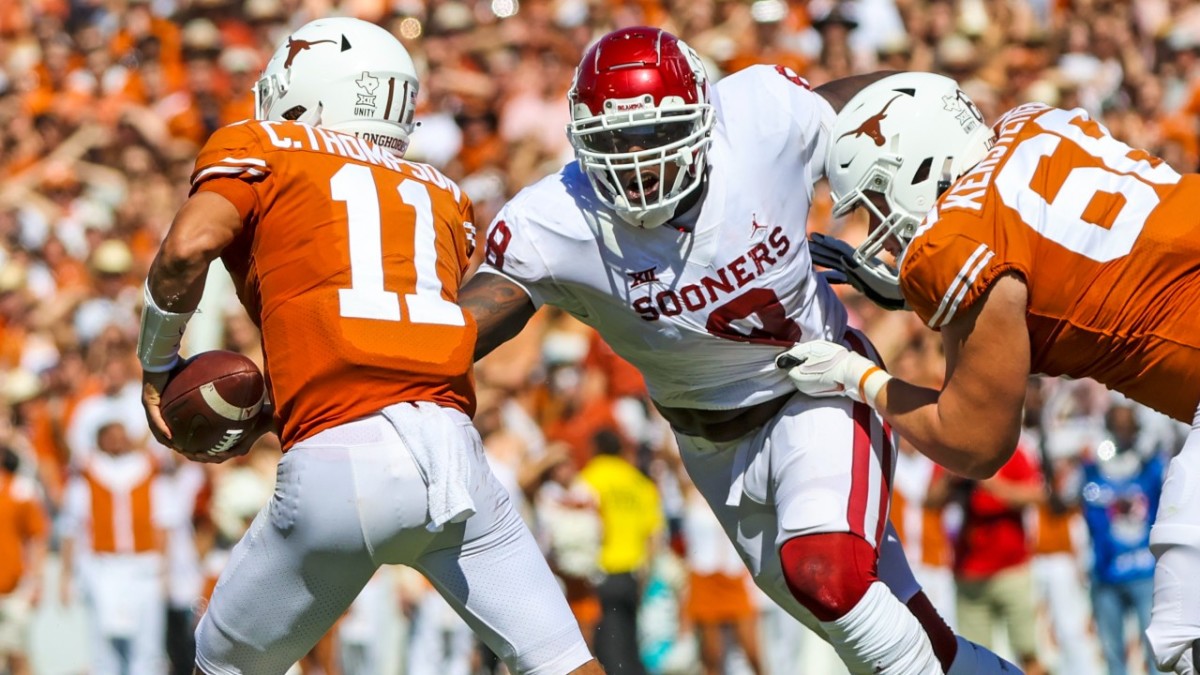 There is obvious interest from the Buccaneers, as well. They hosted Winfrey on a top-30 visit. If they can't land a defensive lineman in Round 1, then this pick is almost guaranteed to be centered around the defensive trenches. If the right guy is there, of course.
Round 3, No. 91 overall: TE Cade Otton, Washington Huskies
I had Otton going to the Buccaneers in Round 4 of my previous mock draft, but I felt it was a bit of a reach then, so, I'm making up for that mistake.
Kinda, but not really, actually. Otton, like Winfrey, was hosted on a top-30 visit and is the exact type of player the Buccaneers need behind Cameron Brate and Gronkowski. Yes, I do think Gronk returns for one more year in 2022.
Otton has the skillset that can make him an eventual starter in the NFL and he has great hands. Oh, and he is a solid blocker in the run game, which is something the Bucs relish.
Round 4, No. 133 overall: DL Matthew Butler, Tennessee Volunteers
That's right. The Buccaneers don't take an offensive lineman in the first four rounds, so that means it's Aaron Stinnie SZN in 2022.
But in all seriousness, Butler would be a solid pick at this position and would have plenty of time to improve his technique/play strength as he sits behind Vita Vea, Gholston, Winfrey,  Suh (in this mock universe), and Rakeem Nunez-Roches.
Butler already wins reps thanks to good technique, which is a great starting point. The Buccaneers can use that to help improve his game over the coming years. Think Alex Cappa, but on the defensive line, with this pick.
Round 7, No. 248 overall: OT Matt Waletzko, North Dakota Fighting Hawks
You didn't really think I was going to exclude a big offensive lineman from a small school in a Buccaneers mock draft, did ya?
Waletzko has been moving up the board in recent mock drafts, but experts such as The Athletic's Dane Brugler gave him a seventh-round grade, so I'll hold out hope he falls to the Buccaneers, here.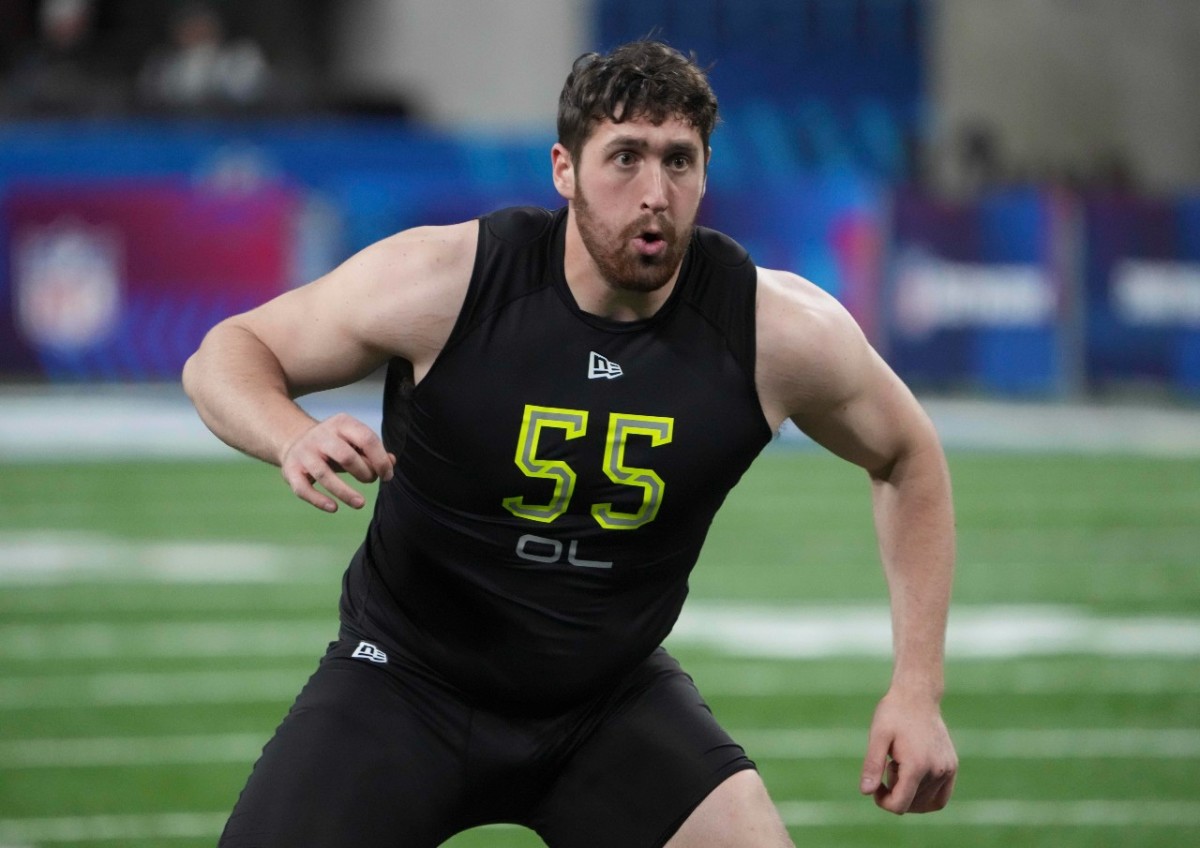 Waletzko is a gigantic human at 6-foot-7, 312-pounds. He obviously has outstanding length and he has pretty solid footwork for being so tall, too. Waletzko needs to continue to add to his frame and is obviously very raw, but he could actually turn into a decent player (especially for a seventh-rounder) with time.
And that's exactly what the Buccaneers have: time. They have two bookend tackles in Donovan Smith and Tristan Wirfs. Waletzko can develop behind them, maybe challenge Josh Wells for the swing tackle position, and then who knows where things might stand when Wirfs is ready for his big contract? This is a bit down the road, but there's a good chance the Buccaneers won't be able to afford both Wirfs and Smith in the next 2-3 years.
Could Waletzko eventually help with that? It's certainly a possibility.
The Buccaneers are set at guard a little better than people think with Shaq Mason, Stinnie, Robert Hainsey, Nick Leverett, and Sadarius Hutcherson in the fold. Therefore, they can use this pick on an outside lineman that could possibly pay dividends in the future.
Round 7, No. 261 overall: RB Max Borghi, Washington State Cougars
The Buccaneers have Leonard Fournette under contract for the next three years and Ke'Shawn Vaughn has two years left on his rookie deal, but Giovani Bernard is essentially year-to-year, at this point.
Borghi has good hands and he is good in pass protection. He should be able to provide special teams value and could even carve out a role on third down in the future.
He has compact, powerful body at 5-foot-9, 210-pounds, but he also has enough speed to break off big runs or make big plays in the passing game.
Borghi's college production speaks for itself and he is well worth taking a flier on with the penultimate pick in the draft.
Featured image via Kirby Lee-USA Today Sports