We are officially one week into April, which means it's time to really start getting serious about the NFL Draft.
Our own Zach Ragan constructed a pre-free agency mock draft for the Bengals at the beginning of March. However, things have obviously changed a lot since then. Therefore, a significant update is now required.
So, what are the Bengals going to do in the draft? You'll find all the answers below.
Round 1, No. 31 overall: C Tyler Linderbaum, Iowa Hawkeyes
Yes, the Bengals signed Ted Karras and Alex Cappa as part of their offensive line rebuild, but there are still questions at the left guard position. Jackson Carman is still in the fold, but the Bengals need insurance in case he doesn't take the expected step forward.
Karras actually played left guard in 2021 and finished with the second-highest pass block efficiency rating (98.5) of his career. The Bengals can slide him to left guard and plug in Linderbaum at center, which gives them one of the stronger starting front fives in the NFL.
Plus, Linderbaum gives the Bengals a cheap rookie contract on the offensive line. They're currently paying Alex Cappa and La'el Collins $10+ million/year each and Jonah Williams' fifth-year option kicks in 2023 (if picked up). There's a chance Williams will be in the market for a big deal in 2024, as well. Linderbaum would give the Bengals at least four years of affordable play, which helps them keep the roster intact in other areas.
Linderbaum's stock has dropped massively over the last month or so. That could be due to a lack of combine/pro day workouts, but regardless, he should be there when the Bengals pick at 31.
Round 2, No. 63 overall: LB Chad Muma, Wyoming Cowboys
Will Logan Wilson and his former teammate in Muma reunite in the NFL? Based off this mock draft – that's the plan.
Muma has outstanding range and is a tackling machine. The Bengals could stand to upgrade their coverage skills on the second level of the defense and Muma can help with that. Germaine Pratt is more of a thumper and is in the last year of his deal. Muma has the upside to rotate in as that second linebacker in Lou Anarumo's subpackages and can use his non-playing time to further develop his skills.
The hope is Muma would be ready to take over for Pratt in 2023. Meaning, the second level of the Bengals defense wouldn't miss a beat if so.
Round 3, No. 95 overall: TE Jelani Woods, Virginia Cavaliers
Woods is an athletic freak, but is raw. The Bengals need help at tight end even after signing Hayden Hurst, which is why Woods lands here in this mock draft.
He's a solid blocker and his size, range, and wingspan make him an excellent red zone threat. Woods is a perfect complement to Hurst and could even take over the starting gig in 2022 if he can improve his route running and consistency.
Woods will force defenses to stay honest in the middle of the field, which will only make things harder for opposing defenses when considering who plays receiver and quarterback for the Bengals. He can turn into one of the league's top tight ends if he lives up to his potential, making an already dangerous Bengals offense even more so.
Round 4, No. 136 overall: DT Matthew Butler, Tennessee Volunteers
B.J. Hill and D.J. Reader are a good 1-2 punch at defensive tackle, but the Bengals need someone to help replace Larry Ogunjobi's pass rush production from 2021.
Butler is lesser-known prospect because of his overall body of work at Tennessee, but he showed enough potential in his final year to where he could've easily been a first-round pick if he played like that his entire career.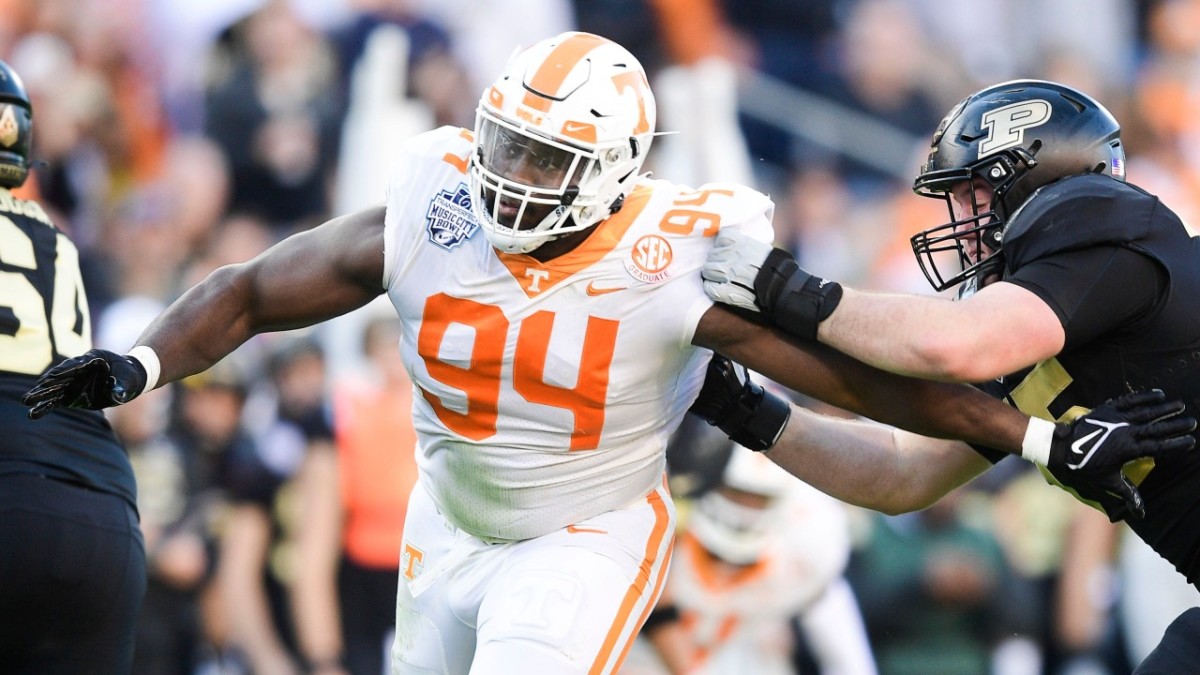 Butler is fundamentally sound, has good burst, and knows how to use his hands. It's the perfect foundation for a coach to work with and Butler can develop into one of the league's best if he can add some more strength to his game.
There's little reason to think Butler won't factor into the Bengals' defensive line rotation, at minimum, in 2022.
Round 5, No. 174 overall: CB Martin Emerson, Mississippi State
A ton of mock drafts have Emerson going in the second- and third-rounds, but I'm not sure if that's what happens on draft day. For instance, The Athletic's Dane Brugler has Emerson as a fifth-round pick, which makes more sense when you consider Emerson's tape and production.
But despite his inconsistencies and one interception in 36 career games, Emerson is a solid zone corner who would fit well in Anarumo's scheme. The Bengals return their top-3 corners from 2022 and while they could upgrade over Eli Apple, they seem content with him, Mike Hilton, and Chidobe Awuzie in 2022.
Emerson provides solid depth and could eventually be a solid No. 2 corner in the NFL. He just needs time. Fortunately, he'll get just that with the Bengals.
Round 6, No. 209 overall: T Obinna Eze, TCU Horned Frogs
Eze has flashed potential and his football career has been rather impressive considering he didn't play the game until two years into high school.
There's a lot of work to be done with Eze, but he has the experience and the tools to develop into a decent swing tackle option, which is something the Bengals need.
Round 7, No. 226 overall (from Giants): DE Tre Williams, Arkansas Razorbacks
Joseph Ossai and Cam Sample have potential, but Ossai missed all of 2021 with an injury. For how great Trey Hendrickson was, he looked pretty gassed toward the end of the year. The Bengals need to make sure they have at least one more body in the rotation. And it's the NFL: you can never have enough pass rushers.
There are questions and red flags about Williams' off-field issues, which could easily lead to a dismissal from the Bengals, however, his pass rush capabilities are evident. Cincinnati could take a chance and it could work out if Williams can keep himself in line. Either way, it won't hurt the Bengals if the No. 226 pick doesn't work out. Williams is worth the risk.
Round 7, No. 252 overall: CB Josh Thompson, Texas Longhorns
Seventh-round picks are usually destined for special teams early on and that's exactly where Thompson lands with the Bengals. He has all traits to immediately contribute on special teams, which could keep him on the 53-man roster or the practice squad, at the very least.
Thompson also has some nice traits that could lead to a contributing role on defense if developed correctly, which makes him an intriguing final pick for the Bengals.
Featured image via Scott Taetsch-USA TODAY Sports