There were — and still are, to be fair — major questions concerning the Dallas Cowboys secondary entering this season. Depth at corner and the unknown at safety made many question if Dan Quinn would be able to put together a formidable defensive backfield.
Trevon Diggs has done an outstanding job of solving many of those problems through three games.
Diggs has looked the part of a true CB1 for the Dallas Cowboys. The second-year defensive back has more than held his own against some of the top receivers in the league while also becoming a turnover magnet.
TREVON DIGGS IS EMERGING AS A STAR FOR COWBOYS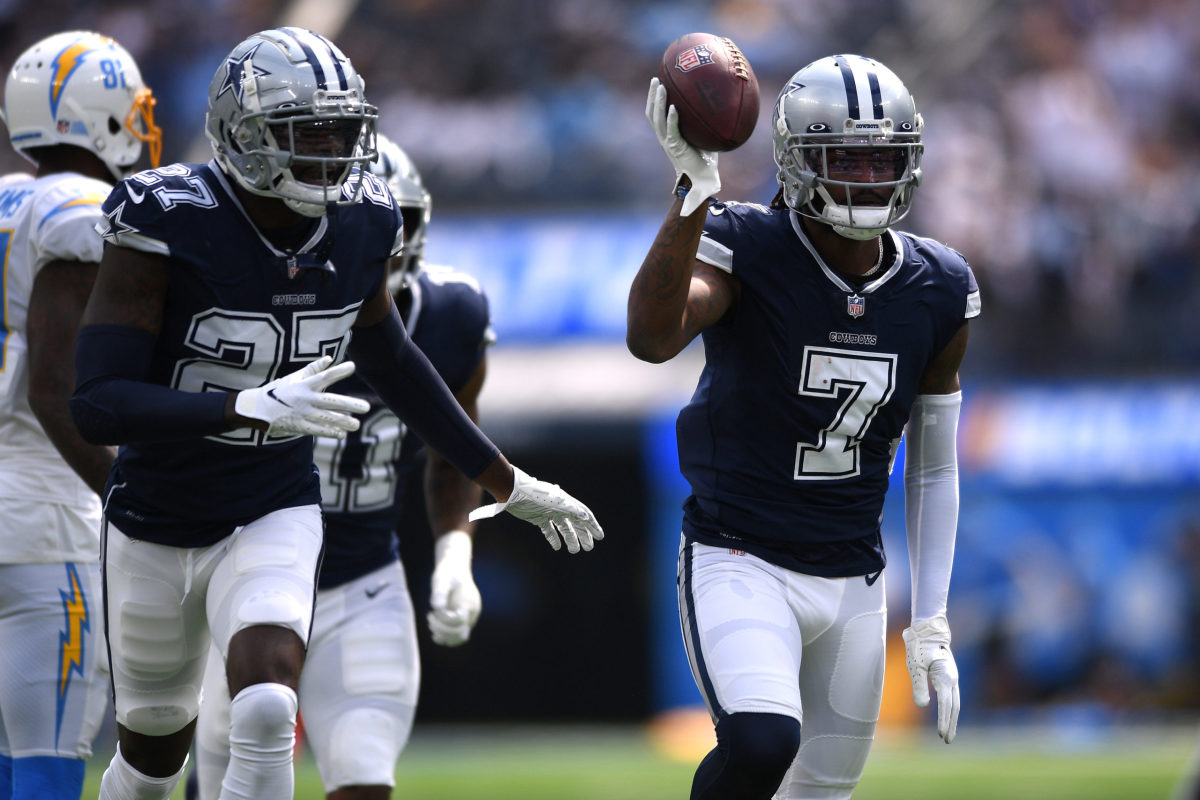 Trevon Diggs is blossoming into a star right in front of our eyes. The 2020 second-round draft pick and former Alabama defensive back is defending big-time receivers and making plays at a consistent rate.
In week one, Diggs had the task of covering and shadowing Tampa Bay Buccaneers Pro Bowl wideout Mike Evans. Evans, 6-5 and 225, had the size advantage over the 6-2 Diggs, but the Cowboys corner gave everything that Buccaneers' receiver could handle. Diggs allowed just one catch on three targets against Evans, and he recorded a pass breakup for good measure.
Week two, Diggs did just struggle a little bit more when matched up with Keenan Allen. The Cowboys were playing a mix of man coverage and zone coverage against the Chargers. He gave up one big 42-yard pass play on a great throw from Justin Herbert. That said, Diggs also came away with an incredible interception, as well.
We'll look at the #Cowboys defense on the Week 3 @NFLMatchup show…

The defensive profile in DAL this season = Single-high man & split-safety zone.

Here's a man-coverage rep with CB Trevon Diggs vs. LAC. Undercut the throw on the over route (Keenan Allen). pic.twitter.com/EXglfPiexr

— Matt Bowen (@MattBowen41) September 20, 2021
Trevon Diggs may have saved his best performance for his latest game. Diggs was matched up with his former Alabama teammates Jalen Hurts and Devonta Smith, so you have to believe that there was some extra motivation for Monday night.
Diggs held Smith to just three catches for 28 yards on six targets in the Cowboys' 41-21 victory in week three. The Cowboys corner added three PBUs, two tackles, and an interception that was returned for a touchdown for good measure.
Trevon Diggs PICK-6! #DallasCowboys

📺: #PHIvsDAL on ESPN
📱: https://t.co/sXVKWk2eYl pic.twitter.com/TShinhyUTC

— NFL (@NFL) September 28, 2021
THREE TAKEAWAYS IN THREE GAMES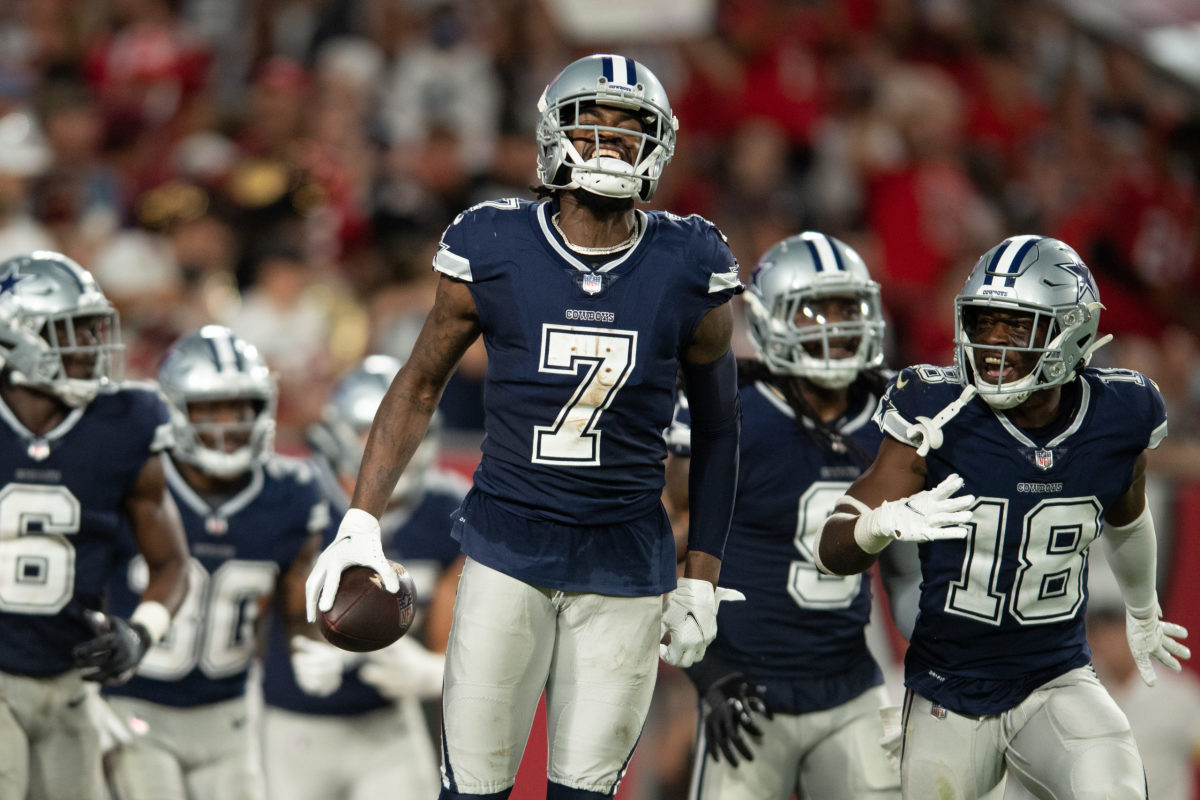 There is only one player in the National Football League that has grabbed an interception in all three games of the 2021 season. His name is Trevon Diggs.
Diggs picked off Tom Brady in week one. He intercepted Justin Herbert in week two. Then, he made Jalen Hurts pay in a big way in week three. All three were huge plays that put the ball back into Dak Prescott and the offense's hands.
Trevon Diggs is now tied for the NFL lead with 3 interceptions this season. He's the only player in the NFL with a pick in every game this season. Certified baller.

— Field Yates (@FieldYates) September 28, 2021
Trevon Diggs has accounted for three of the Dallas Cowboys' league-leading eight takeaways. That has been the story of the Cowboys' defense so far this season — it's a complete 180 from last year.
Cowboys second-year CB Trevon Diggs was asked if he's putting the league on notice: "I'm trying to."

To let them know what?

"I'm here." pic.twitter.com/wI9F9nSw0w

— Jon Machota (@jonmachota) September 28, 2021
"He's a receiver faking it as a defensive back. Those are as good of interceptions as I've ever seen, these last two," Jerry Jones said on 105.3 The Fan during his Tuesday morning radio appearance. "Boy, I'm so excited about having him."
The Dallas Cowboys have a legitimate CB1 in Trevon Diggs.
Featured image via Kevin Jairaj-USA TODAY Sports