The Dallas Cowboys opened training camp this week in Oxnard, California. Naturally, there is a ton of storylines already coming out of the West Coast.
One recent development has a chance to be very important for the Cowboys in 2022: Jabril Cox is practicing. Cox, a fourth-round draft pick in the 2021 NFL Draft, suffered a season-ending injury last November against the Minnesota Vikings.
Now recovered from a torn ACL, Cox has the opportunity to carve out a role on the defense. Dallas needs playmakers next to Micah Parsons at the linebacker position. That is where Cox can make his presence felt.
Best thing about Cowboys roster moves this morning is LB Jabril Cox is ready to go. Had his rookie season shorten due to a torn ACL. Also, WR James Washington (foot) should be good to go as well. Washington wore a protective boot until the final stages of the off-season program.

— Calvin Watkins (@calvinwatkins) July 27, 2022
Dallas appears to be confident about Cox's health leading up to the 2022 season. The team did not place the second-year defender on the Physically Unable to Perform list, signaling that the LSU product is ready to go.
What Jabril Cox adds to the Cowboys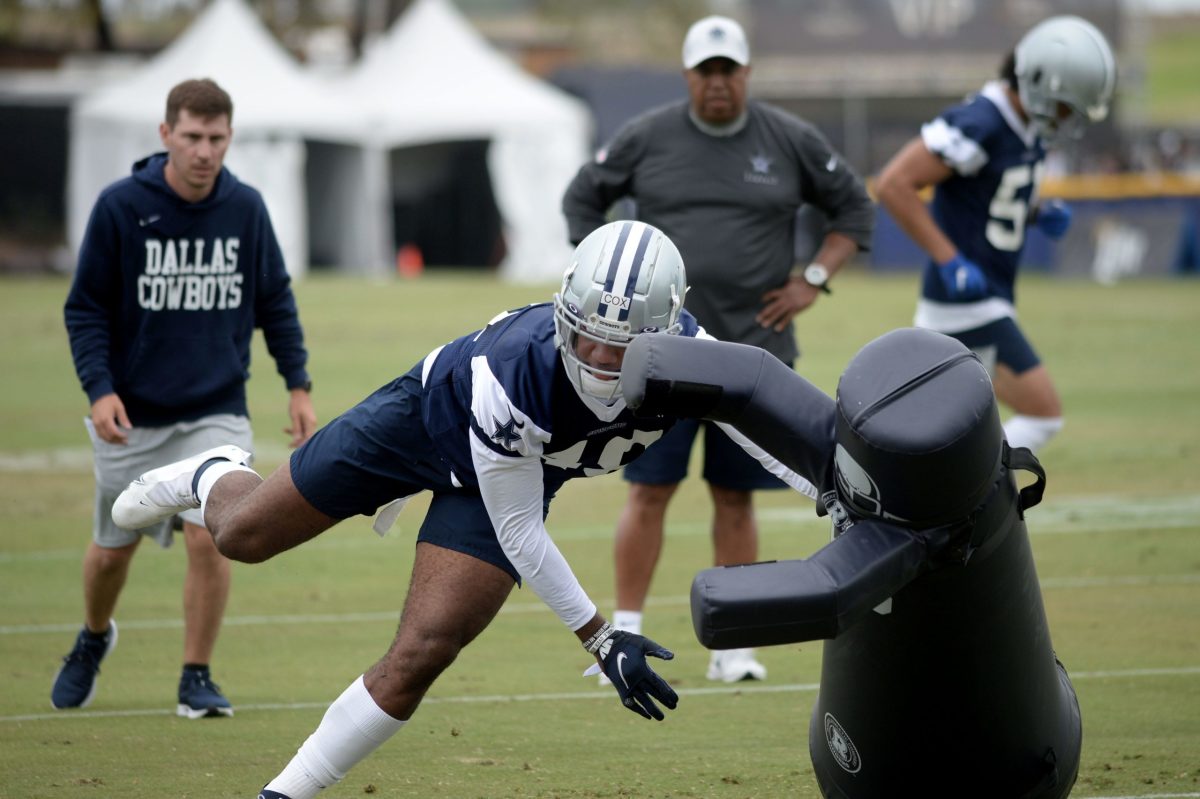 Jabril Cox was a standout player at North Dakota State and LSU during his collegiate career. His athleticism and upside in coverage made him an appealing prospect in the 2021 NFL Draft class.
Fortunately for the Dallas Cowboys, Cox fell all the way to the fourth-round. That's when Dallas swooped in and grabbed him on day-three, adding a second linebacker in the draft where the Cowboys also selected Micah Parsons.
Jabril Cox flashed promise as a rookie. He played in seven games before tearing his ACL. Despite the limited action, the Cowboys are excited about what he can bring to Dan Quinn's unit.
"I think (Cox) is coming along great," Cowboys VP Stephen Jones said back in March. "(He) should be a big plus for us this year. Will fill right in where Keanu left off. I think he has great coverage skills."
Let the Jabril Cox vs LVE camp battle proceed in earnest

— Jeff Cavanaugh (@timeforjeffrey) July 27, 2022
If fully healthy, Cox has the chance to be a big contributor next to Parsons on the second level of the defense. He has the athletic ability to cover a lot of ground with a lot of potential to be a plus in pass coverage.
The Dallas Cowboys saw Keanu Neal walk in free agency, creating an opening for Jabril Cox to emerge. Now cleared from injury, Cox looks primed to take advantage.
Featured image via Tim Heitman-USA TODAY Sports