Dak Prescott is entering his seventh season in the league. Time certainly flies in the NFL, as it seems just yesterday that Prescott broke out with the Dallas Cowboys.
Prescott and the Cowboys enter the 2022 season with a decent amount of pressure. The quarterback and the team fell flat after a hot start in 2021. A home playoff loss to the San Francisco 49ers was the nail in the coffin to what was once a promising season.
Now, it's a new season, and Prescott is feeling healthy after suffering nagging injuries over the past few years. He is entering the new season with confidence, believing that he and the Cowboys can accomplish big things.
Dak Prescott on turning 29 tomorrow: "Golden birthday, I'm planning for this to be the golden year." pic.twitter.com/j30gbEo0Qt

— Jon Machota (@jonmachota) July 28, 2022
"I plan for this to be the golden year," Prescott told the media on Thursday during training camp.
The Dallas Cowboys' quarterback added that he knows what the standard is when playing the position for America's Team:
"Obviously knowing the quarterbacks that played specifically for this team and knowing their legacy. And the ones that we hold at the highest standard are the ones that have Super Bowl rings," Prescott stated. "It starts there for me, trying to fill the shoes of those guys that have come before me and do something for this organization that hasn't been done in a long time."
Pressure is on Prescott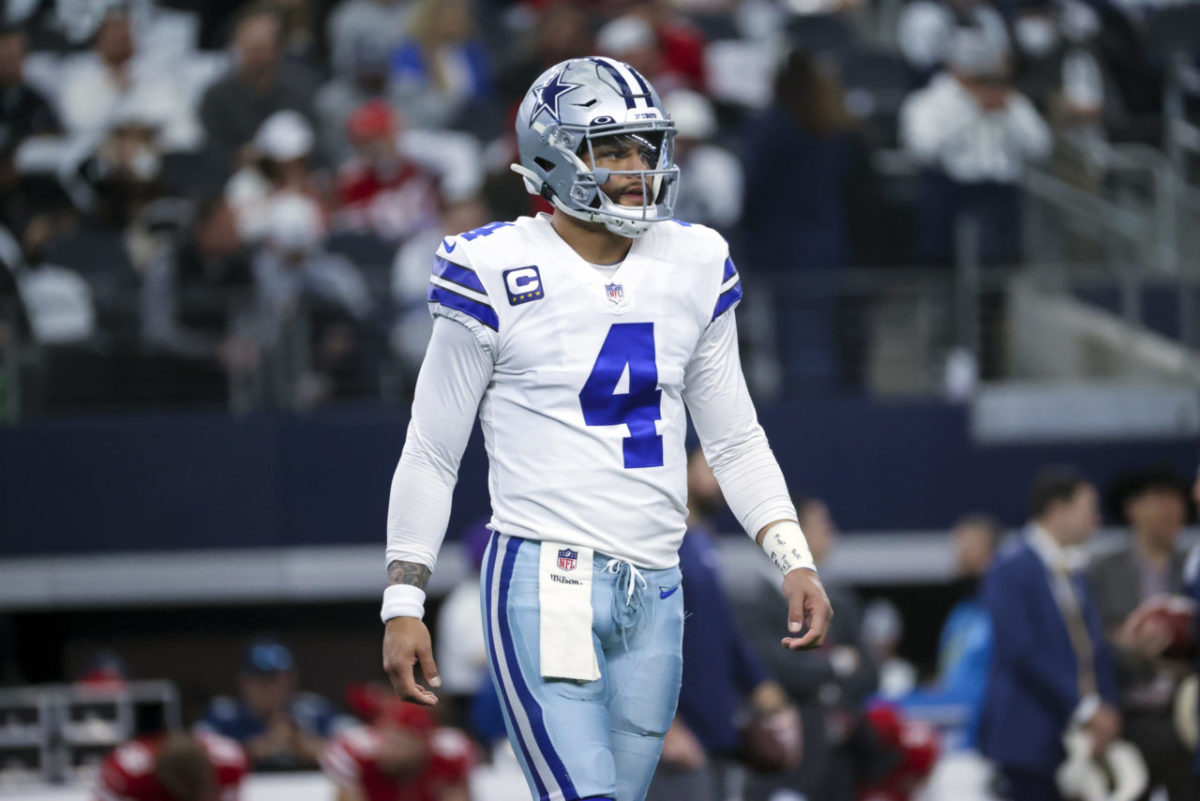 Super Bowl is a big goal. Especially for a franchise that has not tasted real postseason success in more than two decades.
Yet, 'Super Bowl' keeps being brought up. By Dak Prescott and by Cowboys owner Jerry Jones, who has said several times that he is itching to add another Lombardi Trophy.
Without being asked, Cowboys owner Jerry Jones addresses Mike McCarthy's status as head coach. "I want to be real clear: He wouldn't be sitting here today if I didn't believe he was the man to lead this team to a Super Bowl. …The guy to my right is the guy I'm convicted about." pic.twitter.com/1Juk1wpbR8

— Michael Gehlken (@GehlkenNFL) July 26, 2022
Mike McCarthy is putting that pressure on his quarterback.
"This offense is built around making the QB successful," McCarthy said. "This is Dak Prescott's offense. I think you see him really taking ownership of that. At the end of the day, defense wins championships but the Super Bowl is won by the QB."
Dak Prescott has lofty goals heading into the 2022 season. The head coach and the owner both believe that it is up to him to take the Dallas Cowboys to the mountaintop.
Featured image via Tim Heitman-USA TODAY Sports