Dak Prescott is entering his seventh season in the league. The Dallas Cowboys' signal caller is a well-established franchise quarterback and has flashed elite-level play.
Be it injuries or inconsistencies, Prescott has not yet climbed into that upper-echelon of passers in the NFL. The tier where the Aaron Rodgers, Patrick Mahomes, and Tom Bradys of the world sit.
Prescott has the ability to break into that grouping. His accuracy continues to improve, he is among the best in the throwing the deep ball, and nobody can question his leadership abilities. The 2022 season will be big in regards to where Prescott stacks up among his peers.
The Dallas Cowboys' passer has big expectations for the upcoming season. He believes that the Cowboys can reach the mountaintop and hoist the Lombardi Trophy after years of disappointment in the postseason.
"Golden birthday, I'm planning for this to be the golden year," Prescott said about turning 29 on Friday.
Where Prescott has improved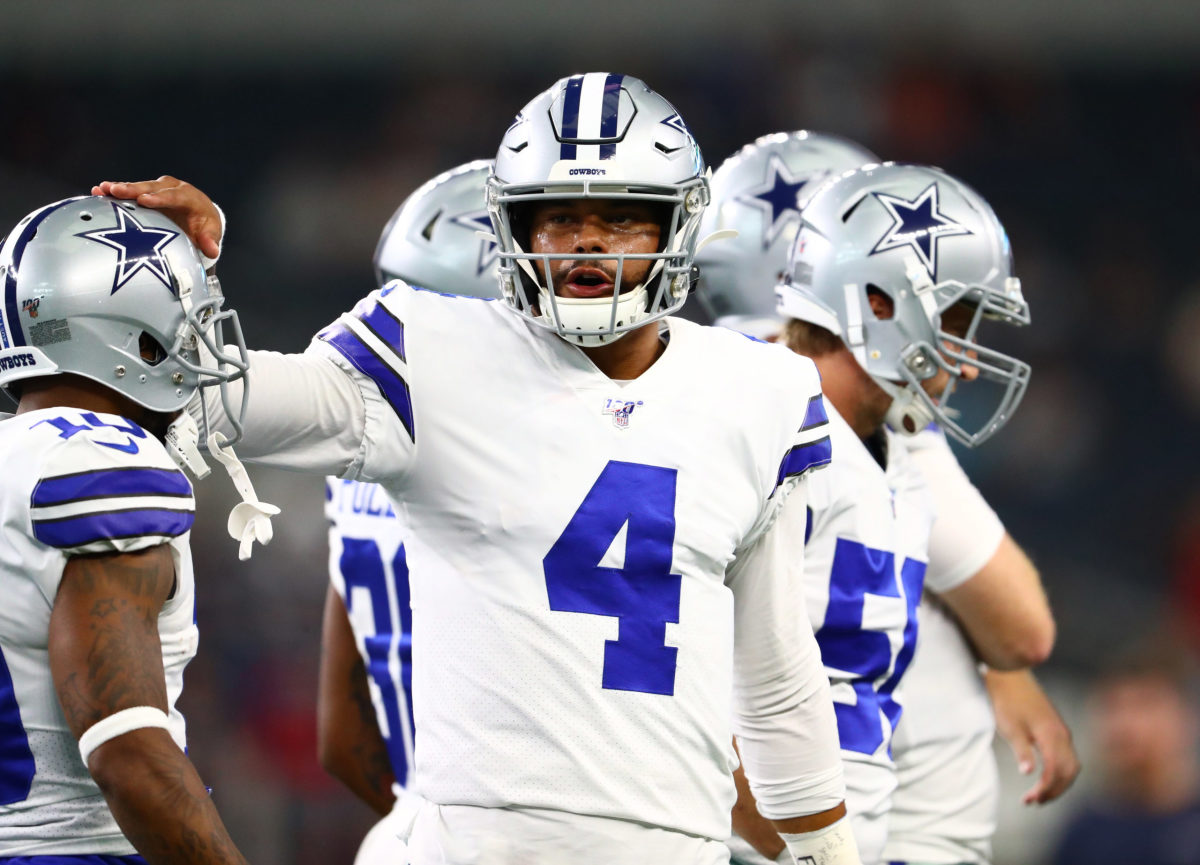 Dak Prescott needs to take his game to another level in 2022. He is clearly one of the 10 best quarterbacks in the NFL, but there is another level that Prescott can reach. That is evident based on the start to the 2021 campaign.
Cowboys tight end Dalton Schultz is seeing where Dak Prescott has improved ahead of the upcoming regular season. Schultz enjoyed a breakout season while catching passes from Prescott in 2021. He is seeing something different in training camp.
Dalton Schultz said the biggest area of growth with Dak Prescott is his ball velocity. "He's got a lot more horsepower."

"I catch his footballs every day and the dude's got like just an uncanny amount of zip on his ball now. He's been working his butt off all offseason."

— Jon Machota (@jonmachota) July 28, 2022
"The dude's got like just an uncanny amount of zip on his ball now," Schultz said about Prescott.
Dak Prescott has had to deal with injuries over the last few seasons. From the season-ending ankle injury in 2020 to the calf strain that hampered his 2021 success. Even last training camp, Prescott was dealing with shoulder soreness.
With those issues seemingly in the rearview mirror, Prescott is feeling better than ever.
"A couple of weeks out and I'm in the best shape that I've ever been in," Prescott said earlier this month. "So, it's time to ramp it up and get going."
Dalton Schultz is seeing the results of Prescott being fully healthy. The regular season cannot get here soon enough.
Featured image via Tommy Gilligan-USA TODAY Sports