After a long seven months since their disappointing playoff loss, the Dallas Cowboys played a game this past Saturday, their preseason opener against the Denver Broncos. One of the players with the biggest expectations attached to his name going into the 2022 season, rookie wide receiver Jalen Tolbert, had been showing flashes in practices of why he'll be counted on to be the Cowboys' No. 2 option until Michael Gallup returns from ACL surgery.
Putting together good reps in training camp is one thing, but it's entirely different when lining up against an opponent with full pads on. Tolbert's first game action for the Cowboys didn't go as planned as he only caught two of his seven targets, and it should have been three but he dropped a potential fourth down conversion around midfield in the first quarter.
Tolbert, being brutally honest about his performance, took accountability for his shortcomings over the weekend, and vowed to be better when another chance comes about.
"Just got in there too fast," Tolbert said, via the team's website. "That's something that I've got to work on. That's a learning experience for me. I've got to make that play. Next time it comes to me, fourth down or first down, I'm going to make that play.
"I think I won some routes early on and I think that we had our opportunities there. Overall, the outcome didn't come out what we wanted it to be. But we can go back to work and keep competing against each other and come out next week and improve upon what we just put out there."
Of course, there's a lot more that ties into a receiver making a play than just himself. Protection from the offensive line and having a quarterback that can accurately throw the football matter as well. The series before Tolbert's drop, the Cowboys went for it on fourth down as well, but Cooper Rush's pass was behind the rookie receiver due to being hit and was intercepted.
The more preseason reps Tolbert gets to work with Rush things like timing and trust will come. They will both certainly get that opportunity as the former needs reps to prepare himself for a big workload during the season, and the latter is fighting to win backup duties to the Cowboys' starting quarterback Dak Prescott.
The third-round pick mentioned how it's time for him to go back in the lab, so to speak, and take the negatives and turn them into positives going forward.
"It was just one of those things … a learning experience," said Tolbert. "I gotta get better at those things and work along with the quarterback. I'm just gonna go back to practice and improve on the things that I need to."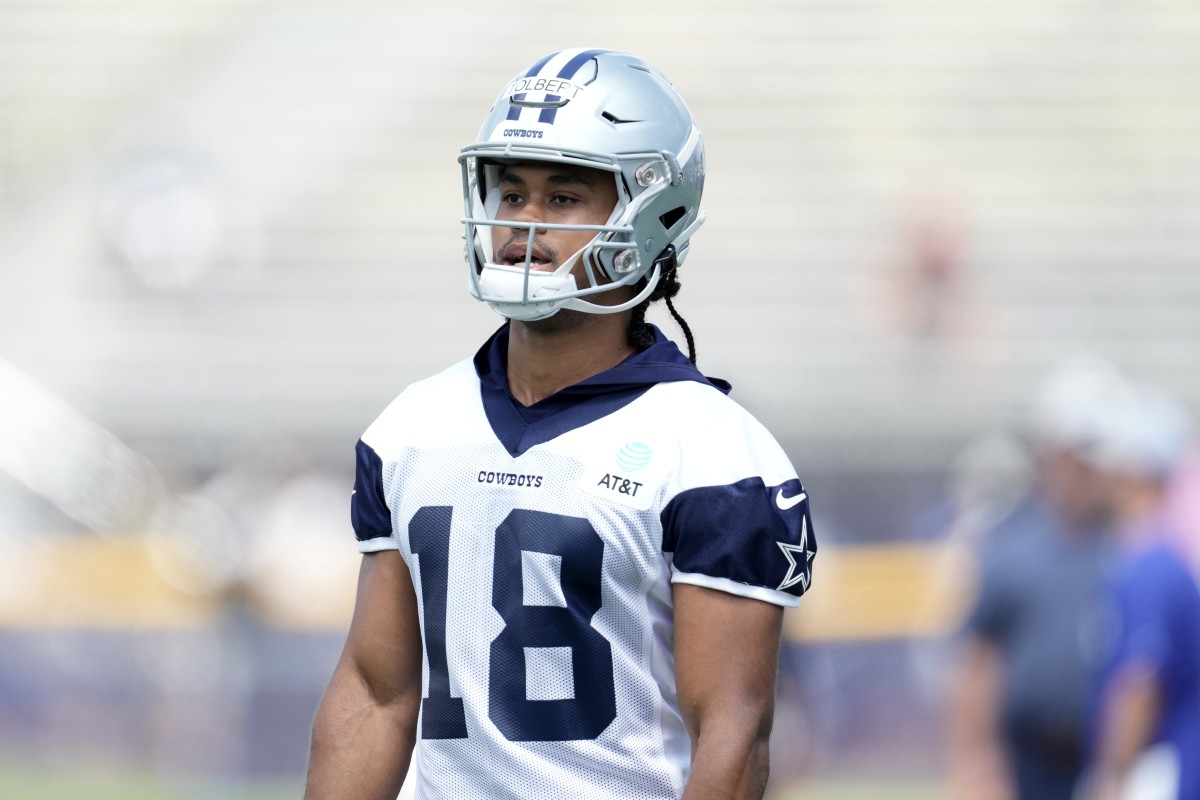 One big adjustment that all players entering the NFL have to make is how much faster the game is on the professional level as opposed to college. Not only are the players faster speed-wise, but even the way they process information is also sped up, making it that much more challenging to succeed.
Don't tell the Mobile, Alabama native that. Tolbert feels there isn't much difference from one level to the next when it comes to the speed of the game.
"Overall, it's kinda similar, the speed is," Tolbert said. "Now, it's just you gonna have different looks than you would at practice. It's not set up for you to really win I guess you could say. You just gotta go out and be able to make moves on the fly, be able to concentrate on certain things."
Tolbert will get his shot to redeem himself this Saturday as the Cowboys take on the Los Angeles Chargers.
Feature image via Tim Heitman-USA TODAY Sports