The Cowboys go as Dak Prescott goes, it's just that simple. Since entering the NFL in 2016, Prescott has gradually progressed every season and had put himself among the league's best signal callers. However, one media outlet thinks the 2022 season may be a little different for Prescott.
Pro Football Focus put out some bold predictions about every team in the NFC East. Surprisingly, they have Prescott having his worst season as far as PFF grades are concerned.
Sam Monson on Prescott:
Prescott has had a fascinating NFL career. After being drafted in the fourth round, it was immediately clear that the league just missed on him, as he was a far superior player than the draft process believed. From that point, he has proved capable of very high-end play, but he also appears to be one of the most affected quarterbacks by changes to his supporting cast. This season, he has to deal with the loss of Amari Cooper, Michael Gallup likely missing the start of the year and an offensive line that has undergone some changes. In the past, when Prescott's supporting cast wanes, so does his play. It wouldn't take much of a decline for him to earn an overall PFF grade in the 70's rather than the 80's, which would be his worst year since 2018.
Is that so, PFF? Talk about attempting to put someone in their place.
There's no way the Cowboys could survive Prescott taking a step back in his play. The first reason why is simple, he plays the most important position, quarterback. As the centerpiece of the team, Prescott has to be on top of his game as much as possible. Yes, the Cowboys' defense will be the team's spearhead, but if Prescott and his receivers aren't on the same page, the Cowboys' offense will be in shambles, to say the least.
Another reason this would doom the Cowboys offensively is that it would allow teams to focus on their running game a lot more. Granted, Ezekiel Elliott and Tony Pollard are one of the best combinations in the NFL running the football. However, if opposing defenses can constantly load the box with eight or nine guys it will make it extremely difficult to run and force a lot of second or third and long situations, which is difficult even for a productive passing offense.
But, Monson is overrating a lot of what has gone on around Prescott.
Prescott and the Cowboys passing game will be fine just fine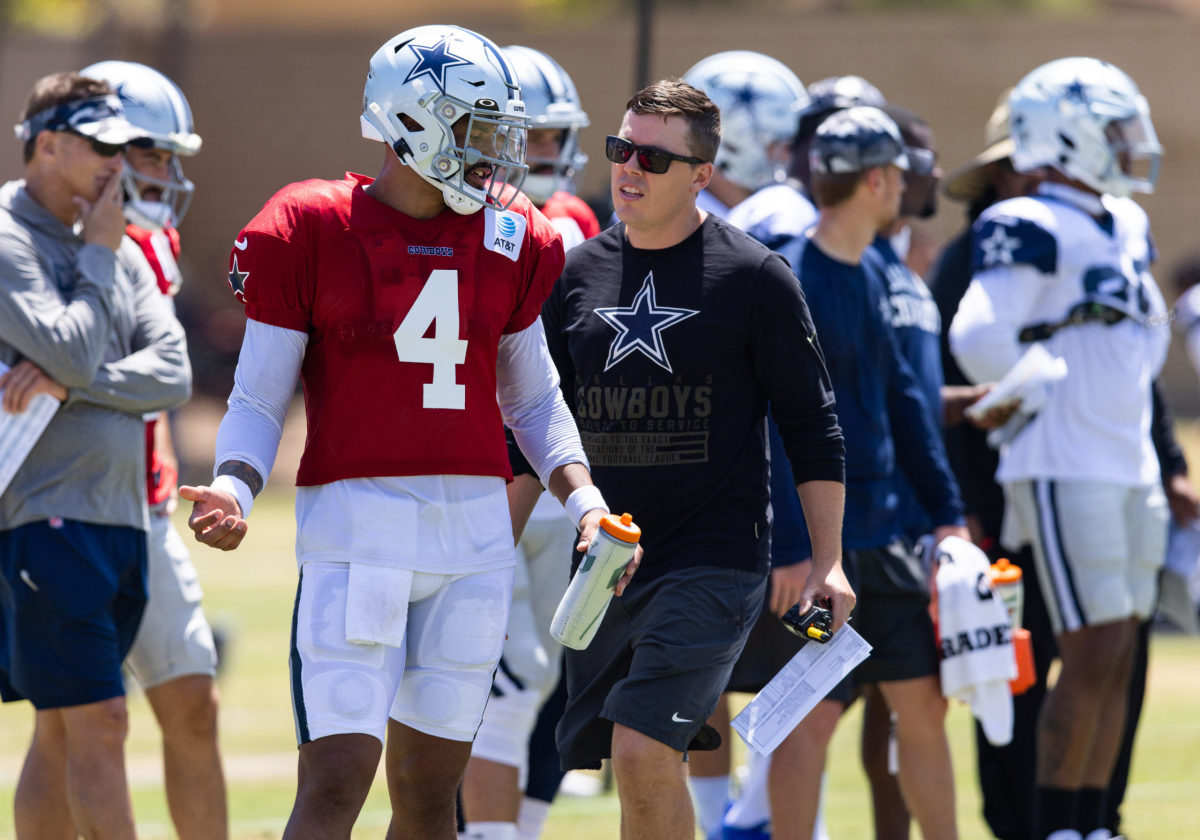 The Cowboys not having Gallup for the start of the season is a big loss, and free-agent addition James Washington suffering a fractured foot last week didn't help matters. That said, both guys will play significant football in 2021 and will boost the entire unit immensely once they return.
The Cowboys have enough to survive in their absence.
Rookie Jalen Tolbert, veteran Noah Brown, and undrafted free agent Dennis Houston have all made waves in training camp. Brown and Houston have had more of the flashy type plays while Tolbert has been consistently building his chemistry with Prescott, which started as soon as he was drafted by the Cowboys.
Simi Fehoko, the Cowboys' fifth-round pick from a season ago, has been a steady playmaker during training camp and is making it hard for him not to make the final roster. Former USFL MVP KaVontae Turpin looks to be carving out a role as a punter returner and a guy the Cowboys can use on jet sweeps and take the top off of the defense with his speed.
Then there's the Kellen Moore factor. Yes, Moore has fallen out of favor with people due to his offenses tailing off at the end of the last three seasons. However, he knows Prescott as well as anyone seeing as he was his backup for two seasons, his quarterbacks' coach in 2018, and has been his offensive coordinator since 2019. There will be some struggles early, which is normal, especially with new talent in the building, but a drop-off in Prescott's play is unlikely.
Feature image via