Dak Prescott did not play well against the San Francisco 49ers. That undoubtedly was a key reason in why the Dallas Cowboys saw their season come to an end in the Divisional Round of the NFL Playoffs.
As expected, there is a lot of discourse surrounding Prescott and the Cowboys. Can Dallas make a postseason run and get over the hump with Prescott behind center? How should the Cowboys address their needs around Prescott this offseason?
Several questions must be answered before kickoff of next season. In the meantime, Dak Prescott made a strong statement regarding the future of he and the Dallas Cowboys. It is clear that he is still holding confidence in the direction of the franchise.
Cowboys QB Dak Prescott: "There's no doubt that we'll be back. No doubt at all."

— Jon Machota (@jonmachota) January 23, 2023
"We'll be back," Prescott said postgame.
One thing that plagued Prescott all season was turnovers. That again was the case on Sunday evening. He threw two interceptions in a seven-point loss. Prescott took accountability for the mistakes.
"Just two throws that I can't have, you can't have in the playoffs. You can't have them when you're trying to beat a team like that," said Prescott. "You can't have it on the road. There's no excuse for that. Those two are 100 percent on me."
On the year, Prescott threw 17 interceptions. He promises to not let that happen again.
"I promise the number will never be this (high) again," added Prescott.
Big offseason ahead for Cowboys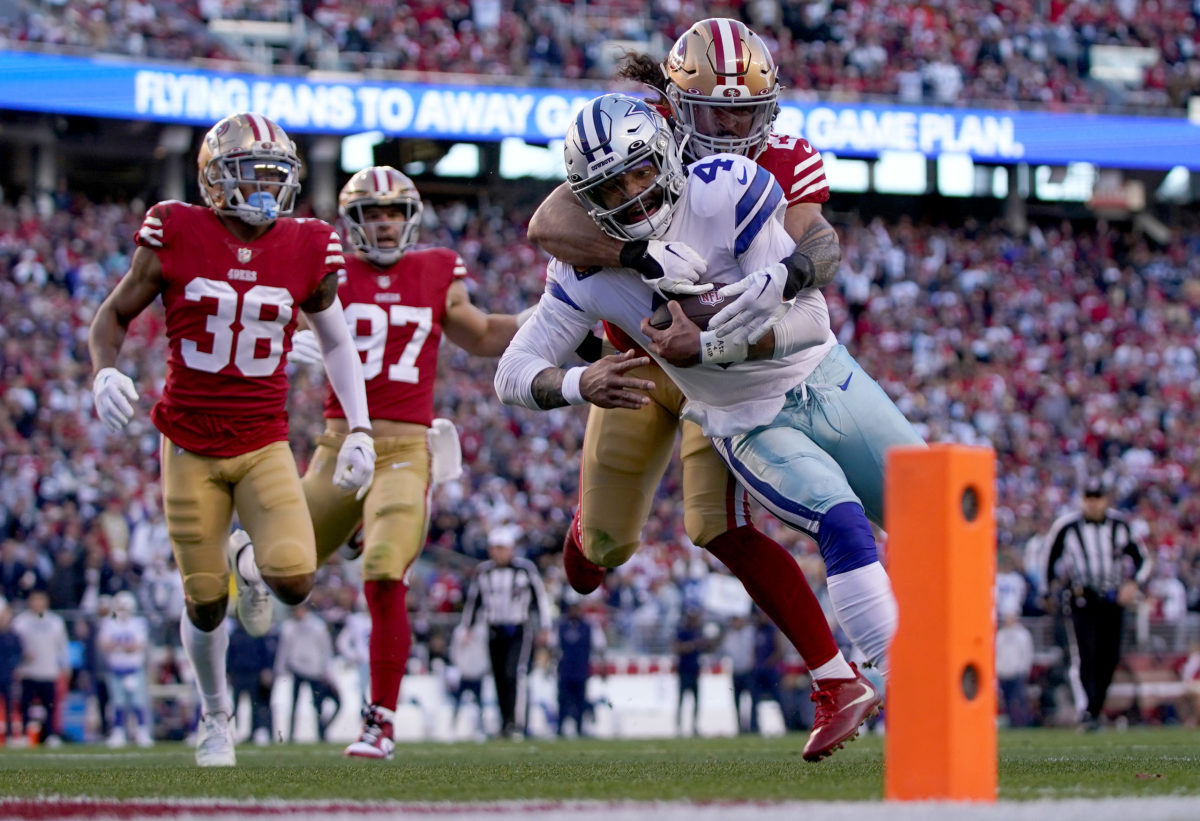 The Dallas Cowboys can certainly get back to this point next season. However, the goal is getting beyond the Divisional Round and reaching the NFC title – or beyond – for the first time in nearly 30 years.
Changes must be made this offseason. Offensive coordinator could be one, especially with Kellen Moore interviewing for head coaching vacancies this week. Defensive coordinator could see a new face in charge too, with Dan Quinn likely to land a head coaching job.
One way the Cowboys could help Prescott is by looking into hiring Jon Kitna back. Kitna served as the Cowboys' quarterbacks coach in 2019. Prescott took leaps in his development with Kitna in the building.
Additionally, the Cowboys would be wise to add another pass catcher to the roster. Outside of CeeDee Lamb – who enjoyed a breakout season in 2022 – there was not a ton of talent out wide for Prescott to work with. Acquiring a wide receiver through the draft, free agency, or even in a trade could help this offense take another step.
All in all, this offseason will be important for Prescott and the Cowboys. Dak Prescott is determined to get his team back to this place. Now, the next step is getting the Dallas Cowboys over the hump in the playoffs.
"We have to get some guys back. But there's no doubt we'll be back," Prescott said.
Featured image via Kevin Jairaj-USA TODAY Sports