Michael Gallup suffered a torn ACL in the Dallas Cowboys' loss to the Arizona Cardinals. That means that Dallas has lost one of its key offensive pieces for the remainder of the season.
It is difficult to gloss over losing a player like Gallup. The soon-to-be free agent has been a playmaking wideout for the Cowboys since being drafted in the third-round back in 2018. Others on the team will need to pick up the slack that his void leaves.
Fortunately, the Cowboys have a receiver that has proved to be capabale of filling into a larger role. Dallas was without Gallup for nine weeks this season. It was Cedrick Wilson that emerged in that absence.
When filling in for Gallup, Cedrick Wilson provided the Cowboys with a big-play weapon. Wilson has grabbed 40 catches for 483 yards and four touchdowns on the season. His touchdown against the Vikings proved to be one of the bigger plays of the Cowboys' regular season.
https://twitter.com/NFL/status/1454992229102080003?ref_src=twsrc%5Etfw%7Ctwcamp%5Etweetembed%7Ctwterm%5E1454992229102080003%7Ctwgr%5E%7Ctwcon%5Es1_&ref_url=https%3A%2F%2Fcowboyswire.usatoday.com%2F2021%2F10%2F31%2Fdallas-cowboys-vs-minnesota-vikings-cooper-rush-cedrick-wilson-touchdown-highlight%2F
WILSON HAS CHANCE TO EMERGE AGAIN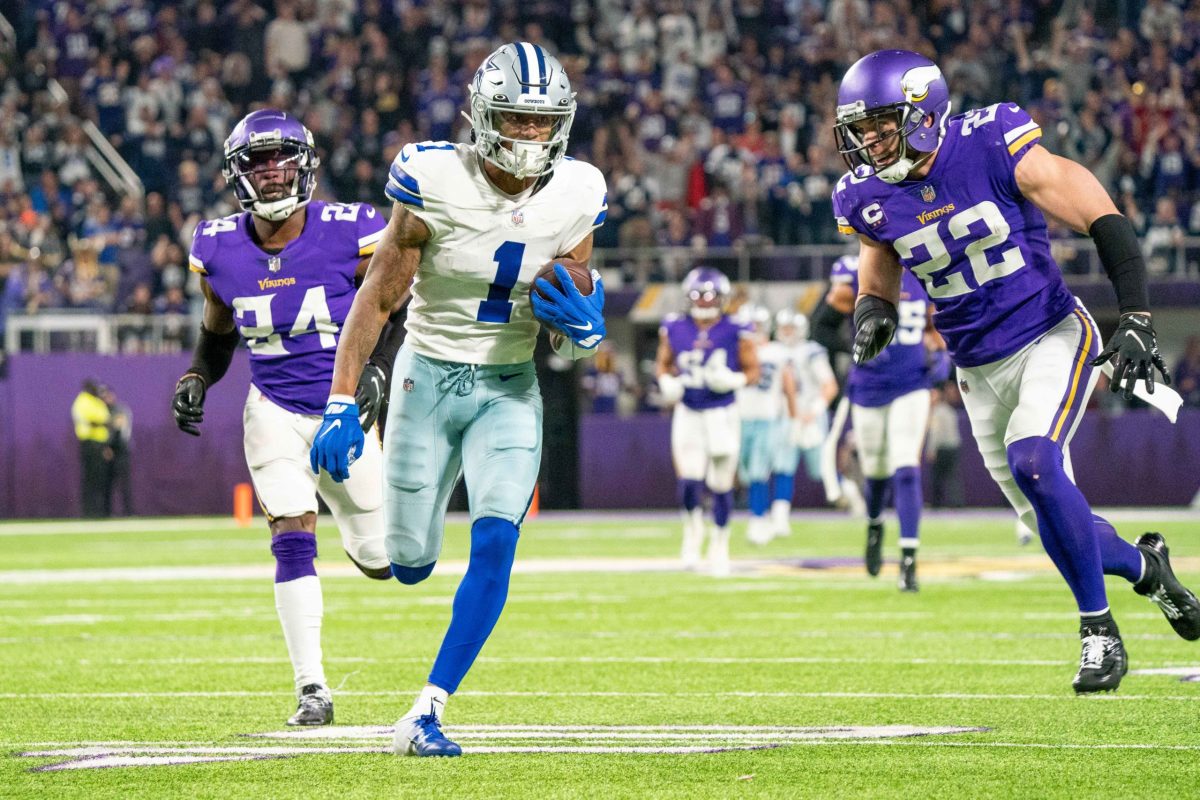 Now, Wilson has another opportunity to emerge for the Dallas Cowboys. Gallup being sidelined opens the door for a bigger role for Wilson in the Cowboys' offense. Dak Prescott has already shown to have a lot of trust in him. Wilson has proven to be reliable.
"I just think it's repetition," Wilson said about the connection he has with Prescott. "We've been here for a minute together now and every time he throws it, it's my job to catch it."
Cedrick Wilson grabbed six catches on six targets for 35 yards, a touchdown, and a two-point conversion against the Cardinals. Every time that Prescott went his way, Wilson made it count.
https://twitter.com/nfl/status/1477790432125849601?s=21
That is important for the Cowboys, because Wilson will be relied upon heavily in the postseason. Teams will attempt to take away Amari Cooper and CeeDee Lamb. Therefore, Dallas will need another weapon to step up.
Wilson has the ability to work in the slot, giving Cooper and Lamb the ability to hurt defenders on the outside. That recipe certainly worked when Gallup went down earlier in the year. Not only did the offense not miss a beat, Dallas was rolling.
All in all, the early parts of the season has prepared Cedrick Wilson for his moment. He appears to be very capable of providing the Cowboys with a legit pass catching weapon.
Perhaps a larger role for Cedrick Wilson is the key for the Dallas Cowboys offense.
Featured image via Tim Heitman-USA TODAY Sports