The Dallas Cowboys have the top defense in a lot of key statistics like EPA/play, DVOA, Turnover rate. They're one of the best in pressure rate and they're a legit threat against any offense. They've been able to do thanks to a handful of very talented play-makers.
But they've also been able to do it thanks to Dan Quinn's aproach. He's exploited opponents' weaknesses and put his players in position to be succesful. This week, he's facing a dynamic play-maker in Kyler Murray.
Here are two things the Cowboys defense coult take away from the Cardinals' 0-3 slump to stop Murray & Co.
Cowboys Heat: Should Quinn heavily blitz Murray?
The Detroit Lions' win over the Cardinals a couple of weeks ago could be looked at as a fluky one. But the thing is, it wasn't. The Lions clearly outplayed and outcoached the Cards. One of the ways did so was by heavily blitzing Kyler Murray.
The Lions, who have a blitz rate of 26%, sent extra rushers in 47% of the time in third down, per Chris Burke. They showed a lot of Cover Zero looks (all-out pressure with no safety help in the defensive backfield), and the Cardinals struggled to find an answer.
There goes that man, AGAIN!@Charles_AO1#AZvsDET | 📺 FOX pic.twitter.com/W33P2mOMkz

— Detroit Lions (@Lions) December 19, 2021
The Dallas Cowboys haven't been the most aggressive team in terms of blitz rate, but Dan Quinn hasn't shied away from being creative week-to-week. His defense has been heavy on man-to-man coverage so don't be surprised to see them take this page out of the Lions game-plan.
Even when Kyler Murray had a clean pocket against these looks, he didn't pull the trigger on deep shots. It's fair to point out that Arizona was missing its starting center, Rodney Hudson. Hudson is set to come back next Sunday, which could result in a better performance from Murray and his offensive line versus the blitz.
"Mugged up" linebacker looks
The Cowboys have shown us some pretty cool defensive fronts with all of their playmakers doing different stuff. We have seen Micah Parsons lined up everywhere, but we've also seen players like Dorance Armstrong and Tarell Basham dropping back into coverage.
Also, the Cowboys defense has shown a lof of "mugged up" looks. This means having two standing-up linebackers showing pressure in the A-gaps. Lining up players like this inside puts a lot of stress on offensive lines and quarterbacks.
The Cowboys should have an extra bit of benefit from this as recent teams have taken away one of the Cardinals' go-to concepts with these looks.
Kingsbury and Murray run a lot of "Mesh" concepts like the one pictured below, and the Lions and Colts were succesful taking those routes away by dropping one of the mugged up linebackers.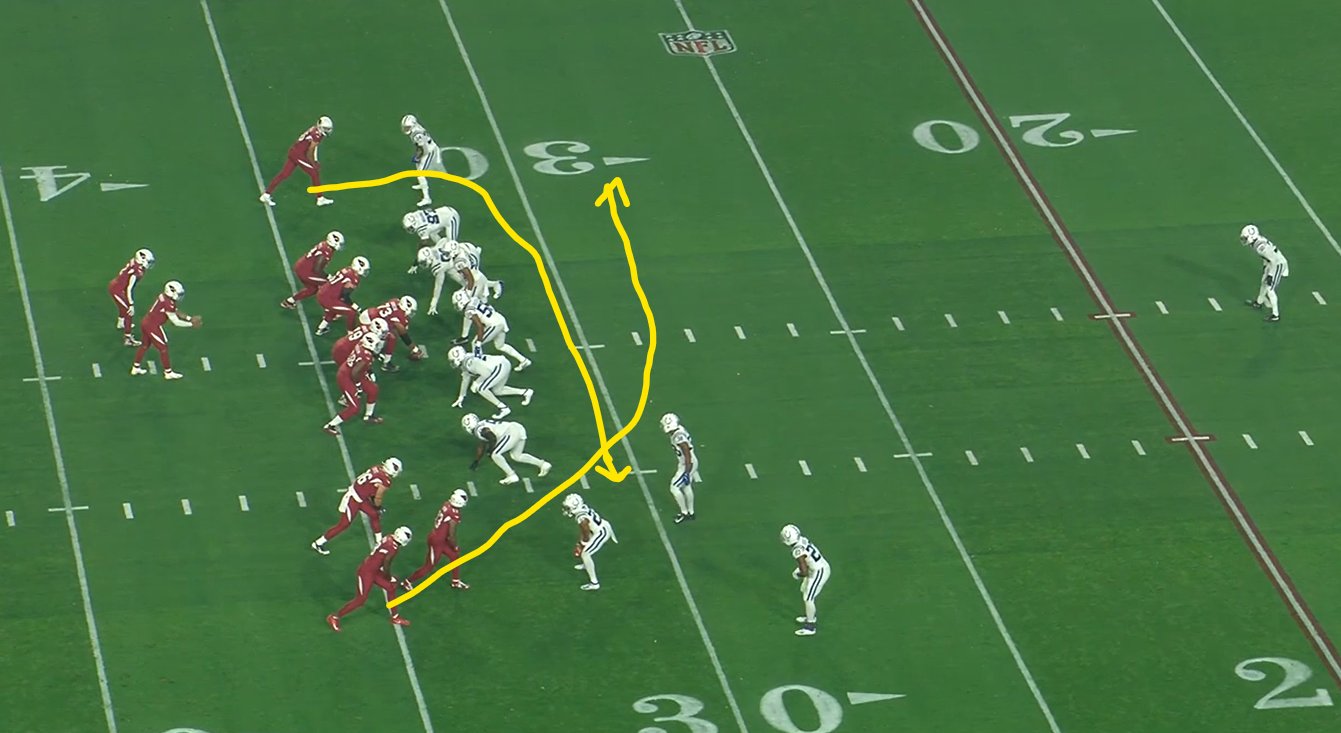 By dropping back #45, Murray can't take the crossing receiver. Combined with the extra pressure, both the Colts and the Lions had success doing this. I'd expect the Cowboys to show more of these looks on Sunday.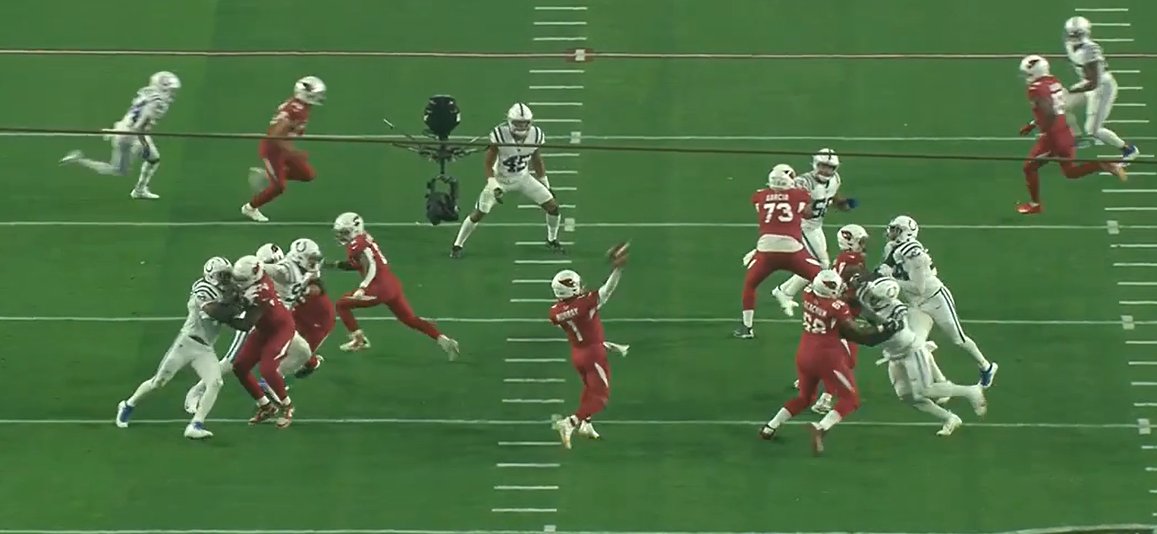 The Cardinals have struggled to adjust without DeAndre Hopkins and it seems like defenses have caught on. In what could be a battle of adjustments, one could imagine the Cowboys' coaching staff should have the edge.
For more on this and the match-up ahead, check out my show A to Z Sports Dallas Primetime!
Featured image via Kim Klement-USA TODAY Sports