Amari Cooper and CeeDee Lamb have taken a back seat to the duo of Elliott and Pollard recently. A lot of that has had to do with the game plan so don't panic Cowboys nation. In fact, how could you after it's resulted in back-to-back wins?
When asked about receiving fewer targets Cooper had this to say:
"That would be very selfish to complain about the ball when you won by 20 points."
That unselfishness is something offensive coordinator Kellen Moore talked about this week
"Just the unselfishness we understand this is a long season. Someone may have a big game today that may open something up for someone else next week"
After playing in back-to-back games where the defense played back which opened up the run game, the Panthers come into town with a different mindset.
Carolina is an aggressive defense that will bring a lot of pressure throughout the day. They will also load the box to confuse your front and quarterback. Defensive coordinator Phil Snow has done a tremendous job with this unit to start the season.
Currently, they are the league's top-ranked defense in passing yards and total defense. But as I always like to say context matters.
Here is a list of the WRs and QBs the Panthers have faced three weeks in.
WR's
Lil Jordan Humphrey, Chris Hogan, Deonte Harris, Corey Davis, Denzel Mims, Elijah Moore, Anthony Miller. The lone successful WR happens to be the best one of the bunch Brandin Cooks.
Cooks had a successful day against the unit with 9 receptions for 112 yards. And no they did not come in garbage time. Cooks accumulated all but 8 yards when the game was within 1 possession.
The QB's
Rookie Davis Mills and Zach Wilson had the unfortunate draw of getting the Panthers' defense in their first professional start. With a talented and aggressive defense that usually never bodes well for a rookie QB.
The lone veteran to start the year was QB Jameis Winston. Winston had one of the strangest opening weeks I have ever seen. Throwing for 148 yards but 5 touchdowns. Even with that performance, Winston has yet to prove to be a consistent competent QB.
Cowboys attack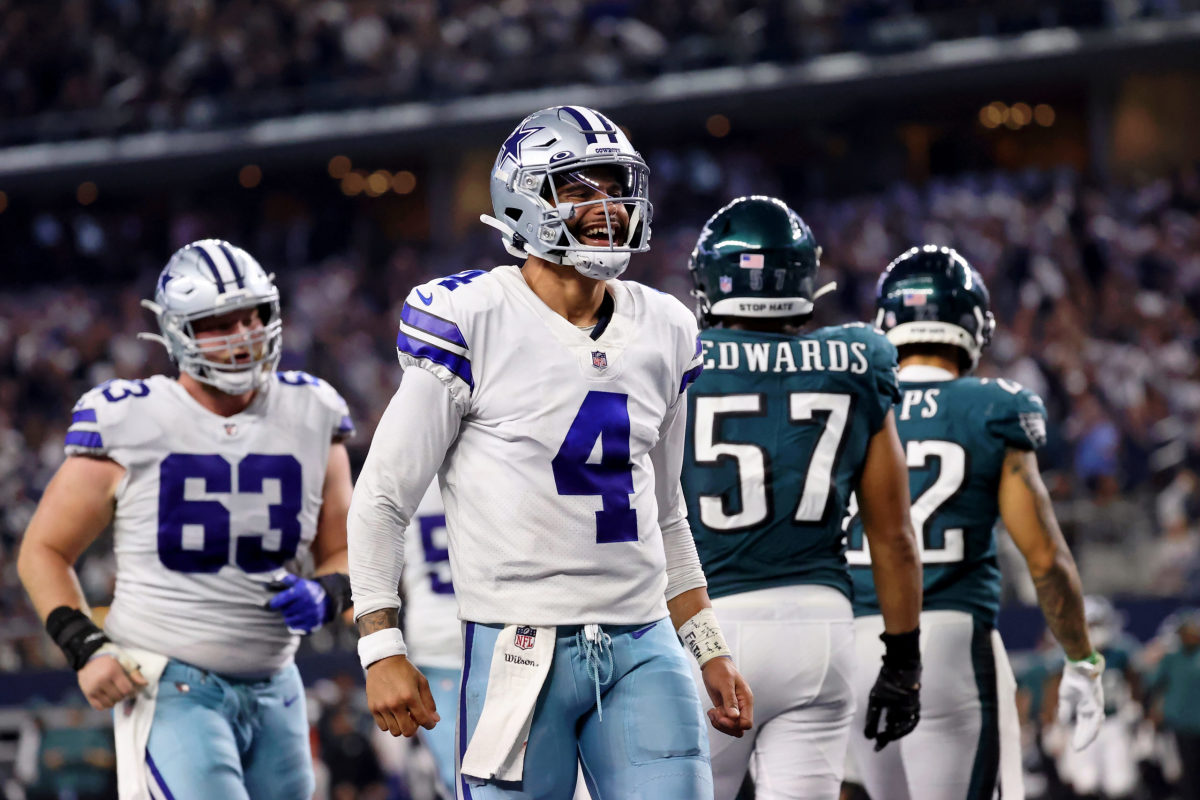 I say all that to say the Panthers defense has yet to see talents such as Dak Prescott, Amari Cooper, and CeeDee Lamb line up opposite of them. The pressure that puts on the defense combined with the run game is almost unmatched.
Phil Snow's system will allow single coverage throughout the day. It will be up to Dak and Kellen Moore to take advantage of it, and I think they will.
Coming into this game Carolina will be without stud rookie CB Jaycee Horn. They did make a trade for young CB CJ Henderson but he may not see a lot of action.
In week 1 the Cowboys faced a similar aggressive unit in Tampa Bay. Dak would go on to throw for 400 yards and 3 touchdowns. While Cooper and Lamb exceeded 100 yards each. I don't think it will be a 58 pass attempt game like week 1. But the opportunities to be explosive in the passing game will certainly be there.
Featured image: Kevin Jairaj-USA TODAY Sports