Attitude is returning to the Cowboys' defense and so are the turnovers.
As week 2 wraps up Dallas currently leads the league with 6 turnovers (not by accident might I add) and doing so in an impressive manner.
Even more encouraging is that most of the turnovers are coming from the secondary. The same secondary that I believe is bringing much-needed swagger and production back to the defense.
Of the 6 Cowboys turnovers the back end is responsible for 5 of them, and in reality, could be more if not for a bogus pass interference call against Jayron Kearse.
Is this defensive pass interference? pic.twitter.com/YtYinIL0az

— Marcus Mosher (@Marcus_Mosher) September 20, 2021

Jayron Kearse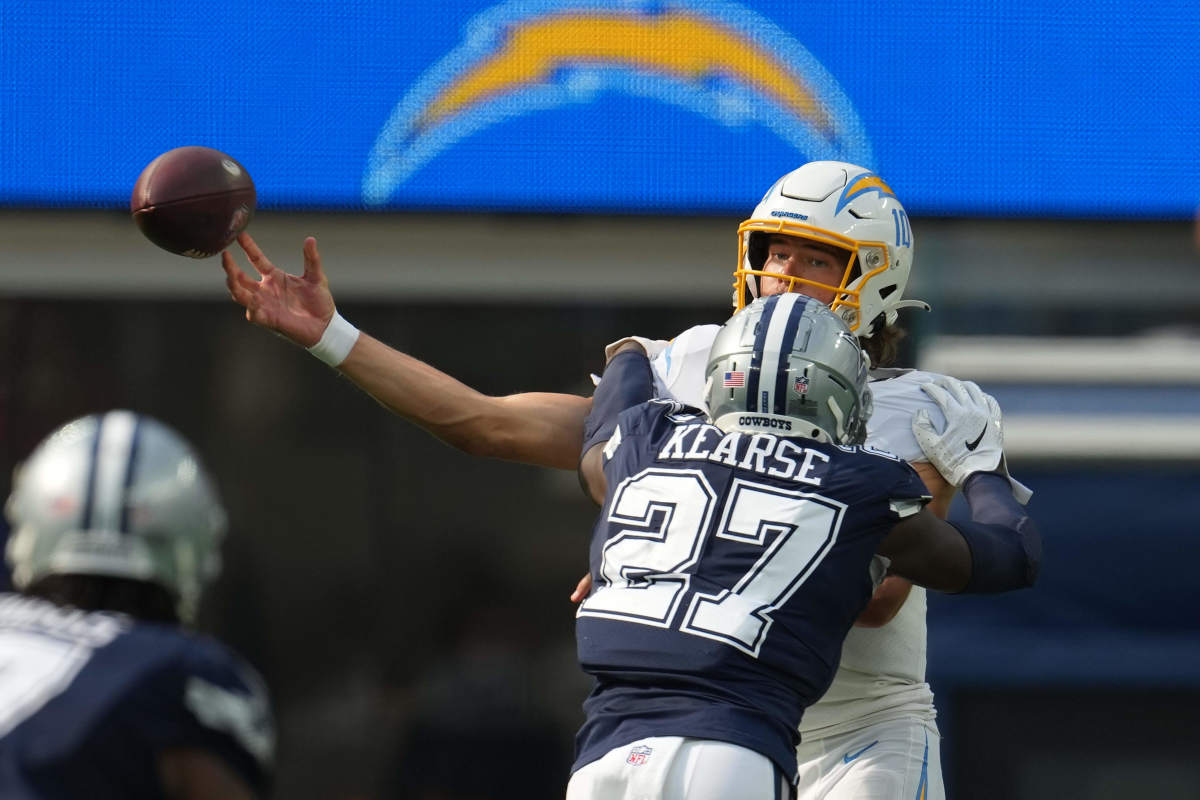 Speaking of Kearse, the 6'4 versatile veteran is right in the middle of said attitude change for the defense. He's lined up everywhere for Dallas and is producing in the run game and as a blitzer. He plays fast, sudden, and comes down with power on a ball carrier. Even when Donovan Wilson returns from injury, Kearse has played well enough to remain on the field in some compacity.
Demonte Kazee
Kazee has been what everyone wanted Xavier Woods to be, a playmaker and opportunist.
Add clutch into the equation when it comes to Kazee. He's shown up twice now in the red zone with huge turnovers. One a forced fumble and the other an interception.
.@DamontaeKazee closing the quarter with an electric play! 🔋#DALvsLAC | 🎥 Watch now on CBS & @NFLNetwork pic.twitter.com/ZFTjcm5vsH

— Dallas Cowboys (@dallascowboys) September 19, 2021
 While he may not stuff the stat sheet, he is playing sound defense and providing reliability on the back end. In 2018 Kazee proved to be a playmaking DB, but injuries derailed him from then on. So far he seems to have found that 2018 level of play.
Trevon Diggs
Diggs was thrown in the fire as a rookie dealing with some of the best WRs in the league. That experience is paying off having given 2 of the best in the league fits to start the year in Mike Evans and Keenan Allen.
Trevon Diggs picks off Herbert 😯

(via @NFLBrasil) pic.twitter.com/CgoLYAkIiQ

— Bleacher Report (@BleacherReport) September 19, 2021
 Diggs notched his 2nd interception of the season against the Chargers bringing his total to 5 in only 15 starts. He still has some things to clean up but his ability to match up with teams number 1 WRs, it gives Dan Quinn more men to allocate elsewhere. The second-year CB is really coming into his own.
With pass rush reinforcements still to come, this secondary could take its level of play to an even higher level. And that's not even mentioning Malik Hooker getting acclimated and Donovan Wilson coming back healthy, who was the teams' playmaker in 2020. Things could be looking up for the Cowboys' defense.
Feature image: Kirby Lee-USA TODAY Sports