Dak Prescott is off to an impressive start to the 2021 season. The Dallas Cowboys quarterback has not missed a step since returning from a season-ending ankle fracture. Instead, Prescott has elevated his game.
Prescott has played a big role in the Cowboys' 4-1 start. He has full command of the offense, is in complete control of the game, and is playing some of the best football of his career. It has been a joy to watch.
The Cowboys' quarterback currently holds the second-best MVP odds through five weeks of the NFL season. He is far and away the favorite to take home Comeback Player of the Year Honors. Prescott has made the Dallas Cowboys a legitimate contender in the NFC.
PRESCOTT WAS ON FIRE VERSUS GIANTS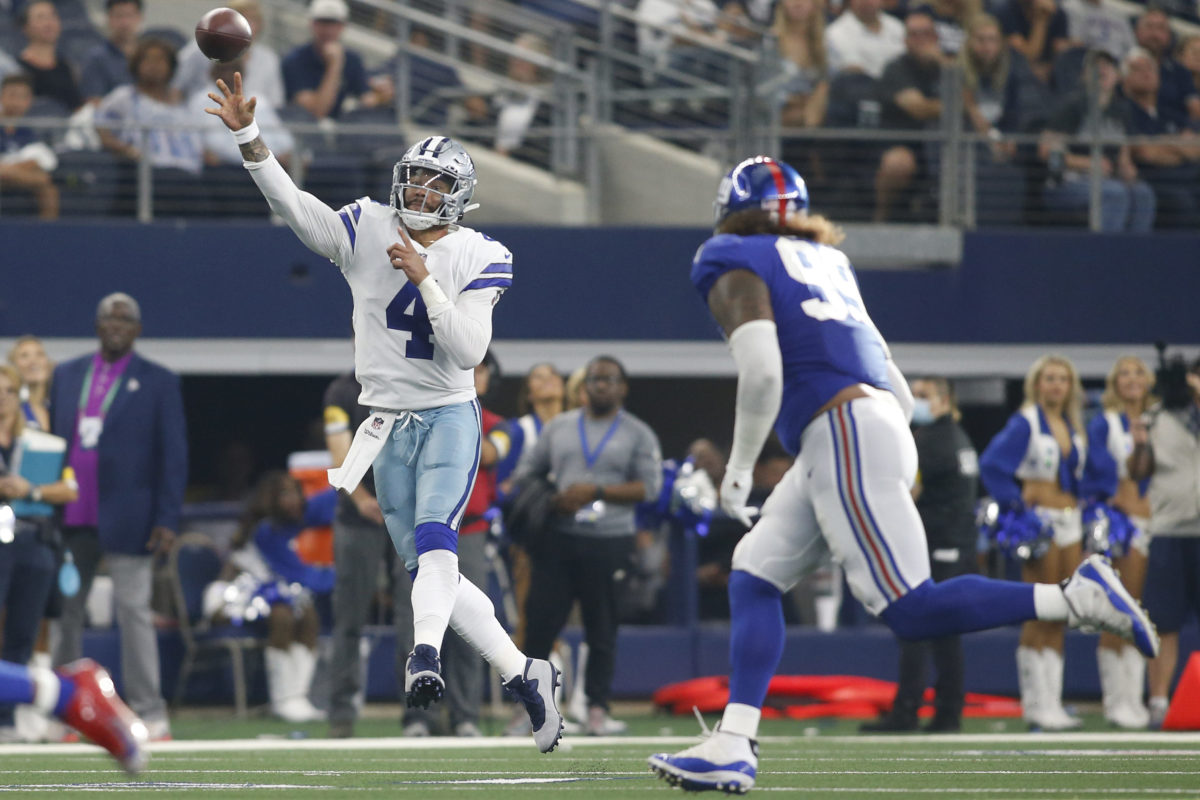 Dak Prescott got off to a slow start against the New York Giants in week five. He threw an interception on a tipped ball early in the first quarter before later mishandling a snap near the end zone.
Then, he more than made up for those two turnovers during the rest of the game.
Prescott completed 22 of his 32 pass attempts for 302 yards and three touchdowns. He largely had his way with James Bradberry, Adoree Jackson, and the Giants secondary on Sunday afternoon at AT&T Stadium.
Dak Prescott. CeeDee Lamb. Dime. pic.twitter.com/dGHTQTsUO2

— Marcus Mosher (@Marcus_Mosher) October 12, 2021
The Cowboys' signal caller was making throws all over the field. He hit receivers in stride, threaded the needle through tight windows, and threw beautifully-placed balls on the move. It was if nothing that Joe Judge and the Giants threw at him fazed him.
3rd and 2 and this is the throw Dak Prescott made.

Dude. pic.twitter.com/P8vzfJvOKc

— Marcus Mosher (@Marcus_Mosher) October 12, 2021
One of the best plays of the day from Prescott came when he escaped from the pocket and found Dalton Schultz for a big gain. Prescott's ability to extend plays and throw on the run is up there with any passer in the league.
Kudos to Schultz for recognizing Prescott scrambling and getting open for his quarterback.
Dak Prescott is so much fun. pic.twitter.com/HQalvTK9de

— Marcus Mosher (@Marcus_Mosher) October 12, 2021
Additionally, Prescott is a very savvy player. He and Amari Cooper have great chemistry that allows the two to connect over the middle without the throw leading to a big collision with an aggressive defender looking to break up the completion.
I love how Dak protects his receivers.

Throws this ball low so Amari avoids a big-time collision with the safety. pic.twitter.com/J18BYjv1qr

— Marcus Mosher (@Marcus_Mosher) October 12, 2021
Furthermore, accuracy and ball placement are two of the areas where Dak Prescott has improved on every year since entering the league. Former Cowboys quarterback coach Jon Kitna and "mechanical guru" Tom House worked with Prescott to improve his mechanics.
That work has certainly paid off.
The ball placement by Dak Prescott on this throw is insane. pic.twitter.com/IgD2sZwiDd

— Marcus Mosher (@Marcus_Mosher) October 12, 2021
Look at this window Dak Prescott throws this ball into.

It is so nice to have an elite QB. pic.twitter.com/A85ayGMMrI

— Marcus Mosher (@Marcus_Mosher) October 12, 2021
Overall, Dak Prescott has been playing like one of the NFL's elite. His command of the offense, feel for the game, football IQ, and overall play is up there with any quarterback in football.
The clips above demonstrate how good Prescott is playing this season.
Featured image via Tim Heitman-USA TODAY Sports