Trevon Diggs has emerged as a star for the Dallas Cowboys right in front of our eyes. Diggs has developed into a game-changing player from his cornerback position while also injecting some much-needed swagger to the Cowboys defense.
The Dallas Cowboys selected Trevon Diggs in the second-round of the 2021 NFL Draft. It was the same draft class that saw Dallas draft CeeDee Lamb. There was some thought that Diggs would be the target in the first-round. Instead, the Cowboys added both of them to the roster.
Diggs — and Lamb — are playing key roles in the Cowboys' 4-1 start to the season. Dallas has looked the part of a legitimate championship contender and are far and away the top team in the NFC East.
DIGGS IS MAKING HISTORY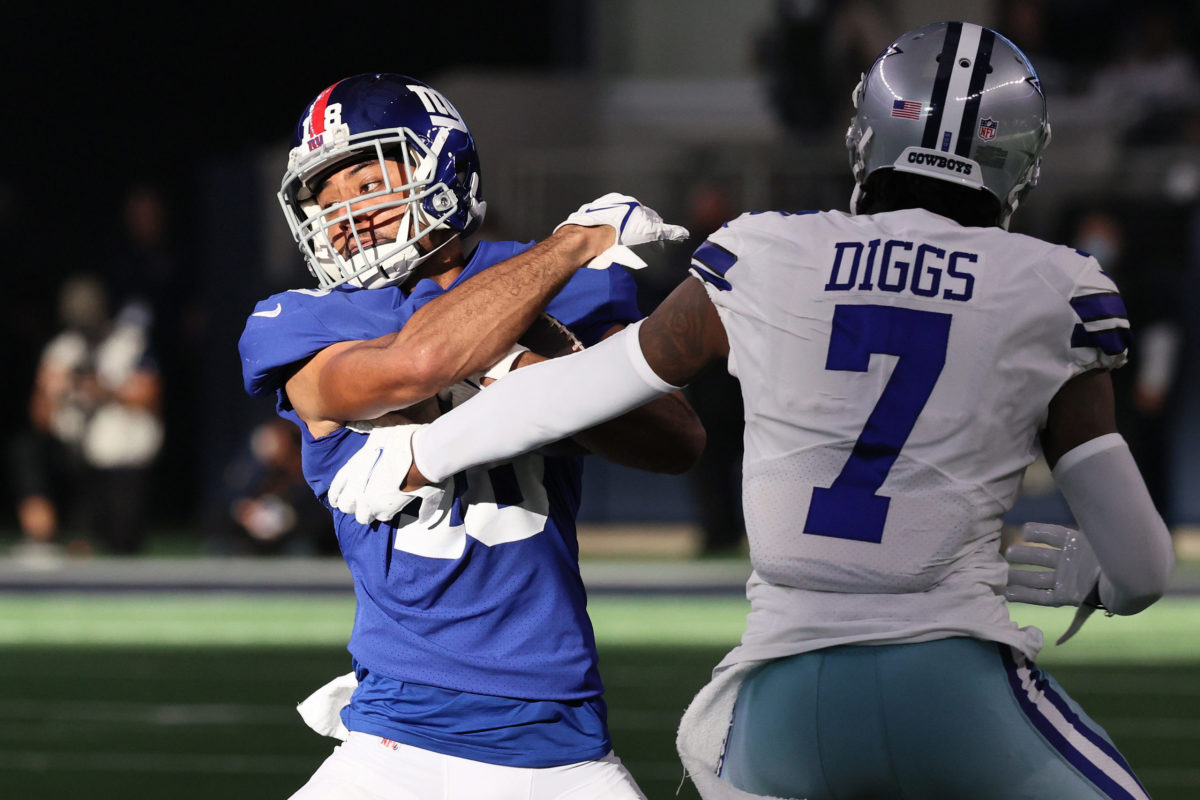 It has become almost expected for Trevon Diggs to come down with an interception every time that the ball is thrown in his direction. Diggs has showcased elite ball skills and closing ability through the first five games of the season. As a result, the second-year corner has more interceptions than 27 teams.
Trevon Diggs has grabbed six interceptions through the first five games. According to CBS Sports, no player since the NFL merger has more interceptions in that span than Diggs. Not one.
https://twitter.com/nfloncbs/status/1447350620806127617?s=21
Diggs has recorded interceptions on the likes of Tom Brady and Justin Herbert this season. He has made Jalen Hurts and Sam Darnold look silly.
Then, he baited Mike Glennon into an interception for his latest takeaway on Sunday.
TREVON DIGGS DOES IT AGAIN.

SIX INTS IN FIVE GAMES.

(via @NFL)pic.twitter.com/wxyjVT3wkG

— Bleacher Report (@BleacherReport) October 10, 2021
Trevon Diggs has emerged as a big-time defender for the Cowboys in his second season. His style of play leads to giving up some big plays here and there. That said, his takeaways, ball skills, and ability to break up passes have all been extremely elite for the Cowboys so far this season.
Additionally, the Cowboys corner also has the talent to man-up. Diggs held Mike Evans to one catch for 10 yards on three targets, and he has the most coverage snaps without allowing a single touchdown this season, per Pro Football Focus.
https://twitter.com/pff/status/1447548014902628354?s=21
This streak of interceptions won't last the whole season. The pace that Diggs is on — 20 interceptions and 34 pass breakups — is simply unsustainable. It is likely only a matter of time for quarterbacks to stop throwing in his direction, which will significantly lower the opportunities for Diggs.
However, it is very much clear that the Dallas Cowboys have an emerging star in Trevon Diggs.
Featured image via Mark J. Rebilas-USA TODAY Sports