The Dallas Cowboys moved up in the NFC playoff picture, despite not playing on Sunday. It doesn't get much better than that.
Dallas entered the day as the four seed in the conference. Losses by the Los Angeles Rams and Arizona Cardinals jumped the Cowboys to the third slot by day's end. That means the playoff path looks much different for America's Team.
Had Dallas remained in the fourth spot, the Cowboys would have had to get through a quarterback gauntlet to reach the Super Bowl. A first-round matchup against Kyler Murray would have awaited. Then, likely games against Aaron Rodgers at Lambeau Field and versus Tom Brady in the conference championship would have followed.
Instead, the Cowboys have a different path to play for the Lombardi Trophy.
COWBOYS' PLAYOFF PATH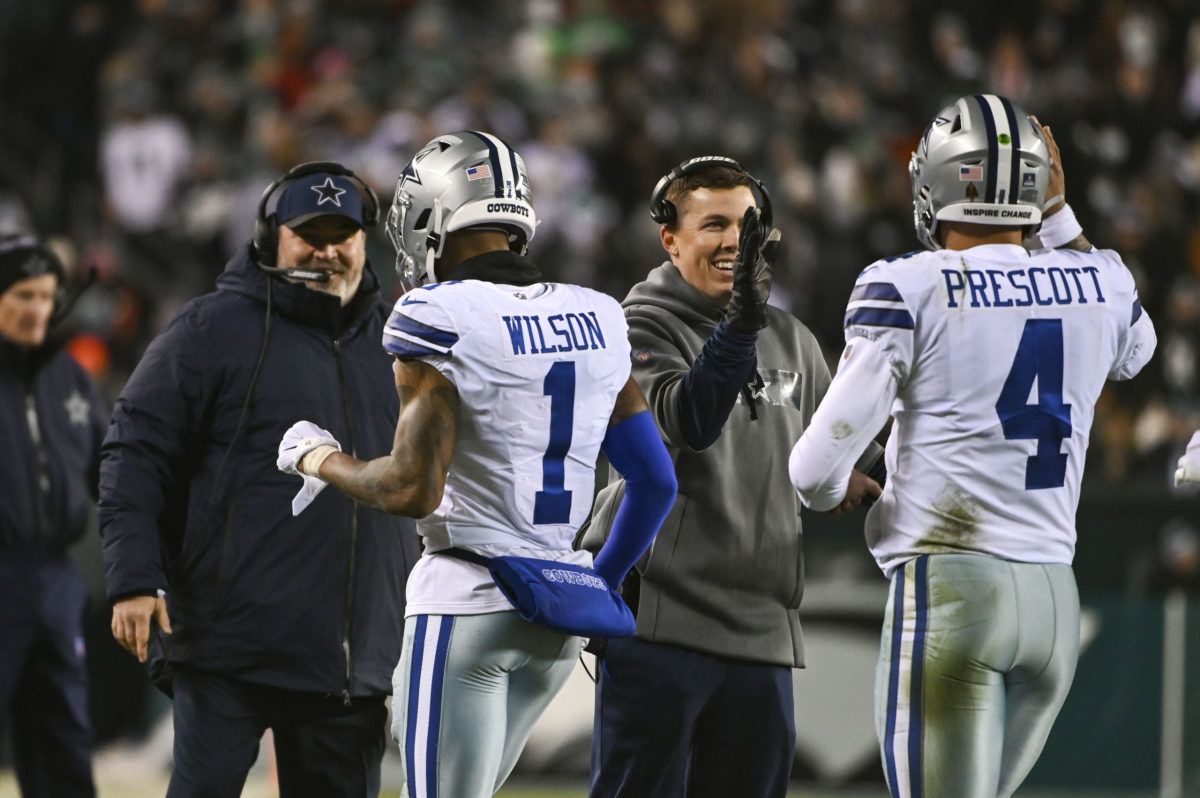 The Dallas Cowboys earned the three-seed in the NFC playoffs. That means that the Cowboys will take on the San Francisco 49ers in the first-round.
Dallas will get a home playoff game against an NFC West squad on Wild Card Weekend. The Cowboys defeated Russell Wilson and the Seattle Seahawks back in 2018 — the last time that scenario occurred.
San Francisco presents a challenge to Dallas. The 'Niners feature a strong rushing attack to go along with an impressive defense. That is typically a formula for success.
not to overlook a very physical San Francisco team, but grabbing the 3 seed is also important for the Cowboys for one big reason:

If they win the wildcard game, they'll either travel to Tampa or host the winner of Rams-Cards.

only way they'd have to play at Lambeau is the NFCCG

— David Helman (@HelmanDC) January 10, 2022
If the Cowboys can get by the 49ers, the Cowboys will likely play against a banged up Tampa Bay Buccaneers squad in the Divisional Round. It is difficult to bet against Brady, but the Bucs are far from the team that they were last season due to multiple injuries across the roster.
Perhaps the most important element of the Cowboys moving up to the third spot is that Dallas will not have to travel to Lambeau Field until a potential NFC Championship matchup. The Cowboys get to avoid that House of Horrors until the final step before the Super Bowl.
Overall, the Dallas Cowboys sit in great position to make a deep postseason run for the first time in what feels like forever. Dallas kicks off the postseason at 4:30 p.m. ET on Sunday afternoon in Arlington.
FULL PLAYOFF PICTURE:
The 2021 #NFLPlayoffs are set! pic.twitter.com/Bv3d34ALBL

— NFL (@NFL) January 10, 2022
Featured image via Tommy Gilligan-USA TODAY Sports