The Dallas Cowboys open the season against the Tampa Buccaneers on Thursday and the odds are already in the Bucc's favor:
After All-Pro guard Zack Martin tested positive for COVID, the spread for the game went from -6 to -7.5 in favor of Tampa. It's understandable why too. Martin's easily the best player on the offensive line, and arguably on the team as a whole.
Conner McGovern is set to fill in for the game, but history is already swinging towards Tampa.
In the last 10 seasons, the previous season's Super Bowl champion is 7-3 (2019 didn't feature Super Bowl champion). Tom Brady has played in two of these games and is 1-1.
Not only does the past say so, but the present is indicating it as well.
The Bucc's returned all 22 starters on offense and defense from a year ago and have emerged as the easy favorite to repeat in 2021.
However, since they have returned the same personnel, it can be assumed the same weaknesses can occur. Weaknesses that good, smart teams have already found out and are preparing for.
There's plenty of flash to the Buccaneers, and deserve to be early favorites to hold another Lombardi Trophy. However, if we look at some of their areas of concern, these are all places the Dallas Cowboys can take advantage of.
Tight Ends
The attention of the Dallas Cowboys offense is obvious. Dak Prescott, Ezekiel Elliott and their three-headed receiving core. Against the Bucc's, however, the tight ends will be who should have the biggest impact in the passing game.
In 2020, Tampa Bay's Achilles heel on defense was defending tight ends. They allowed the seventh most receptions (86) and tied for the seventh most touchdowns (9) to the tight end position.
Blake Jarwin is back from his torn ACL and will be the vertical passing threat among the tight ends. Dalton Schultz is coming off a career year and has proven to be both a great run blocker and reliable receiver.
Dak Prescott hits Dalton Schultz for a touchdown!@dallascowboys convert the two-point attempt and this one's not over yet.

📺: #CLEvsDAL on FOX
📱: NFL app // Yahoo Sports app: https://t.co/wvEEn0SFTV pic.twitter.com/K6Sg5f81az

— NFL (@NFL) October 4, 2020
12-personnel might be boring to watch but it's one of the best ways to score on Tampa Bay. Dallas using their 1-2 punch tight ends to open the passing game up downfield will be key.
The Return Game
No one cares about special teams until your team loses as a result. In the Dallas Cowboys case, it will be taking advantage of the return game. Special Teams coordinator John Fassel knows this all too well.
In 2020, the Bucc's were among the worst team's in yards per return in both kick and punt coverage. They only allowed 25 kick returns all year but gave up an average of 33.64 yards per return. Worst in the league.
On punt return, the ranked 26th in yards per return. They gave up an average of 10.26 yards per return and were 1 of only 7 teams to allow a touchdown.
Former San Diego Torrero legend Jamal Agnew houses a punt return 🙌

Tampa Bay still running away with it tho 🙄 pic.twitter.com/cVluBIw3fF

— SpreadOption (@spreadoption_) December 26, 2020
Regardless of who'll be returning kicks for the Cowboys, they'll need to gain as many yards on special teams as possible. Those extra yards will make the field smaller for the offense, and thus easier to potentially score.
Return of the Dak
As if Dak Prescott returning from injury wasn't important enough already. His ability to throw on the run and in the pocket will be huge.
The Tampa Bay defense put on a clinic against the Chiefs in the Super Bowl. The biggest factor for their victory was their heavy blitz packages to make Patrick Mahomes uncomfortable.
The reason being that during the season, the Bucc's actually gave up more in the passing game than most realize. They sacked the quarterback 48 times last year, which is good considering what they allowed on the back end.
Their defense had a 69% completion on them (29th), giving up 300+ yards passing in seven games. In those seven games, they played quarterbacks like Matt Stafford, Patrick Mahomes and Matt Ryan (twice).
Dak is certainly on the level of these players, and referring back to the tight ends, has the teammates necessary to throw on this defense.
Blitz Brady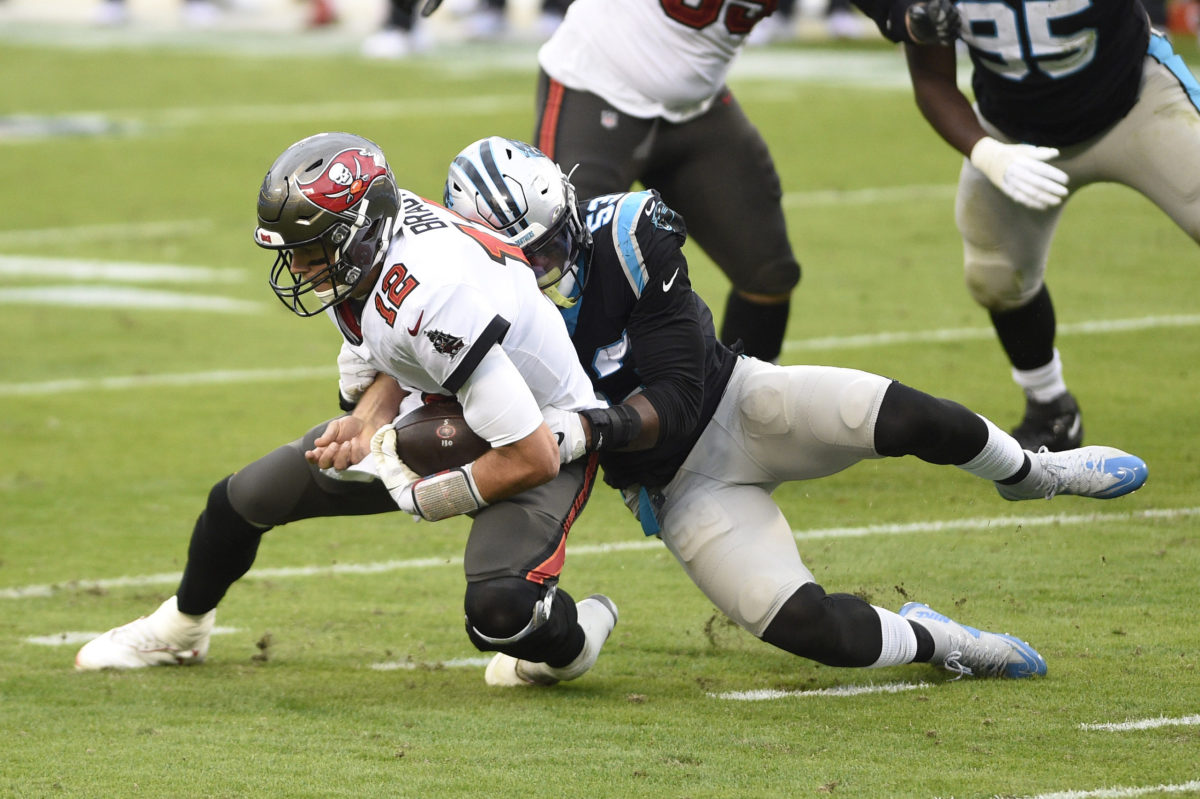 This Dallas Cowboys defense looks ready primed to take a giant step this season. Randy Gregory had his first real offseason in years, the team reloaded the defensive line with rookies like Osa Odighizuwa and Chauncey Golston, and rookie Micah Parsons looks like a stud.
DeMarcus Lawrence will be a focal point of the team's pass rush this season. He and Gregory headline the edge rushers, and it will start against the G.O.A.T.
This will be tough to bring him down. Not only do the Bucc's have one of the better offensive lines in the NFL, giving Brady an average of 2.5 seconds to throw.
That doesn't mean he doesn't feel the pressure. According to PFF, Tom Brady's completion percentage in a clean pocket versus feeling pressure drops from 71% to 43%. It has a direct correlation to how well the team does overall.
Last season, Tampa Bay allowed 3 sacks in a game four times. In those four games, the Bucc's went 1-3.
Brady's average completion percentage last season was just above 65%. He completed under 65% in 6 games in 2020, resulting in a 2-4 record.
Joseph Ossai gets the sack of Tom Brady in his preseason debut! pic.twitter.com/wnzCiSNMdE

— Hook'em Headlines (@HookemHeadlines) August 15, 2021
If the Dallas Cowboys want to beat the champs, there's no way more important than this.