Dak Prescott and the Dallas Cowboys hold a 4-1 record going into this week's matchup with the New England Patriots. It is crucial for the Cowboys to take care of business this week before heading into the bye week.
Bill Belichick and the Patriots are not off to the best of starts this season. New England sits at 2-3 after five games. The Patriots are a Houston Texans collapse away from being a surprising 1-4.
Texans rookie quarterback Davis Mills threw for 312 yards and three touchdowns against Belichick's defense last week. That is even with the Patriots making Texans go-to receiver Brandin Cooks a non-factor. Mac Jones and the Patriots stormed back to win the game, but the Texans gave everything that they could handle and more.
Despite the Texans losing, Davis Mills' performance last week is another data point as to why Dak Prescott will have success against Belichick and company.
DAK PRESCOTT IS SET UP FOR SUCCESS VS PATRIOTS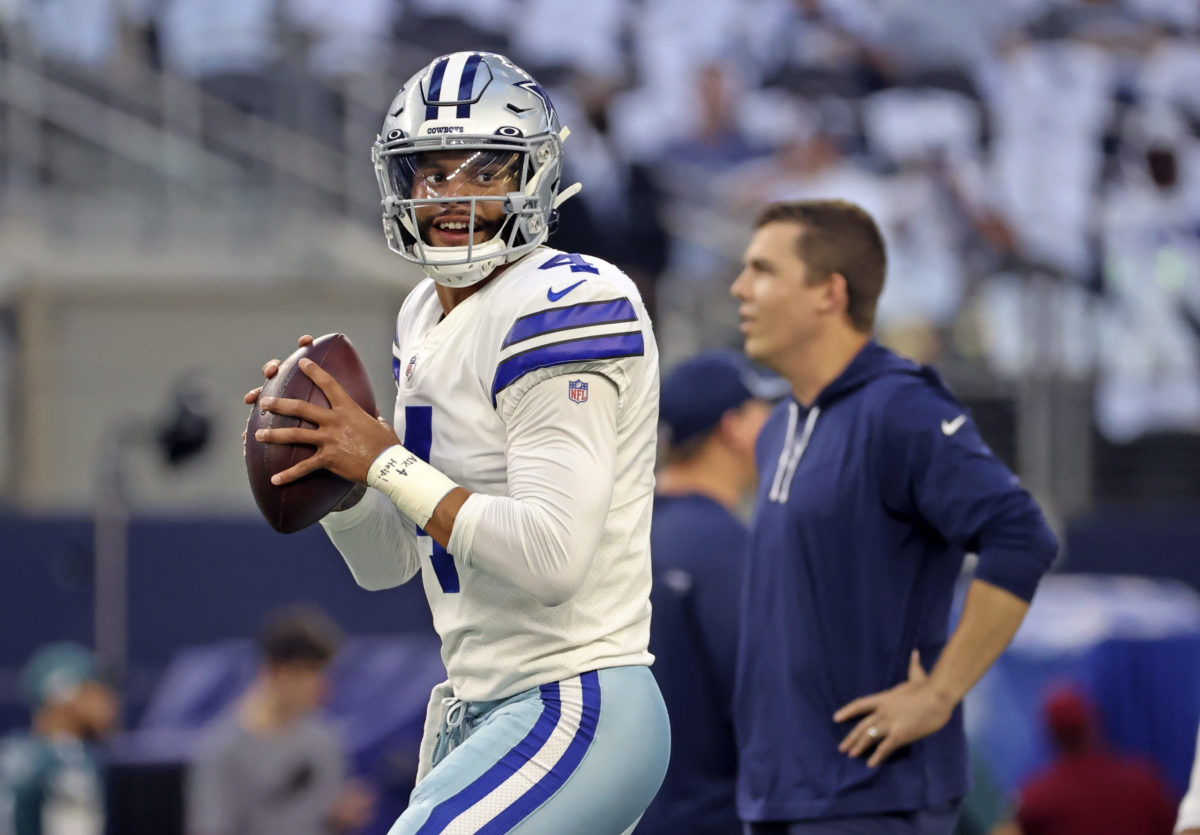 Belichick has made a career out of making life hard for quarterbacks — especially rookie quarterbacks. That was not the case last Sunday when Davis Mills turned in the best game of his young career.
This week's quarterbacks.

Davis Mills! pic.twitter.com/k1TyszdFaa

— Computer Cowboy (@benbbaldwin) October 10, 2021
The Patriots heavily lean on man-coverage, as Mauricio Rodriguez wrote about earlier this week. Mills was able to have a ton of success and that should also bode well for Prescott and the Cowboys.
So yes, clearly the Dallas Cowboys present a very different challenge, and it should be enough to steer the Patriots defense away from their most used coverage this season. You can't play Dak Prescott, Amari Cooper, and Ceedee Lamb on single-high coverage and expect Mac Jones' offense to keep up.
No team can expect to leave Amari Cooper or CeeDee Lamb on an island and expect it to work. That is especially true when you have a player like Prescott throwing the passes and dissecting the defense.
Additionally, Prescott is one of the best quarterbacks in the entire league against man-coverage. Prescott 142.8 passer rating, 69.7% completion percentage and a 9-to-0 TD-to-INT ratio versus in those situations, per The Athletic QB Index.
Dak Prescott ranked sixth in 2019 against man coverage with a 107.0 passer rating along with 16 TDs and four interceptions. This, like his whole game, has noticeably improved this season. Plus, Prescott has been blitzed on nearly 70 percent of his dropbacks against man coverage, meaning he's standing tall in the pocket despite last year's ankle injury.
Winning in Foxborough is always difficult, regardless of what the roster looks like. The Patriots will give the Cowboys some fits. Still, Dak Prescott looks to be set up for a big game on Sunday afternoon.
Featured image via David Butler II-USA TODAY Sports