Dak Prescott and the Dallas Cowboys are set to take on Kirk Cousins and the Minnesota Vikings on Sunday Night Football. Except, with two days before kickoff, Prescott is in doubt of starting.
The star Cowboys quarterback suffered a grade one calf strain injury on the game-winning pass against the New England Patriots. Prescott rolled out and hit CeeDee Lamb for six, but Prescott landed weirdly. It is the same leg that Prescott suffered a season-ending injury on last year.
Now, the Dallas Cowboys might have to take on the Vikings in Minnesota without their MVP candidate. On the surface, that might seem very bad. However, an argument can be made that sitting Prescott on Sunday is the smart move for Dallas.
WHY SITTING PRESCOTT MIGHT BE SMART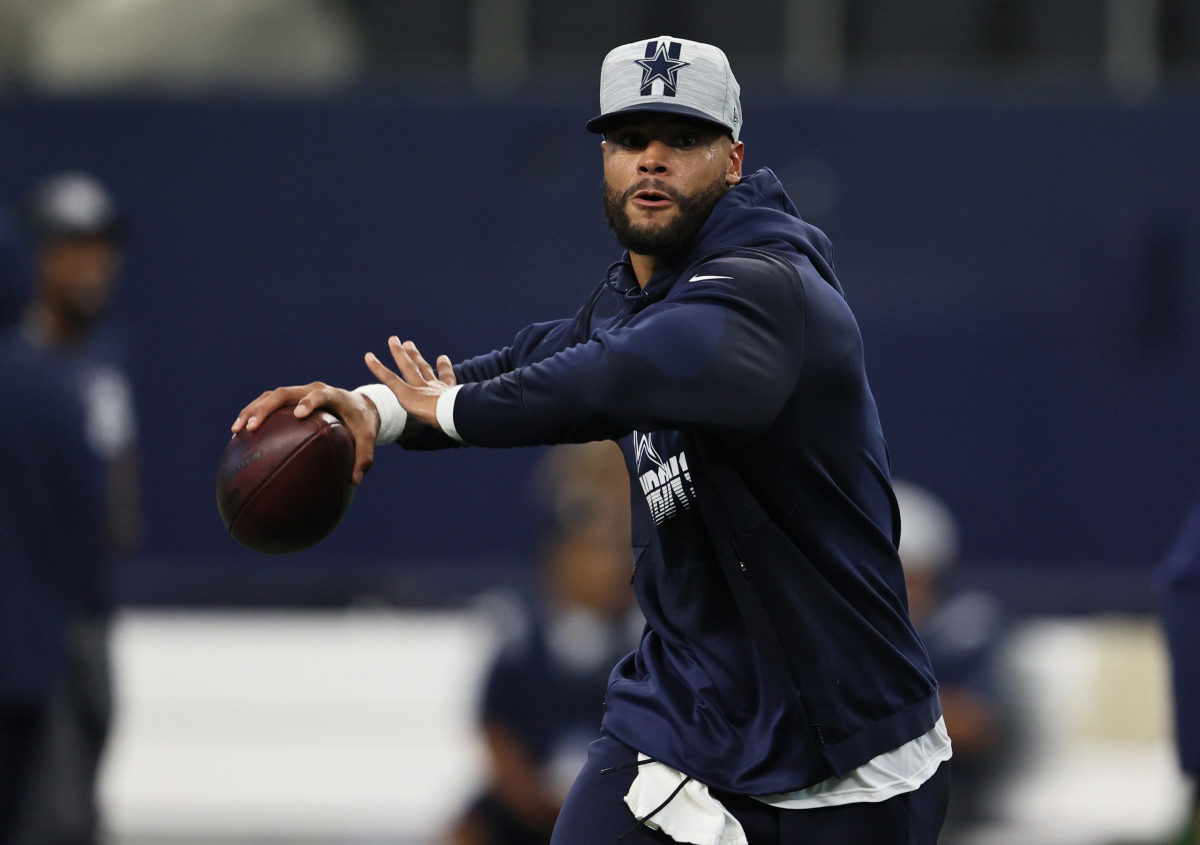 Dak Prescott had a bye week and another full week to recover from the calf injury. Yet, the quarterback was reportedly sore after an intense practice on Thursday. It is difficult to spin that in a non-concerning way.
All NFL players are banged up at this point in the season. Players play through injuries all of the time. Still, that does not make it a smart move to risk your quarterback aggravating an injury that has the potential to linger through the season.
Mike McCarthy says Dak Prescott was sore when he showed up this morning, after pushing himself during Thursday's workout & practice. That's not unexpected, and McCarthy said he looked good in practice.

He'll go through a normal Friday & they'll see where he's at.

— David Helman (@HelmanDC) October 29, 2021
Prescott, obviously wants to play. He is as competitive as it gets. "He's confident," Mike McCarthy said on Friday. "He wants to play."
Stepping back, though, it is important to look at the big picture. The Dallas Cowboys hold a three-game lead in the NFC East, and there does not appear to be a legitimate threat to Dallas in the division. The Giants — versus the Chiefs — and the Washington Football Team — Broncos — have losable games in week eight. Even the Philadelphia Eagles could trip up against the Lions.
Therefore, there is a very good chance that Dallas still holds a comfortable lead after this week — with or without a win. That's why it was important for the Cowboys to get off to a strong start this season.
Furthermore, the Cowboys have much bigger goals than winning a week eight game against the Vikings. Dallas has real championship aspirations this season. That all goes away if Prescott is not as close to full health as possible. Sitting Prescott this week would ensure he's closer to 100% than not.
Obviously, the Cowboys want to win and want to have Prescott play on Sunday. However, it might be smarter for the bigger picture to keep him out until next week.
Featured image via Matthew Emmons-USA TODAY Sports