Dallas Cowboys linebacker Micah Parsons has been one of the biggest additions to any team in football this season. Picked 12th overall in the 2021 NFL Draft, Parsons has blossomed into an elite superstar-level talent in season one.
Along with defensive coordinator Dan Quinn and Trevon Diggs taking the next step, Parsons has helped the Cowboys defense become a strength. Dallas leads the NFL in takeaways, and the Cowboys finally have a unit that can make plays in big moments.
Micah Parsons is a big reason why. In fact, Parsons is arguably the biggest reason for the Cowboys' defensive turnaround. Therefore, the rookie linebacker has made a strong case for Defensive Player of the Year honors.
Micah Parsons is (+200) to win Defensive Player of the Year 👀 pic.twitter.com/4OjSxEtmPG

— PFF Bet (@PFF_Bet) December 27, 2021
Parsons has seen his odds soar sky high in the race for DPOY. The award has become a two-horse race in 2021, with Parsons battling Pittsburgh Steelers pass rusher TJ Watt. While Watt is an established star in the NFL, Parsons has been the more impactful player in 2021.
PARSONS' IMPACT FOR COWBOYS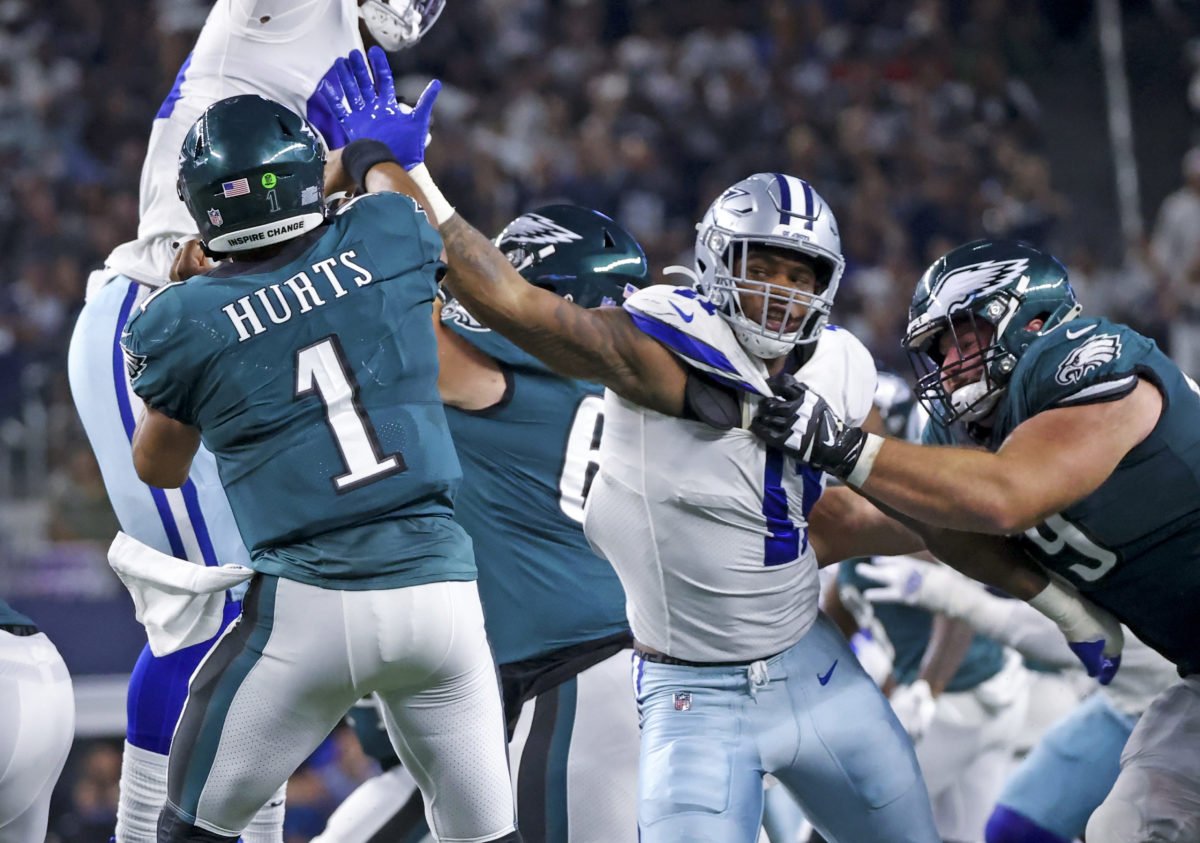 FanSided NFL contributor Tyler Jaggi gathered meaningful defensive statistics from Pro Football Focus to outline how each contender for DPOY has performed this season. To no surprise, Micah Parsons stacks up very well.
UPDATED #NFL DPOY Impact Score

Garrett, Watt and Bosa all had sub-par games in their teams loss helps Aaron Donald and Micah Parsons pull ahead in most of the categories.

Special thanks to @PFF's Premium Stats
Big Plays & EPA by @danmorse_ pic.twitter.com/ez7K0TgLHs

— Tyler Jaggi (@TylerJaggi) December 29, 2021
Parsons has played a large role in transforming the Dallas Cowboys defense into one of the better units in the NFL this season. His versatility and playmaking ability gives Dan Quinn a unique chess piece to move around the field.
As a result, offenses have no idea where to expect the rookie to lineup pre-snap. He can come off the edge and get after the quarterback. He can blitz from inside and blow up the play before it has a chance to get started. Or, he can remain at linebacker and impact the play from there, too.
Micah Parsons is a special talent — which is why he is right in the thick of things for Defensive Player of Year honors as a rookie. Parsons' overall impact and versatility should give him the nod over the other contenders.
Featured image via Tim Heitman-USA TODAY Sports