In the middle of an NFL football Sunday, the Nashville Predators kicked off their 2021 preseason with two split-squad games in Florida against the Panthers.
While the game results are rarely important in NHL preseason, especially when dealing with a split-squad setup, it's never too early to begin analyzing early performances.
Here's two quick takeaways from what I saw on Sunday.
Tanner Jeannot, Yakov Trenin continue to shine
Arguably the most successful forward line for the Nashville Predators down the stretch last Spring was the 4th line. With Yakov Trenin and Tanner Jeannot laying hits and scoring goals, and with savvy veteran Colton Sissons anchoring the middle of the ice, the Preds' 4th line was consistently the most productive and aggressive line on the ice.
And it looks like that trend continues early in this preseason.
Tanner Jeannot scored two goals in Game 1 on Sunday (1 PM start). He also tacked on one assist, four shots on goal, four penalty minutes, and one hit. His first goal came on a sharp angle shot in front, roofing the puck past Panthers goalie Sam Montembeault.
#Preds doubleheader Game 1 lineup:

Tolvanen-Glass-Kunin
Trenin-Pitlick-Jeannot
Schneider-Novak-Richard
Carpenter-Labate-Solow

Davies-Fabbro
Harpur-Myers
Del Gaizo-Matier

Ingram
Cooley#NSHvsFLA

— Brooks Bratten (@brooksbratten) September 26, 2021
Trenin added a goal and an assist, with the goal coming on a shorthanded rush.
The combination of Jeannot and Trenin is one that the Preds will rely on early on this season, and for good reason: in 151 minutes together, those two have combined for a 56.5% shot attempt share, a 58.3% goal share, and a 63.9% expected goal share.
While it's never easy to evaluate preseason games, as the quality of competition can be suspect, you expect your best players to shine in these games. And that's what happened with Jeannot and Trenin on Sunday.
Philip Tomasino needs more time to cook
The Predators hardly need encouragement sticking their promising young forwards in the minors for long periods of time. Filip Forsberg, Viktor Arvidsson, Eeli Tolvanen, and many others spent a year or more in Milwaukee to hone their craft and adapt to the speed of the NHL game.
And that's probably what they need to do with their latest top prospect, Philip Tomasino.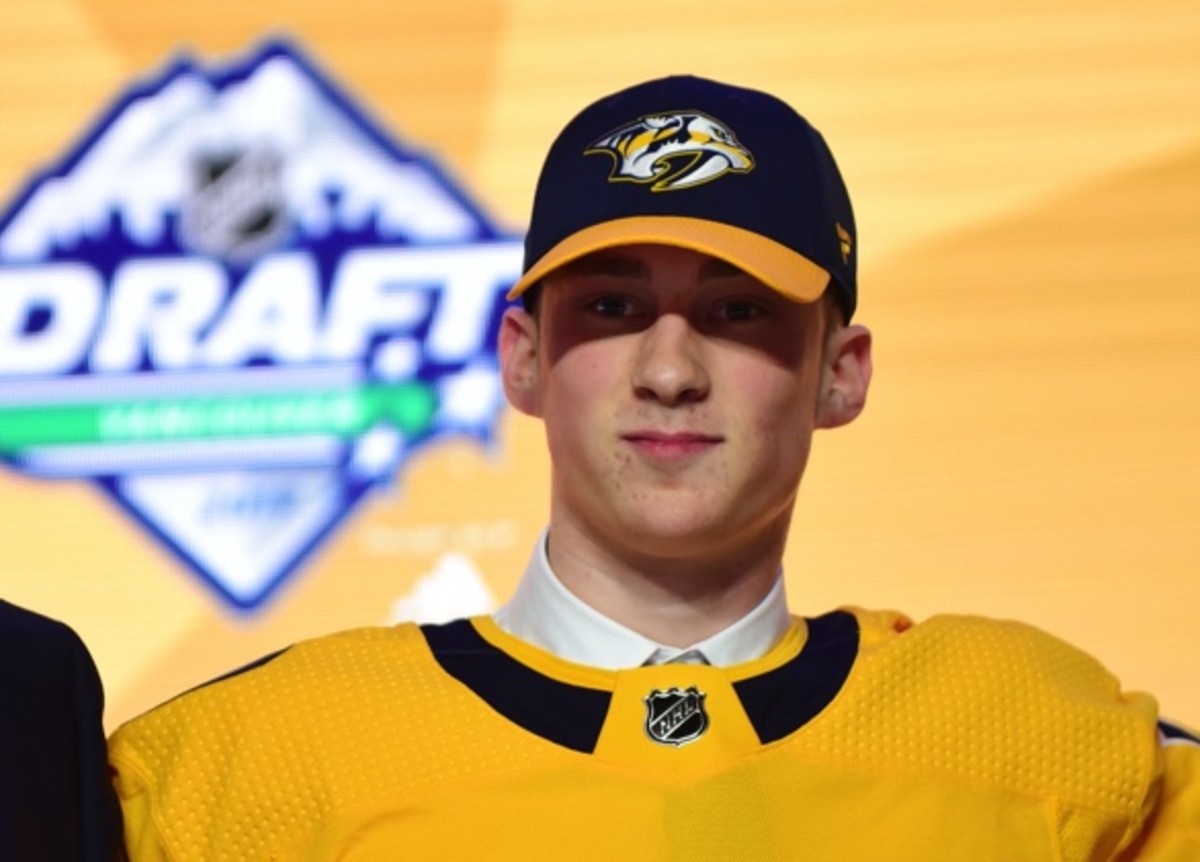 Early on in camp, Tomasino has shown incredible flashes of skill. In drills, scrimmages, at the rookie showcase, and then on Sunday in the two preseason games, he looks more than ready to play in the NHL, from a skills standpoint.
But he still has plenty to work on.
For one, he's not overly physical. If he's going to develop as a center (not a guarantee), he will need to get stronger and tougher dealing with opposing NHL defenders. Too often, I saw him get moved around by Panthers skaters when fighting for the puck.
Tomasino with a great move on Spencer Knight, beat him badly… and then slides the puck off the post. #Preds lose both of their preseason openers (who cares) 5-4 and 3-1, but plenty to like about some of the young guns in the lineup.

— Alex Daugherty (@AlexDaugherty1) September 27, 2021
He also needs more work with timing his playmaking and his rushes in transition. It's a skill that he's excelled at throughout juniors, and maybe it's just the quality of his teammates, but he too often is missing passes or misreading plays. He's just a little off when making plays down low, something that he definitely has the skill and vision to do.
I doubt it's anything to worry about; Tomasino's offensive awareness is top notch and his work rate with and without the puck are quite high. He just might need more time in the AHL to match up with the Nashville system and to maximize his potential for the Predators.
Fans familiar with Tomasino's game might not want to hear this, but I think it's likely he starts the year in Milwaukee. The Predators have enough young forwards with NHL experience for the opening night roster. No need to lose Tomasino in the mix by sticking him with a bunch of players who've never played together before and perhaps stunting his development.
Seeing what I'm seeing in practice, scrimmages, and preseason games, this kid has all the talent to play in the NHL. It just might be Christmas (or later) before we can see it in a Nashville Predators jersey.
— Featured image via Russell LaBounty/USA TODAY Sports —