The Tennessee Vols have one of the most prolific offenses in the nation so it shouldn't come as a surprise that UT offensive coordinator Alex Golesh is starting to receive some national attention.
Golesh, who is originally from Russia and went to college at Ohio State, served on Josh Heupel's staff at UCF for one season before leaving Orlando with Heupel for Knoxville.
With the Vols experiencing a wild amount of success on offense since Heupel's arrival, it wouldn't be a shock if another program tries to poach Golesh.
That's why ESPN named Golesh as a young coach to watch this off-season (and moving forward).
Golesh is a good example of a coach mainly known for his recruiting chops who then forged his own path as an offensive tactician. He came up through the Tim Beckman-Matt Campbell tree, working with both at Toledo, Beckman at Illinois and then Campbell at Iowa State, where he was recruiting coordinator from 2016 to 2019. But he changed his career path by breaking away to join Josh Heupel, first at UCF and then Tennessee. Golesh called plays last fall as Tennessee produced its most exciting offense in years. He hasn't lost his passion for recruiting, either. Another solid year should put Golesh in position as a legitimate head-coaching candidate.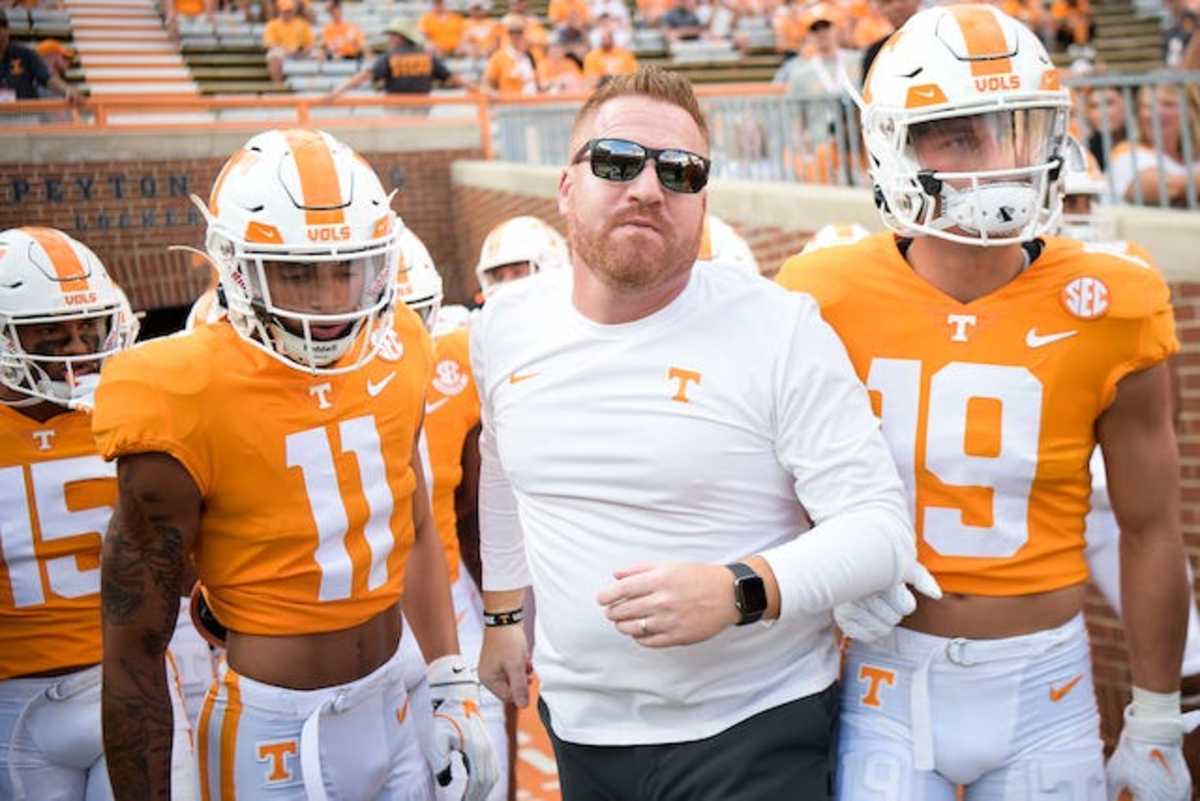 I don't expect Golesh to go anywhere this off-season. I think he likes being part of Heupel's staff and I think he wants to see how far he can help take the Tennessee football program. This team has some big goals and I believe Golesh wants to stick around to see those goals accomplished.
Golesh is only 38, so he has plenty of time to work his way up to a head coaching position.
There's also the fact that Golesh just received a significant pay raise from Tennessee.
ESPN's Chris Low reported earlier this month that Golesh's pay was recently increased from $750,000 to $1.2 million.
That should help keep Golesh around for a little while longer.
The only scenario I can think of that Tennessee fans should worry about is if Iowa State head coach Matt Campbell departs for Nebraska or another job (maybe the NFL?). Golesh coached alongside Campbell at Iowa State from 2016 to 2019. He also coached with Campbell at Toledo.
If Campbell leaves, Iowa State could turn to Golesh — though I think they'll first look for someone with previous head coaching experience.
Even the Iowa State scenario seems unlikely, but that's about the only scenario I can see happening that ends with Golesh leaving the Vols. I don't think there's anything for Tennessee fans to worry about right now.
Featured image via Bryan Lynn-USA TODAY Sports