The Tennessee Vols beat Bowling Green by 32 points in week one.
It was an easy win — though unspectacular — for Josh Heupel in his first game as the Vols' head coach.
Things won't be quite as easy in week two. Tennessee will host a Pittsburgh team that's coming off a 51-7 win against UMass in week one.
The Panthers will present the Volunteers with a more complex defense that could give Tennessee's offense some problems.
Pittsburgh had the No. 37 ranked defense in the nation in 2020. That's nowhere close to being elite, but it's certainly better than Bowling Green's No. 127 ranked defense.
Against Bowling Green, the Vols mostly relied on the run game. Tennessee rushed for 326 yards against the Falcons.
That probably won't be the case against Pittsburgh. The Panthers will try to disguise their looks in coverage and test the decision-making of quarterback Joe Milton.
To combat this, the Vols could throw some different looks at the Pitt defense.
Tennessee's offense isn't extremely complex. It's basically read the defense, make a decision on where the open spot on the field will be, get the ball there. Pitt will try to trick Milton with their coverages into making the wrong decision.
One thing Heupel has done before against good defenses is use his running backs more in the passing game.
It's what he did in 2018 when UCF played Cincinnati and their No. 9 ranked defense in the nation.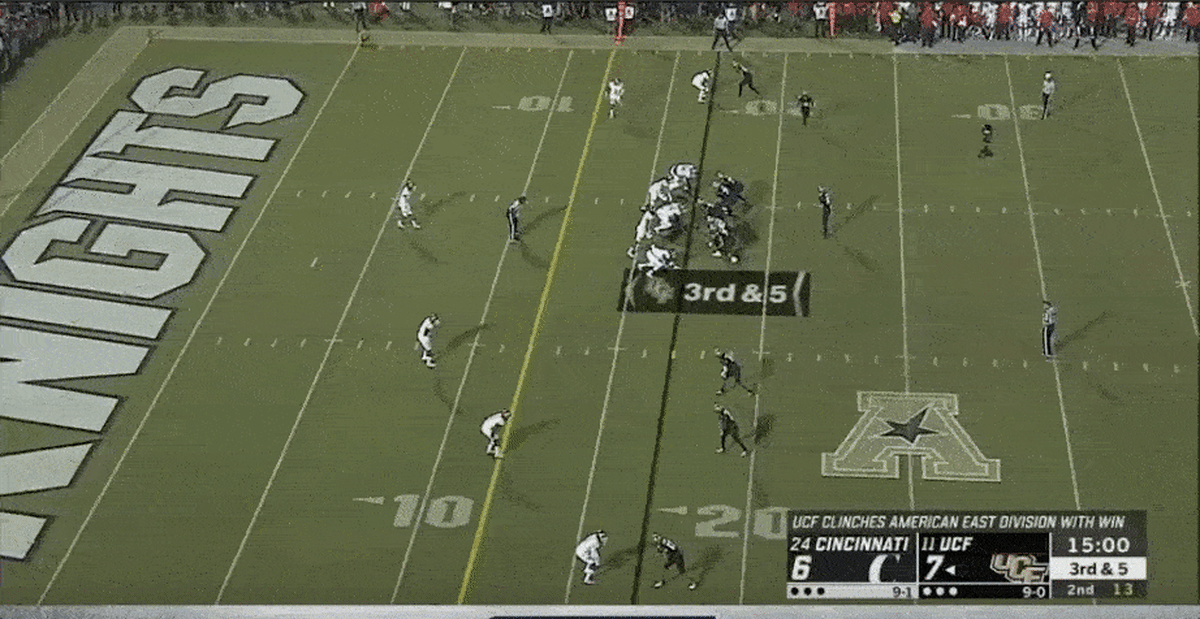 UCF running back Adrian Killins had a team-high four receptions for 82 yards and two touchdowns in the Knights' 38-13 win against Cincinnati in 2018.
Could Tennessee choose to feature running backs in the passing game against Pitt?
Getting the ball to Tennessee's running backs in space against Pittsburgh's linebackers could be a recipe for success.
Vols running backs coach Jerry Mack kind of alluded to this possibility while talking to reporters on Tuesday.
Mack said he was surprised by running back Tiyon Evans' ability against Bowling Green to make safeties miss in the open field.
"One of the things that did impress me, and I was kind of shocked, was that he (Evans) was able to make some safeties miss in space," said Mack on Tuesday. "He hasn't been able to do that a whole lot in camp, for whatever the reason may be, but he went out there Thursday night and showed that he does have the ability to make the open-field tackler miss."
Now that Mack and the offensive staff have seen Evans' open-field skills, they might be more inclined to get him the ball in the passing game.
The only problem here is that Evans wasn't heavily involved in the passing game at Hutchinson Community College (4 receptions for 43 yards in 12 games), so I'm not sure how comfortable he is catching the ball out of the backfield or flexed out as a receiver.
Running back Jabari Small, however, has considerable experience as a pass-catcher. Small had 66 receptions for 852 yards in high school.
Whichever running back it is, I wouldn't be surprised to see one of them (or both of them) more involved in the passing game against Pittsburgh.
Featured image via Randy Sartin/USA Today Sports