Former Tennessee Vols quarterback Tyler Bray is statistically among the best players to ever play at UT.
Bray holds the UT single-game record for passing yards (530 against Troy in 2012) and he's No. 4 on the career passing yards list and career passing touchdowns list, behind Peyton Manning, Casey Clausen, and Erik Ainge.
The former Vol quarterback also has the second-most passing yards in a single season at Tennessee (3,612 in 2012).
Despite Bray's impressive stats, the program never had a winning record during his three seasons in Knoxville. That likely has a lot to do with the fact that Bray's time at UT coincides with the downfall of the program.
Tyler Bray talks about taking money while at Tennessee
In 2013, a Yahoo Sports investigation revealed that Bray took money while he was enrolled at UT.
Bray recently discussed getting paid while he was a Vol, along with numerous other topics, during a recent appearance on the Guys Being Doods podcast.
"I started taking money from an adviser in college," said Brady. "It wasn't like some of the guys you see buying necklaces, cars. It wasn't a huge lump sum of money. I was just taking it here and there. I was giving it to guys on the team that didn't really come from much. I was paying receivers' phone bills…paying for diapers."
"It wasn't something where I was going out blowing wads of money at the bar and stuff like that," added Bray. "I was just getting money for food and other guys on the team."
After the report from Yahoo Sports emerged, Tennessee tried to talk to Bray about the allegations. After talking it over with his agent (Bray was in the NFL by this time), he decided to stay quiet.
"Compliance at Tennessee called me when I was with the Chiefs," said Bray. "They were like 'hey we want to talk to you about the money you took in college', and I just kind of laughed and said go talk to my agent."
"My agent calls me and says 'hey, what do you think about this?'"
"Can they do anything? No? Alright then, tell them to have a good day"
"It's not like we won any national championships while I was in school," noted Bray. "I don't even know if we had a winning record while I was in school….I was just getting money to help guys on the team and put a little money in my pocket for food and stuff like that."
After the report from Yahoo Sports was published, Arian Foster, who played for the Vols from 2005-2008, admitted to accepting cash and tacos while at Tennessee.
If any of this happened in 2021, it wouldn't be a story at all. Players can now profit from their name, image, and likeness, which opens up a world of possibilities when it comes to funneling money to players.
Tyler Bray, his relationship with Derek Dooley, and the infamous 2012 Vanderbilt game
The 2012 season was a bizarre one for the Vols. It was one of the program's best offensive seasons ever. But it also ended with a 5-7 record and head coach Derek Dooley being fired.
The next to last game of the season — in Nashville against Vanderbilt — is when the program hit rock bottom that season (the program has since found innovative ways to hit rock bottom on a near yearly basis).
Vandy beat Tennessee 41-18 in Dooley's final game as the program's head coach. Bray was curiously benched at one point in the game in favor of sophomore Justin Worley. Dooley then put Bray back into the game, but the game was pretty much lost by then.
At one point, Bray stared down the Vandy sideline after a touchdown pass. Not long after that, he was benched.
Only moments ago it was Tyler Bray going all McKayla Maroney towards the Vandy sideline. Sand through the hour glass. pic.twitter.com/Dy0Pow4g

— @GrantRamey (@GrantRamey) November 18, 2012
Bray recounted that night, along with his regrets about his relationship with Dooley, during the podcast.
"We (Bray and Dooley) had bumped heads on a lot of things," said Bray. "When I was in college I was kind of…not an asshole…[well] I was kind of one. [I] wasn't very respectful toward him as a coach, which I should've been. Now, looking back at it, I should've been more respectful."
"He told me at one point (during the Vanderbilt game in 2012), 'hey we might pull you'," said Bray. "I think I responded with pull me then and see what happens. I was already having a bad game. We weren't playing well. The fans were sitting behind us just heckling us. And I'd had enough. I was tired of losing. I was tired of a bunch of the stuff going on. And I finally said pull me, see how it goes."
"So he pulls me, we end up not playing well," continued Bray. "I think he might have even put me back in, I don't know. I was so kind of blacked out mad at that point. We said some stuff going into the tunnel. I made a couple of remarks in front of coaches, team, support staff, boosters. And before we got on the bus to go home, I think he was fired."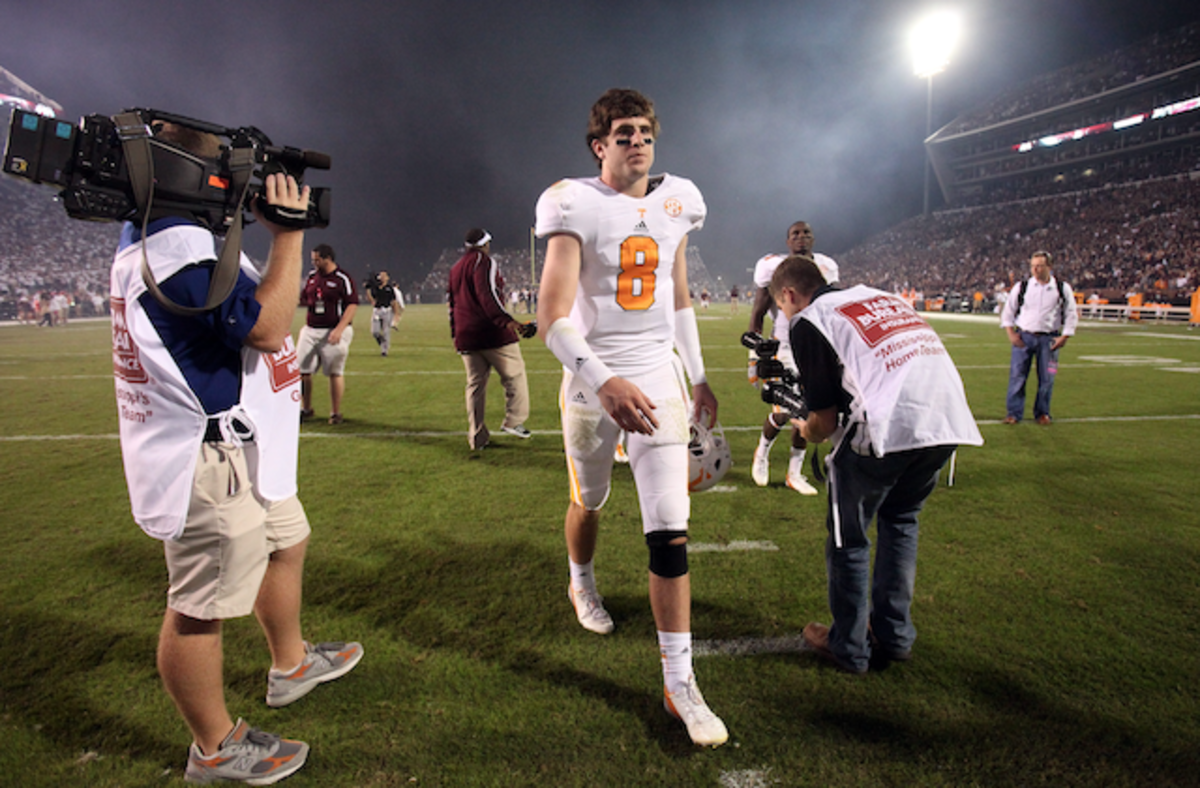 "I don't think it (Dooley's firing) had anything to do with me," said Bray. "Tennessee should never lose to Vanderbilt. We kind of joked that it's the sister school of Tennessee. But I mean we should never lose to them….We got our asses drug in the mud and a lot of people weren't happy. I kind of felt bad for the stuff I said, but at the end of the day, you have to live with it."
Bray admitted that his issues with Dooley stemmed from the fact that he believed he was coming to Tennessee to play for Lane Kiffin.
Kiffin left for USC shortly after Bray enrolled at Tennessee in January 2010.
"I was just a young kid with a lot of anger built up toward him because I came in trying to play for Lane Kiffin, who was an offensive genius when it comes to play-calling," explained Bray. "The guy, as long as he's an OC, he's wicked with the play calls."
It's nice to see that Bray regrets the attitude problems he had at Tennessee. Ultimately, it was just a bad situation for everyone at UT at the time. Kiffin left the program in a mess. Nearly 12 years later and the Vols are still dealing with the ramifications of Kiffin's decision to bolt after one season.
Featured image via Amy Smotherman Burgess/News Sentinel/Adam Brimer, Knoxville News Sentinel, Knoxville News Sentinel via Imagn Content Services