NASHVILLE — The Tennessee Titans have enjoyed considerable success under coach Mike Vrabel in his first four seasons. On a recent episode of the Raw Room podcast, former Tennessee linebacker Daren Bates asked me a question I had to consider for a moment.
"What was the best game you ever saw in Titans history?"
Full transparency: my history in Tennessee does not go back quite as far as many of yours does. I had to learn everything I know about the franchise prior to my first season covering the team (2016) from endless hours on YouTube and a never-ending stack of old media guides. Getting to cover Vrabel's entire tenure in Nashville, however, has led to some pretty spectacular moments.
One in particular comes to mind.
2020 AFC Wildcard: Titans 20, Patriots 13
What a time to be alive the entire 2019 Titans season was.
Starting quarterback Marcus Mariota came into a contract year and was benched six weeks in. Ryan Tannehill, who Tennessee general manager got for pennies on the dollar from the Miami Dolphins that offseason, came in and saved the season. The change under center unlocked the best version of running back Derrick Henry that we had seen to that point in his career.
Robinson also hit on on five of his six draft picks coming into that year. All five would go on to become starters.
Even with all that momentum, the Titans were still wobbly in search of a wild card spot. A miraculous home win against the Kansas City Chiefs had propelled them to four straight victories and an 8-5 record. Dropping the next two games put them in jeopardy against the playoff-bound Houston Texans.
Vrabel's team dropped his former employers 35-14 and made the postseason for the first time as a head coach. His reward was a trip to face a very familiar foe: Tom Brady, Bill Belichick and the New England Patriots.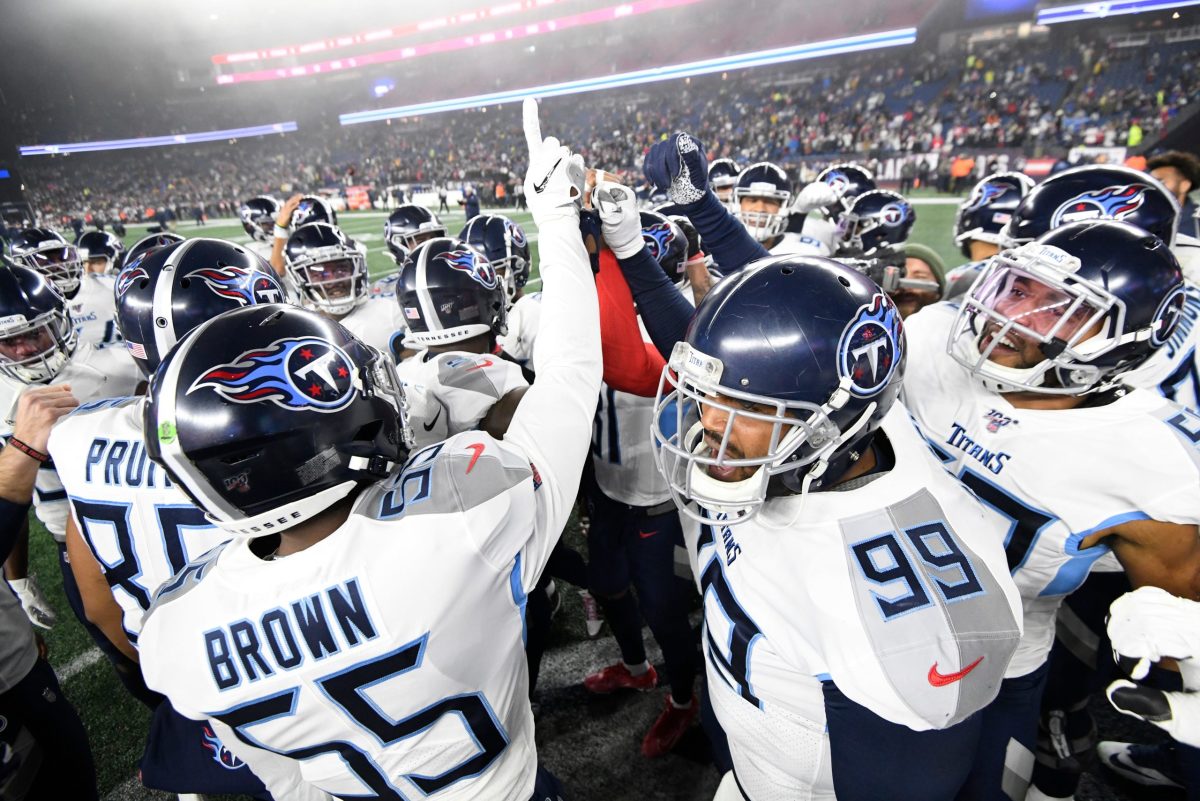 Vrabel punks Belichick
Bates perspective on the game itself was great.
It also made me go look up my old column on the magnitude of that game. I've included a portion of it below with a hyperlink here for those who would also like to re-live it. Tennessee would go on to make the AFC Championship game in spectacular fashion before falling to the eventual Super Bowl-champion Kansas City Chiefs.
FOXBOROUGH — By the time this post sees the light of day, running back Derrick Henry's 26th birthday will have passed. The effort he gave in the Tennessee Titans' 20-13 victory on the road against the New England Patriots, though, will not soon be forgotten.

Winter Storm Henry rolled through Foxborough and now sets it's sights on the Baltimore Ravens.

Tennessee Titans running back Derrick Henry (22) runs through the New England Patriots defense during the AFC Wild Card game at Gillette Stadium in Foxborough, Mass., Jan. 4, 2020.
Gw55073

"That's the way we like it," Henry said. "We don't want anything easy. We want it gritty, we want it dirty. That's the mentality we've got to have. My main focus is finishing each and every drive in all three phases."

Dirt and grit were the recipe required and Henry delivered in exactly that fashion.

Tennessee boasted a 6-0 record when the All-Pro back reached 100 yards on the ground. Instead of waiting around for a full game, Henry eclipsed the century mark with 106 yards on fourteen carries and a score in the first half alone. He added 20 more attempts and another 76 yard on the ground in the second half when the Titans could find no semblance of a passing game.

Low scoring and gritty have been synonymous with Tennessee but this time they ended a dynasty.

"He's been big for us all year and he was was big for us tonight," quarterback Ryan Tannehill said. "He made a couple big runs but just the consistency that he has down-in, down-out, the physicality he brings. He's so hard to tackle — the offensive line did a good job of creating creases for him. There at the end, they were loading up the box and he's still able to get positive yards."
Featured Image: USA TODAY Sports.