Most Tennessee Vols fans seem to agree that the downfall of UT's football program started in early 2010 when Lane Kiffin bolted for USC after just one season on Rocky Top.
The timing of Kiffin's departure, which came less than a month before National Signing Day, was less-than-ideal.
Tennessee ended up hiring Derek Dooley, who was then the head coach and athletic director at Louisiana Tech, to replace Kiffin.
Dooley's tenure in Knoxville was lackluster at best. Dooley was fired after three straight losing seasons, which led to Butch Jones, then Jeremy Pruitt, and now Josh Heupel.
The Vols have been in a tailspin since Kiffin went to USC. While it's not Kiffin's fault (I can't fault him for wanting to go home to USC, even if the timing was bad…I think UT fans would expect a former Vol to return to Tennessee in a similar situation), his decision is what kicked off Tennessee's decade of dysfunction.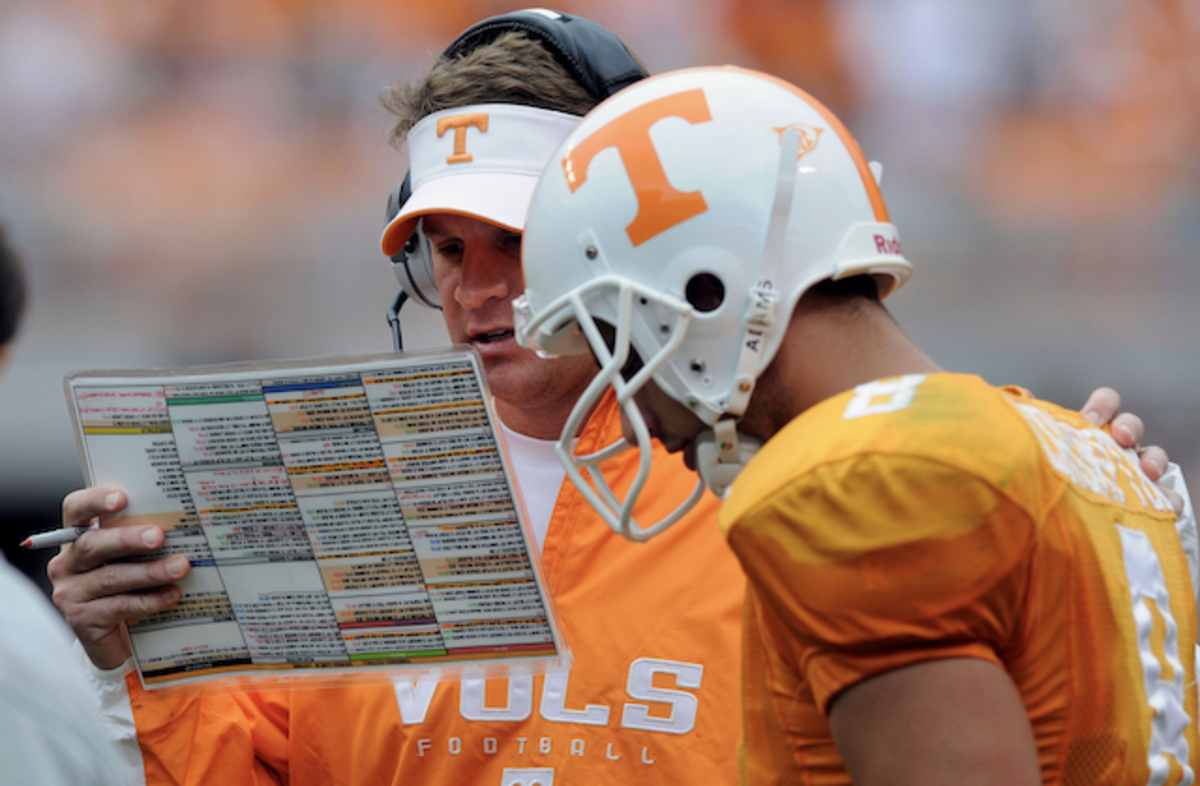 When Kiffin took the job at USC, it was surprising because he wasn't considered one of the Trojans' top candidates.
If one of those top candidates would've taken the job, then Tennessee football over the last 10 years may have looked very different.
Former Tennessee Titans head coach Jeff Fisher could've been the USC head coach instead of Lane Kiffin
Jeff Fisher was coaching the Tennessee Titans when Pete Carroll left USC to become the head coach of the Seattle Seahawks.
Fisher, who played college football at USC, was coming off an 8-8 season with the Titans in 2009. He wanted the USC job, but he felt like he needed to stick around in Nashville until the end of his contract.
For that reason, Fisher didn't even interview for a job he coveted.
"I never interviewed," said Fisher recently to The Athletic. "I was interested. I love Southern California and the program but I was committed to Tennessee and I still had one year left on my contract. If I didn't have a year left on my contract, I would've gone out of my way to get it."
If Fisher takes the job at USC, instead of sticking with the Titans for one more season, where is UT football today?
I don't think Kiffin would still be at Tennessee today. He clearly still had some maturing to do at the time. And he was on the verge of running into some serious trouble with the NCAA while in Knoxville. Kiffin and his staff committed 12 secondary violations during their one season on Rocky Top.
Eventually, Kiffin was probably going to end up at USC. But if it was in 2012 or 2013, the Vol football program is probably in a better place than it was with Dooley. At that point, Tennessee would've been able to hire a more accomplished coach.
Fisher taking the USC job would've had a massive ripple effect across college football. Steve Sarkisian wouldn't have replaced Kiffin at USC, and Chris Petersen wouldn't have replaced Sarkisian at Washington. The Butch Jones era at Tennessee probably never happens.
Everyone likes to blame Kiffin for ruining Tennessee football.
But maybe all this time it was Jeff Fisher who's responsible for the Vols' bad luck over the last 10 years.
Featured image via George Walker IV / The Tennessean, The Tennessean via Imagn Content Services/Michael Patrick/News Sentinel