The Tennessee Vols play fast — really fast — under head coach Josh Heupel.
We heard all offseason about Heupel's up-tempo offense and how he likes to get plays off as quickly as possible. But I don't think I was ready for how fast Heupel's offense actually operates.
If you stop to look at your phone after a Tennessee play, you've likely missed the next play. The Vols are averaging around 11 seconds between plays. That's from the end of one play to snapping the ball for the next play (and Heupel would like it to be a bit faster).
Playing this fast obviously tires the opposing defense. Opposing coaches aren't able to substitute and rotate defensive players, which can result in a lot of hands-on-hips looks from players.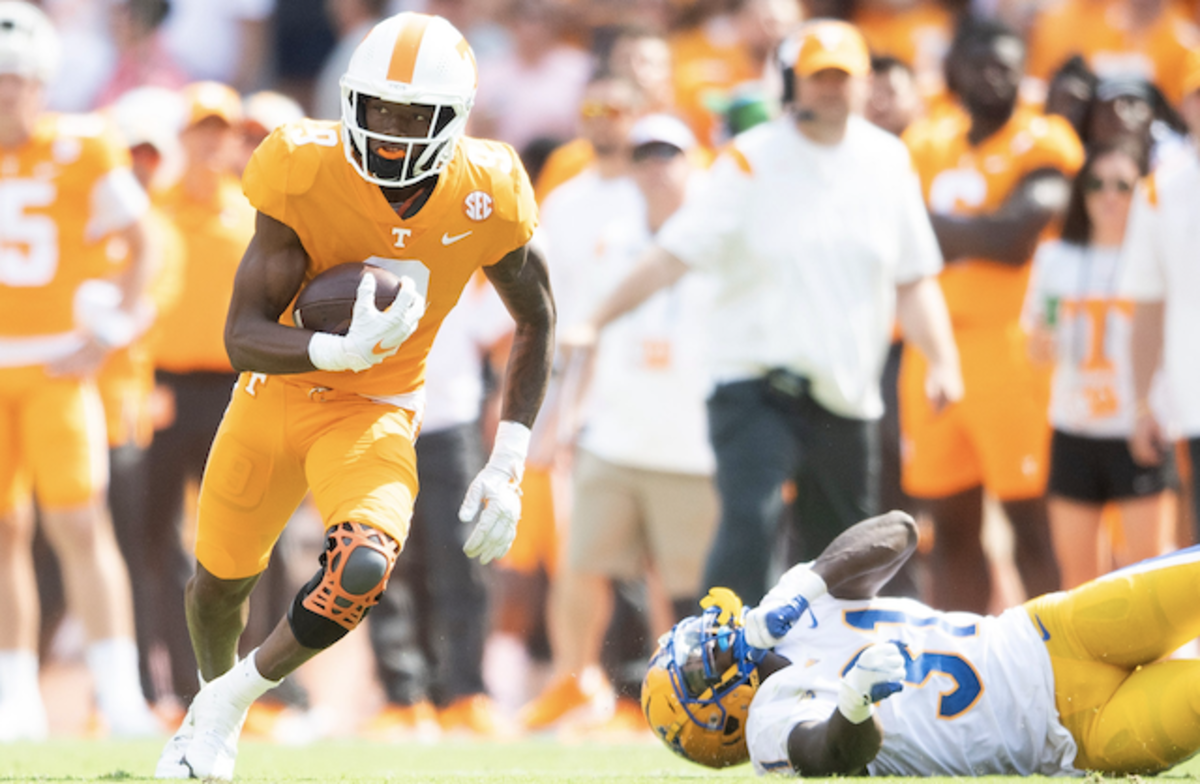 Wearing the defense down, however, isn't the only objective of Heupel's up-tempo offense.
In fact, it's really not even the main objective.
Heupel's up-tempo offense is meant to create an advantage for Tennessee by not allowing the defense time to disguise its looks.
The Vols' offense is predicated on the defense giving away its plan of attack due to having to get aligned quickly.
That's something that Heupel spoke about on Monday during an appearance at the Knoxville quarterback club,
"There is way more on our quarterback than people think with a no-huddle offense," said Heupel (via 247Sports). "That is run checks. It is protection checks. There is a lot that goes on."
"The tempo forces defenses to show their hand in a different way than they do when you are not playing with tempo and they try to disguise things," added Heupel. "There are things you are poking for, indicators that you are looking for. There is a process to it."
One of the reasons that Heupel rolled with Joe Milton as the Vols' starting quarterback this season is because he felt like Milton had the best decision-making abilities on the team.
Unfortunately for Milton and Tennessee, those decision-making abilities haven't translated to big plays for the Vols.
Heupel's scheme works. There have been multiple times that UT wide receivers were running free down the field. Milton, however, has had issues connecting on those deep passes (overthrows are a big problem for Milton).
"I think watching the video, Joe knows this, too, there's opportunities to make some plays in the pass game that were certainly there," said Heupel during his media session with reporters on Monday. "Multiple occasions where we're running free in the secondary, and there's nobody relatively close. At this level of play against a good defense, plays that we have to make."
Tennessee's offense is in its infancy under Heupel. With time, the offense should become faster, more efficient, and more explosive.
It's already lightyears ahead of where it was a year ago under Pruitt.
I know fans want wins more than anything. But folks have to be impressed by how quickly Heupel has turned Tennessee's offense from mundane to fun.
Featured image via Brianna Paciorka/News Sentinel via Imagn Content Services/